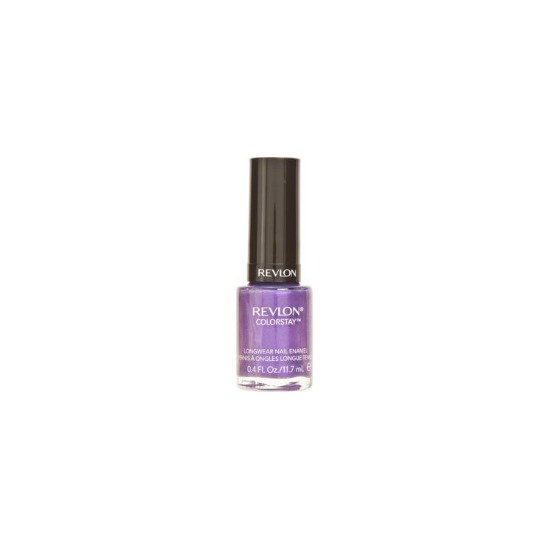 Rollover image to zoom
Reviews
It really is a "Longwear" polish!
Currently, I am day six of my "Longwear" manicure with only two small chips on my right hand, one on my thumb and one on my index. This is a nail polish/gel hybrid that does not need a UV lamp.
The brushes are wider than the traditional Revlon brush, which I prefer. The consistency of Stiletto (black) was smooth, opaque and almost had a shiny jelly consistency and Sequin (silver foil) was a little thicker. Both dried fairly quickly. I applied it at night, even though it says it cures in regular light (energy saving bulbs helped maybe??). I could have probably gotten away with only one coat of Stiletto. I find them to be a little pricey, but I picked these up on a buy one get one 50% off.
Overall I am quite pleased with the durability of these polishes. I usually change my manicure every two or three days, but I want to try and last as long as possible with this particular manicure to thoroughly test it out.

Love it
Picked these up on sale, not expecting anything wonderful, but I actually fell in love with these. So far in my collection, this is the ONLY polish I have that I'm happy with with just ONE coat. Perfectly opaque color, even coverage, and with just one coat! (I do always used a base and top coat) Overall I am extremely happy with this polish, and impressed by revlon!

Amazing, Long-wearing
I was browsing through the revlon section at my drugstore and decided to try this nail polish out, and BOY am I glad I did. It is the only nail polish that withstands everything I put my hands through. I work at a shelter and clean dog kennels and never have had a nail polish look absolutely PERFECT after a day of cleaning with my hands. Love it and just went out and bought another!

I love these polishes!
At first I wasn't a fan of their original polishes. I've bought a couple and the color payoff wasn't good at all. When this came out, I decided to try it out since I like the ColorStay makeup line. Needless to say, I'm a happy camper. :) I have Cafe Pink, Passionate Pink, but Indigo Night is my absolute favorite. I've been wearing it on my toes for the past month and it's a bright, fun medium blue, that reminds me of the ocean, and perfect for summertime!

First Impression
I picked up 3 colors today at CVS for $1.47 each ( originally 7.49), and the colors i chose are Buttercup (a soft yellow), Sorbet (a pastel orange), and Cafe Pink (a baby pink) and they are all a cream finish. When I swatched them on my natural nails with no base coat, they applied so smoothly and opaque and I absolutely love the brush. The brush is very similar to the Sally Hansen flat wide brush. I will definetely be purchasing more soon !

long wear and opaque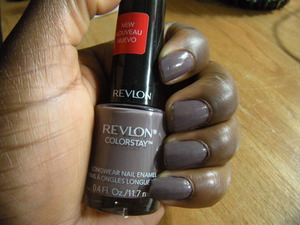 I absolutely love these nail polishes! I first got Stormy night which is plum taupe color and it was just so amazing I only used one swipe of the nail color and it was so pigmented. The nail polish lasts for a very long so I went back and got some more. So far I've worn these nail polishes for 4 days and the nail color still looks pretty good. I really like the brush on this nail polish and hands down this just became my favorite nail color. It is a bit pricey but you can usually get deals at CVS or Walgreens for buy one get one 50% off so you should try these soon cause they are amazing.
In this photo I'm wearing Stormy night

Nude for brown skin!
Although I'd prefered it to be just a smidge darker; it's the best nude shade I've found thus far. I used it with the revlon base coat and top coat. I'm pretty sure didn't let it dry long enough (5 minutes) between coats because it smudged :( I'll wait ten min next time before reviewing those two items.

Great, bold color
I purchased the shade sunburst. It's basically a really vibrant tangerine orange. It's great for summer and looks nice with my skin tone, and I'm sure it would look great on tan skin as well. The color is more vibrant depending on how many coats you add. I personally do about 2 coats, just to get the entire nail. Even without a topcoat, the color lasts for awhile. It's very shiny and bold.The only downside is that it's a pain to remove because it's 'color stay'. But, I can get over that.

Really amazing nail polish! I'm an OPI girl, but this one is definitely comparable. It is fully opaque in ONE COAT and give a beautiful finish. I also really like the wide, flat brush--it gives really even coverage. I have Red Carpet on right now and this is the second week and its just starting to chip (I use a base and a top coat). Very awesome and a great price. I also have Cafe pink and Vintage Rose which are gorgeous! Spanish Moss is a really weird color...it feels like I have, well, moss on my fingertips. Yuck.

Great quality but small color selection
I bought two of these polishes during a BOGO50% at Duane Reade. I got the shades Buttercup, a buttery yellow, and Wild Strawberry, a shimmery hot pink. I love both the shades; both reach full opacity after one to two coats and they look wonderful on the nails. However, I have to deduct one star for its high price tag of about $8.49 and its small color selection.
---