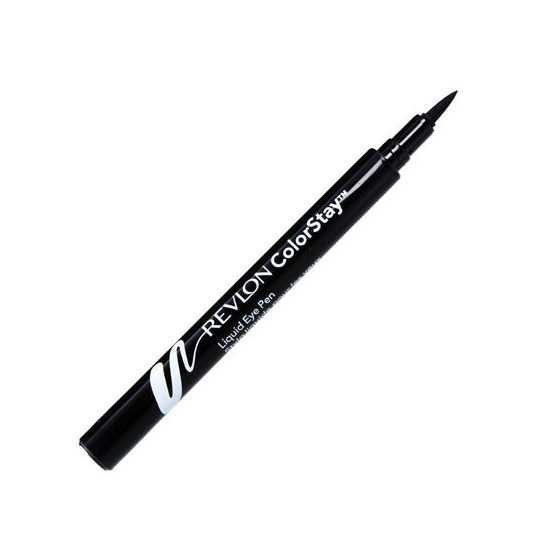 Rollover image to zoom
Reviews
I actually liked it!
I see almost everybody complaining about this eyeliner, but with all honesty, I actually really liked it.
The felt tip is thin but not too thin. The colour is really black (and does NOT appear grey). It glides on smoothly and I can do a perfect wing with this.
The only problem I have with it is that it doesn't last ALL day. Yes, it lasts quite long (as compared to many other hyped over eyeliners) but I just wish that it lasted the entire day.
Though, it is smudge and water proof.
Overall, I love it!

Well
It was okay, but some things threw me off. It was not pigmented. Using the felt tip was painful. I have this to my mom because she liked it. If you are going for a softer look, this would be fine, and as long as you use less pressure (which leads to less pigment), it won't hurt.

Shania Anne C.
May 13, 2014
I love it!
I havent had the money to buy the Kat Von D. So i was like "what the heck" and bought this one instead. I honestly think it's better! It doesn't flake and smudge by the end of the day like the Kat Von D because of my ... Oily (?) eyelids. So i might buy my second pen when it runs out!

I really wish it worked.
I was told this was a dupe for Stila's Stay All Day Liquid Eyeliner. Man, were they wrong. It smudges so bad. I've actually gotten comments because they eyeliner was- no joke- on my cheek. My lower cheek. Like the person below me said, it does the dry erase marker thing if you go over a line, but it's not very pigmented, so you have to go over the line.

In Love
I don't remember where or when I got this, but when I tried it out at first I hated it. Then I watched a youtube video on how to use liquid eyeliner. They recommended a felt tip, and I decided to use it. I fell in absolute love. I tried it out for a whole day and it stayed on. This is the best liquid eyeliner I've ever had. I definitely recommend this product to everyone.

back and forth...
I really wanted to like this, I thought it'd be a cheap dupe for my Stila pen. However, I bought it and it was kind of drying out (had to keep going over the line i made, which i hate doing haha) so I returned it to Walmart and bought another one. Same deal! Returned, gave it one more chance and bought it AGAIN lol. Used it for about 1 1/2 weeks and it was great. But then it dried out. :( I gave up haha maybe 've just got a bad walmart nearby
---