Shine Flash 02 Glistening Mist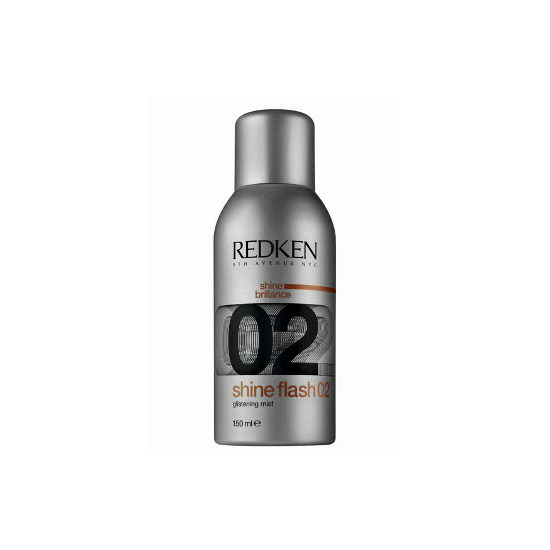 Rollover image to zoom
Reviews

I also received this product in my July Birchbox and I have fallen in love with it!!! I have naturally wavy hair and when it is completely dry I want that extra shine with a little hold without feeling crunchy or sticky and this product does it for me! I am planning on purchasing a new bottle very soon! No complaints over here! lol However, I have to make sure my bathroom door is open because the smell can be rather overwhelming in an enclosed space ... I start coughing! lol

great shine without looking greasy!
I love shine sprays or shine serums but the thing is I can never find one that doesn't make my hair look greasy. Then I got this Redken shine flash mist in my July birchbox & fell in love!! The spray smells good & is light so you can spray on very little or build it up to make it look super shiny!

Really nice shine spray!
I'm glad that I received this in my July Birchbox! Although I'm currently using John Frieda's Shine Shock, it is a product that is to be used on wet hair like many of the other products I have. This, however, is a shine spray that is supposed to be used on dry hair. Since it is a spray, I thought it would be very sticky on my hair and end up making it feel like I had sprayed hairspray, but it didn't! It leaves my hair remaining soft, and it adds shine as well. Don't go too spray-happy as I tend to do, though, or it will weigh down your hair.

just an added step
Like everyone else, I received this in my July Birchbox. Now, I really love Redken products as a whole, but I really didn't see very much of a difference when I used this product... it's good in theory, but overall I can't see myself purchasing the full size. I've currently been using it since I don't want to waste it, but never see any added shine to my hair when I spray it in.

It smells soooooooo bad
I remember hearing missglamorazzi talk about how it stunk, and it definitely was not lying...
I got this in my July Birchbox and was excited because it was such a huge product! When I sprayed it on.. ugh it smelt so bad! The biggest con of this product— BUT that doesn't mean the product didn't work.. because it did!
After a while, your hair doesn't smell like how it smells when you spray it on — it finishes with a different smell. If any of that makes sense?
Anyway, I wouldn't get it again because it's not a must have for me or anything, but it's nice to have when my hair is looking dull!

This product did give my hair a nice shine to it and did not leave my hair flaky. It lasted all day which was awesome! The only bad thing I could say about this product was the smell. It smelled like old rust or like copper. After a while the smell goes away but it still made me feel a bit nauseous. =(
---