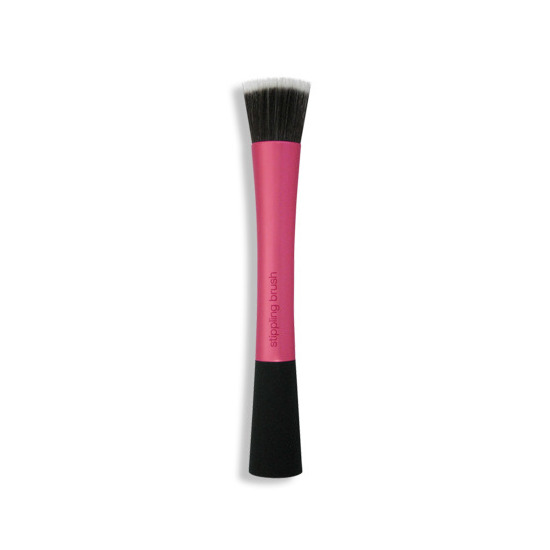 Rollover image to zoom
Reviews

Always learn how to work with a new item!
The real Techniques stippling brush is loved by almost all Beauty blogger and vlogger, I was super excited to try the brush out since I've heard so many great things about it. Comparing the real Techniques stippling brush to a regular one, you'll see that the bristles are shorter and more dense and because of that you can actually buff your foundation, unlike the regular stippling brush which has longer bristles and is less dense makes buffing the foundation onto your skin sometimes a pain! The handle is cute, girly and practical because it's self-standing but I wouldn't recommend it if you just wash your brush! The bristles are synthetic, hand-cut and 100% cruelty-free. When I tried the stippling brush the first couple times out, I didn't get a good finish, so I had to change the foundation and it worked with the new one! My tip for new brushes is experimenting with it a couple times till you get used to it, you may find different uses for just one brush, I use my stippling brush for blushes. If I had to choose between a regular stippling brush and the real techniques brush, I would choose the real techniques brush because of the short bristles, it's easier to work with!

Brilliantly designed stippling brush
The design of this brush is great- so many duo-fiber brushes have extra-long white fibers that will bend or fold over as you do the stippling motion into your pan of product or all over the face. This means you get more surface area coated with product, which means you get a more dense application of product, thus defeating the purpose of using the stippling brush in the first place! RT's Stippling Brush's white fibers are just a little longer than the black ones, meaning they have more support and don't fold or bend over while stippling. The size of this brush is great, too- small enough to get around the eyes and nose, but big enough so its not a tedious task to stipple the whole face.
I spray this brush with MAC Fix+ or ELF Makeup Mist & Set then stipple it over my entire face. This process accomplishes several things: it evenly applies the setting spray over the face, it does a final blend over the face so there are no harsh lines of demarcation, and it picks up any excess makeup that doesn't need to be there.
All Real Techniques brushes are very easy to clean and dry quickly. None of the Real Techniques brushes I have have ever shed on me, nor are any of them stained from continued use of colored products.
I have 2 downsides to Real Techniques brushes:
1) If you use alcohol or an alcohol-based cleaner to spot-clean clean your synthetic brushes, be sure to keep it away from the rubbery/soft coating on the black handle- it will melt the coating off. It doesn't ruin the brush, but you will be left with a black, shiny plastic handle with sharpish edges (this happened to my Expert Face Brush).
2) The aluminum ferrule will dent relatively easily compared to steel ferrules of other brushes. Do NOT knock the brush on the side of your sink to shake the excess water out after you've washed any of your Real Techniques brushes- it will dent the crap out of it. Don't ask me how I know. ~sigh~
Overall Real Techniques brushes are high quality, ultra-soft brushes at a great price point. I would recommend them to anyone.
http://thedragonsvanity.blogspot.com/2013/07/my-makeup-brush-collection.html

excellent among its price point
This was my first stippling brush and I have to say I love it! I only use synthetic brushes and decided to try this one because I'm a long time fan of Pixiwoo's YouTube videos. I pruchased this originally to apply foundation, but I have since found so many uses for it. Its especially great for applying cream blushes and highlighters. Ive had several of the Real Techniques brushes for sometime now and these have held up to repeated uses and washings. This is a personal use brush, not a pro item, but still very well constructed. When people think of affordable synthetics they usually name E.L.F. and while I own several E.L.F. brushes, Ive had several come loose at the ferrule while my Real Techniques look as new as the day I bought them. Very User friendly and this stippling brush is constructed to stand on a table top which is very useful.

Best makeup brush I've tried
Real techniques done a phenomenal job with all of their brushes! This one was the one I always wanted to try but never got round to buying it. Finally I bought about 2 wks ago and I love it! It gives you great coverage and puts an even amount of product on your face.

loveee
I love this for the days I don't want a lot on this gives me the naturalist coverage I also use it for cheek tits I really love it it always give you flawless finish

Absolutely love it!
I really really love this brush, it gives really good coverage with liquid foundation. I used to use a 'classic' foundation brush and have tried all different types of sponges. This is my favourite foundation brush, it doesn't shed any hairs and gives an amazing finish. I would recommend to anyone!
---