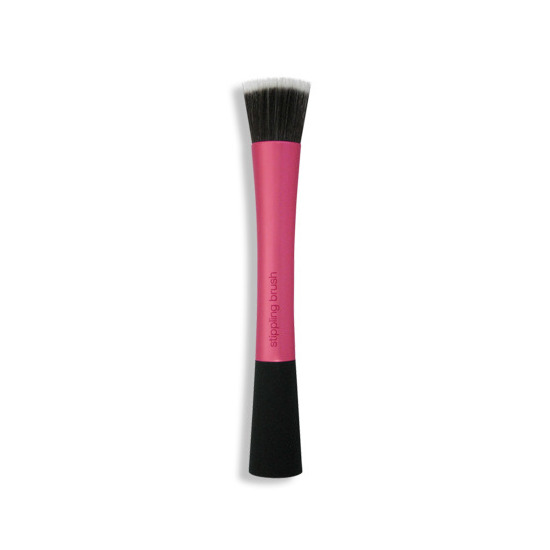 Rollover image to zoom
Reviews

I found difficulties yet such a great brush
I bought two of these brushes plus some others off of this brand. I actually had my first stippling brush fall apart. Maybe it was the cleaner I was using for it was not right. Or the fact that I use it for foundation because I found that works best on my foundation. Most use it on liquid blushes and even powders. I believe though that you can use it any way you like. I push this brush to new levels because for me it works very well with my liquid foundation. I have used so many foundation techniques, brushes, and sponges. Nothing compared to this brush. I did have a second incident where the brush handle broke the second day of using it. I checked online and no one else had that problem. So, I still was able to use the brush. It still gives a great finish to my foundation. Personally, I have had way to many mishaps (some on my part) with this brush. However, I would still recommend the brush for those who want to use it for simple actions like blushes and highlighters.

Great brush, great price!
For the price of this brush, I definitely feel that you get your money's worth. It's awesome! I use mine for liquid foundation, blush, and even blending my contouring! There are so many uses for this brush, which is another reason I love it. I got mine at ulta and was a little hesitant to buy it but I'm so glad I did! I bedazzled mine to give it my own touch too heehee 💕👌

As a person with fairly dry skin brushes aren't always a good tool to apply foundation with. I had heard many good reviews about this brush, which made me rush to my nearest suppliers to buy it. When I apply foundation with this brush I always have to go back in with my beauty blender or rub it in with my hands , as I am always left with streaks on my face because the brush isn't dense enough.

Best makeup brush I've tried
Real techniques done a phenomenal job with all of their brushes! This one was the one I always wanted to try but never got round to buying it. Finally I bought about 2 wks ago and I love it! It gives you great coverage and puts an even amount of product on your face.

loveee
I love this for the days I don't want a lot on this gives me the naturalist coverage I also use it for cheek tits I really love it it always give you flawless finish

Absolutely love it!
I really really love this brush, it gives really good coverage with liquid foundation. I used to use a 'classic' foundation brush and have tried all different types of sponges. This is my favourite foundation brush, it doesn't shed any hairs and gives an amazing finish. I would recommend to anyone!

Good Face Brush
This brush is a great face brush for all cream or liquid products. It is a duo-fiber brush so it has a light touch. It's bristles are short enough that it doesn't bend. And the handle is very nice because you can set it upright on tables if you are a makeup artist.
---