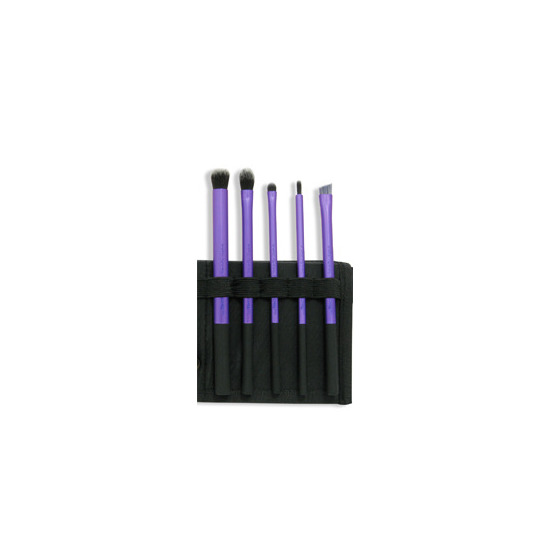 Rollover image to zoom
Reviews

ALMOST ALL YOU'LL EVER NEED
Honestly, add the new silicone liner and the lash/brow comb and you're good to go. Each of these brushes is perfect designed to let you create ANY look. I hope my man doesn't know that I have at least one of each of the Real Techniques brushes. Yep, they're that good. Cruelty-free. High quality. Well, you get the picture. Try them and you'll see what I mean!

love love totally worth it
I have love this the day I bought it it's amazing I still love my mac brushes but for the price and quality of these brushes they are truly amazing

just got this set for Christmas, very happy with it. Makes applying eye makeup so much faster. At first I thought the crease brush was too large but once I tried it it was perfect. The brushes are soft and each one has printed on the handle what it is used for. It comes in a nice case the can be folded to stay in a standing position. Definitely worth purchasing.

Must-haves!
If your new to eyeshadow and eye makeup, this set includes so many soft brushes that are really important to create a good eye look! I love using the fine liner brush for eyeliner, the brow brush for my brows, the blending and crease brush for my crease, applying smaller bits of eyeshadow and blending everything together to creat a nice smokey look. I use the smaller brush for tiny areas such as putting light shades in my inner corner and under my eye at the lash line. Definitely recommend for creating great eye looks!

Shelby True S.
Oct 25, 2013
Can't wait to try
Just bought this today! I purchased these because I have the stippling brush from this brand and loved it and I was looking for a cruelty free replacement set for my old Quo shadow brushes. I'm still trying to figure out what I like using each brush for an might have to purchase a few more. I however threw out the case as it's to big and space consuming. Just doesn't seem practice for my vanity. These brushes are super cute though. Can't wait to give them a shot.

Great set, great value!
The stars of this set are the Panoramic Brush Case, the Deluxe Crease Brush, and the Base Shadow Brush.
The Panoramic case makes it easy to store all my eye brushes and it is excellent for hanging my brushes upside down to dry after I've deep-cleaned them.
Though the Deluxe Crease Brush is sold in this eye kit, Sam (the woman behind Real Techniques) often uses this to blend concealer under her eyes and around her nose in her videos. I completely understand why- the size is perfect for those tight contours on the face, and the shape of the brush perfectly blends the product into the skin, whether you're using your foundation (liquid or powder) as concealer or an actual concealer. Again, its super soft so it won't irritate sensitive skin like Rosacea or acne/blemishes.
The Base Shadow Brush is the best crease brush I've ever used! Its somewhat pinched at the ferrule making it flatter instead of round, and the bristles are cut to a pointed at the end. With this design you can pick up product with just the tip of the brush and place it in the socket/crease of your eye. As you rock the brush back and forth, the longer bristles place the color as the shorter bristles blend the color out. Because the brush is pretty fluffly, you can also use it to put a light wash of color all over the lid. As with all the Real Techniques brushes, the synthetic bristles are unbelievably soft on that delicate eye skin.
The detailer brush is the perfect size to highlight the tear duct or blend out eye liner. The angled brush is good for placing powder in the eye brows or for lining with gels/creams and eye shadows. I would have kept the detailer and angle brush if I didn't already have the Revlon Double-Ended Smokey Eye Brush, which is basically those two Real Techniques brushes stuck together, so I gave those to my friend.
I prefer smaller, bent eye liner brushes so I gave the eye liner brush in this kit to my friend as well.
All Real Techniques brushes are very easy to clean and dry quickly. None of the Real Techniques brushes I have have ever shed on me, nor are any of them stained from continued use of colored products.
I have 3 downsides to Real Techniques brushes:
1) If you use alcohol or an alcohol-based cleaner to spot-clean clean your synthetic brushes, be sure to keep it away from the rubbery/soft coating on the black handle- it will melt the coating off. It doesn't ruin the brush, but you will be left with a black, shiny plastic handle with harsh edges (this happened to my Expert Face Brush).
2) The aluminum ferrule will dent relatively easily compared to steel ferrules of other brushes. Do NOT knock the brush on the side of your sink to shake the excess water out after you've washed any of your Real Techniques brushes- it will dent the crap out of it. Don't ask me how I know. ~sigh~
3). The brushes that come in sets are NOT also sold separately. So for example if you want the Deluxe Crease Brush, you have to buy the Starter Set to get it. This is the only reason the set gets 4 stars instead of 5.
Overall Real Techniques brushes are high quality, ultra-soft brushes at a great price point. They make up the majority of my makeup brush collection and I would recommend them to anyone.
http://thedragonsvanity.blogspot.com/2013/07/my-makeup-brush-collection.html
---