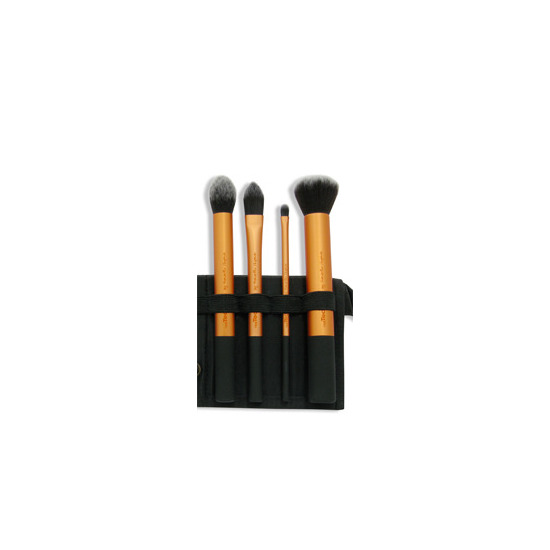 Rollover image to zoom
Reviews

Jacqueline H.
Dec 31, 2012
Why all the positive reviews?
I sincerely do not understand the positive reviews for Real Technique Brushes. First off, I am not a big fan of synthetic brushes for application, I prefer natural bristle, or natural bristle/synthetic blends for application and strictly synthetic brushes for blending. Everyone has their preference, so I set mine aside and did an application with these brushes. I have one adjective that comes to mind when describing these brushes: Horrible.
What a waist of time and Synthetic fiber. When applying makeup with synthetic brushes, one must remember that it takes more time to build up a good application because synthetic brushes do not grab nor deposit color like a natural bristle brush would. There is also significantly more fallout with a synthetic brush and these brushes are no different than any other.
They have these ridiculously cheap aluminum handles that throw off any balance that a good brush should have for applying makeup. In my opinion, more consideration was given to the aesthetics of the brush, not the overall quality. A good makeup brush handle should not dent if you gently tap it against your hand. The synthetic material used in these brushes is far too dense and poorly tapered to provide any accurate placement of product. What, if anything is good about these brushes? Not much. I like the standing case they come with, but that's about it.
In my opinion, no professional Makeup Artist would or should use these poorly constructed brushes. They are almost an insult to those of us in the industry that support other artists' brands. These may be good brushes for beginners/students, but even then, do yourself a favor and order a set from Crown Brush Company. Trust me, you'll thank me later.
I have an 16 year old daughter who is just starting to get into makeup, and she loves synthetic brushes. She saw me chuck these brushes into the trash and asked me if she could have the brushes: I flatly refused. I immediately ordered a Royal and Langnickel Silk Set for her, and that is all I have to say about that.

A-MA-ZING
I have owned these brushes for a week and absolutely love them! They are very soft and are super affordable! I love the fact that they were made with the intentions of making makeup application flawless and easy! I have written a mini review of each brush in this set and hope you find it helpful!
Detailer Brush- This is the smallest brush in the set and when you have many blemishes to conceal it does a great job at applying product on the problem area without making it looked caked on. This brush is also really nice for applying concealer under the eyes and getting really close the lash line.
Pointed Foundation Brush- This is the second brush on the left and it's great for getting in the harder to reach spots like the corners of your nose, inner corner of your eye and it also applies foundation smoothly. I love this brush and it's also very soft.
Buffing Brush- First brush on the right. This brush is a nice way to blend your foundation for a more airbrushed effect. You can also use this brush to apply a powder and get a deeper finish. I love how firm it is the fact that it is still feels soft on your skin.
Contour Brush- First brush on the left. This is my FAVORITE brush in this set because it really makes contouring easy! I promise that the shape of the brush fits the contours of your cheeks and is the perfect size for shading and blending. I loooove this brush and can't tell you guys how badly you need it.
I love this brush set, it is definitely worth investing in if your looking to add to your brush collection or if you are just starting to add. I love the fact that the brushes are color coordinated because it adds color to your typical black handle set. One thing that I would label as a con is the shape of the handle because it gets wider at the end of the handle, which is wrapped in a black rubbery material. It can make holding the brush a little uncomfortable at times. Another thing I should mention is that the brushes come in a black case that can be used as a stand, as pictured above, and can also be used as a brush full size brush case. I absolutely adore this set and think Sam did an amazing job at designing the brushes!

Are you spending ridiculous amounts of $ on face brushes? All you need to spend is $20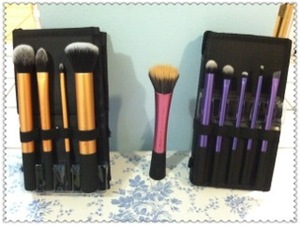 I love watching Pixwoo and when I found out she was coming out with her own make-up brush collection I knew I had to buy it. She does quality and great work that I knew her brushes would be the same and they are!!! This is currently my go to Face makeup brushes. I am so glad I purchased these instead of spending hundreds of dollars on high end brushes. With this collection I got pro-quality brushes for $20 and 4 of them. Had I bought the high end ones I would have spent over $100. I am loving these brushes. Such great quality!

Katherine I.
Jul 06, 2013
Love them
I have to say I am a beauty snob when it comes to brushes. Brushes out here in the Middle East are expensive - as they are usually imported. I ordered this set through Aramex from America (as ironically it was half the price of the uk) via amazon. I was not expecting that much but I was pleasantly surprised. (I had done a lot of research on Youtube - but seeing is believing). The contour brush and the buffing brush are amazing. The buffing brush gives an air brush effect. When your foundation is applied with a stippling brush and then buffed in with this brush the finish is perfect. They are easily cleaned and sturdy. I bought a set for my kit. I have to be honest. I haven't used the smaller brushes. There are other ones of similar shape that I prefer. But the whole kit is worth it for the contour and the buffing brush.

love the buffing brush
I picked this kit up at Ulta the other day and I'm so glad I did. The buffing brush absolutely deserves all the hype it gets. It blends foundation flawlessly and it's so soft and easy to use. The contour brush is really the perfect size for contour (at least on my face). The foundation brush is really quite small, but I find that it's the perfect shape and size for putting an eyeshadow base all over the lid. And finally, the detailer brush is great for lipstick and spot checks with concealer.
It's so awesome that they are such high quality. I don't want to say "they're great quality for the price", because I think that even if they were twice the price, they'd still be worth it.

Buffing and Contour Brushes are AMAZING!
The buffing and contour brushes make this kit so worthwhile.
I use the buffing brush to buff in my foundation both liquid and mineral formulations and it creates the most flawless application in the quickest amount of time. Hands down best brush I have ever used.
I use the contour brush for both cream and powder blushes and they make blush application precise, quick and blended.
However, I must say the other two brushes in the collection are a let down and I don't reach for them for any specific purpose.
In terms of cleaning these brushes - they do not shed at all and clean very easily and dry incredibly fast when compared to my MAC and EcoTools brushes.

2 Words: BUFFING BRUSH
I LOVE, I mean LOVE the buffing brush. I would buy the whole set just for that one! It is great at liquid and powder foundation. I find myself using the detailer for lipstick and cleaning up the brows as well. The contour brush is nice for a defined contour but isn't the best at blending. Great quality brushes for an affordable price.

At first I was skeptical about this brush set but now the buffing and stippling brushes are my 2 'most favourite brushes' and I am looking to buy duplicates of them. For the price, they are wonderful quality and can easily translate to staple brushes both in personal and professional makeup kits. Definitely good quality at drop dead affordable prices.

Efsun makeuptemple S.
Dec 28, 2012
:(
I purchased few Real Technique brushes, as I read positive reviews on them, but it is not as good as I expected it, If you are going to buy makeup brushes invest them on brushes like Japonesque brushes, Nars, Shu Uemura, Napeleon Perdis Brushes, Smashbox and Crown Brush Ask to a professional MUA before you buy makeup brushes, when I say pro's I mean real pro's like Liz Pugh who will give you their honest opinions, Those brushes are good for teens and beginners.
---