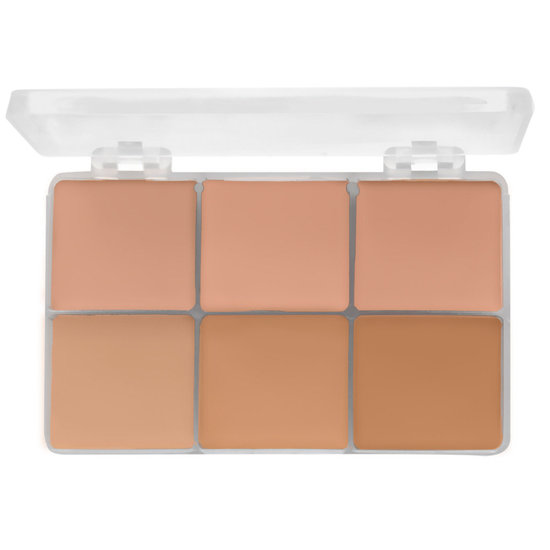 Rollover image to zoom
Reviews

So I'm a 37 years old mother and stepmother of a total of 7 kids. Two who are on the autism spectrum and two with bipolar&ptsd disorder. I have dedicated my life to my children and hubby. I used to have good skin when I was younger and never wore face makeup but now I have adult acne. 😢. I have no time for regimens. But I try to take care of my skin. For the first time I'm thinking about myself and want to look beautiful or at least feel beautiful. So I found Mrs. Goss on YouTube and he likes this makeup. Since I don't know how to use makeup and I have sensitive skin I decided to purchase this one. I put it on how he recommended in some videos with my fingers and omg!! I felt like a pro! 😉. It covers great and I can do my makeup and mascara, eyeliner within 5 minutes!! Plus I don't feel like it's caked on. I got so emotional the first time because I felt good after putting it on. Thank you so much it really means a lot to me. Especially when I have hardly anytime for me. Just wanted to share this while I'm waiting for my sons sleeping medication to kick in, so that I won't fall asleep. 😋. So anyone who wants a wonderful makeup try this one it's so worth it!! -Autism Awareness-

Not for the faint of heart.
If you have experience with professional grade make up, you would love this. Definitely needs some practicing blending it, using the proper tools that works best for you (may it be your fingers, brushes, or with a beauty blender). But when you get the hang of it, this is a wonderful makeup.
Warning those who lives in a hot humid area, since these have an oil base, you definitely need to powder them to may be help keep them from melting off your face. Also I am very impressed with Beautylish.com's shipping!!! my order came in soooo fast knowing that they ship from San Francisco, CA and I'm in New England, also, my order is wrap oh so cute and personalized.

Lovely finish. I really love be that it matches my skin tone exactly, even if I've gotten a few hours of sunlight. My one gripe is that it is not long lasting. It creases after about 6 hrs., however, in my line of work ( I'm an ICU nightshift RN) that is pretty good. In love with it so far. I warm it on the back of my hand and I find that the tiniest bit is enough for my entire face, concealer and all. I blend it in with a damp beauty blender and set with Makeup Forever translucent setting powder, and spritze with Skindinavia setting spray

SIZE vs PRODUCT
When I first got the package in the mail I was surprised to see that it was so small!!! For some reason I thought the product would be bigger; I still can't get over how small it is. However, I'm in love with this product! It's great for the under eyes as a brightening concealer; it doesn't dry out that sensitive area nor does it crease. I've also used this product as a foundation and I'll probably never touch any of my other liquid foundations again! A little goes a long was and I recommend warming it up with ur fingers before applying to face. I found that taking a small spatula, or the end of your makeup brush to take out the product works best. Also, using a metal palette or surface is better than the back of your hand so you don't waste any product! Love love love it!

Catharine W.
Jun 30, 2016
everything & more wayne goss said!
So I was a hard core Chanel user until I watched Wayne Goss on Youtube- I'm getting older & the Chanel colors, I found, not as true as they once were- tried the VK11 pallett & flipped out! not only is the pigment amazing but I LOVE how my skin looks after I take this makeup off! The #5 are the more popular colors I use in the VK11 pallett. I wish I had known about this product so many Chanels ago! love love love & obsessed will never ever go back!
Love it
I've always been just kind of a BB cream kind of girl. Not too much on heavy make up but I decided to try this after listening to Wayne Goss. I even purchased pallets so I can introduce it to my friends. I have sold other make up products but I will always support this is the best foundation.

Love!
I have recently switched to only using cruelty free cosmetics and have been slowly replacing items in my collection. I was researching foundations and stumbled on RCMA while on youtube so i decided to give it a try, when i recieved my #5 palette and started usong it immediately and i will never go back to traditional foundation! This is very natual and so so beautiful on the skin, i love that i will be covered all year long and my complection never looks flat like with other foundations i have tried. I cant wait to get more RCMA products, i have already ordered a white shade and the no color powder. I am so grateful to be able to use these amazing products and know that they do not value money over morals and will continue to be a loyal customer for life ❤

im excited to leave a review!! from the time it took to arrive, how it was put together, nd the product itself i only wish you more stars!! fast shipping i love makeup nd it didn't leave me waiting a long time!! plus i felt special the way you guys set up the package made it feel like it was put together specially for me.... the product is cute, it works it actually works, it does leave the face looking like you got nothing but you know there is bc you applied it and the difference is amazing!!! i almost feel guilty using one color and now im going to get the other palette and then i noticed the bigger one!! but i see why its out of stock everyone that's buying the small ones is making sure to grab the biggest palettes, I would and im going too.😁 THANK YOU SO MUCH FOR THE WHOLE ORDER Im on three payments so no EXCUSES ladies❤️❤️😍

Reasonably Priced, an Great Coverage aswell
I started using the RCMA foundation when I first seen Wayne Goss talk about it on his YouTube channel, and even though I enjoy other foundations aswell. This foundation has Never Let me down!!! I use their 6 pan pallet because I never know which shade will work for that day due to being out in the sun and having tan skin from time to time. The 6.pan really helps with my dark circles under my eyes and also helps me hide those blemishes which appear over night!!! So it's Honestly a very reasonably priced product which actually works!!! And if a True Makeup Artist like Wayne Goss uses it, well I'm there too!!! The coverage lasts throughout the day,.and I'm able to match my skin tone perfectly!!! Never has let me down!! Soft an creamy to apply and blends like a dream!!! Hides many of my imperfections such as my large pores and also those "time of the month zits" I cannot complain, this product has saved me money,.while making my skin look fresh and natural.
---