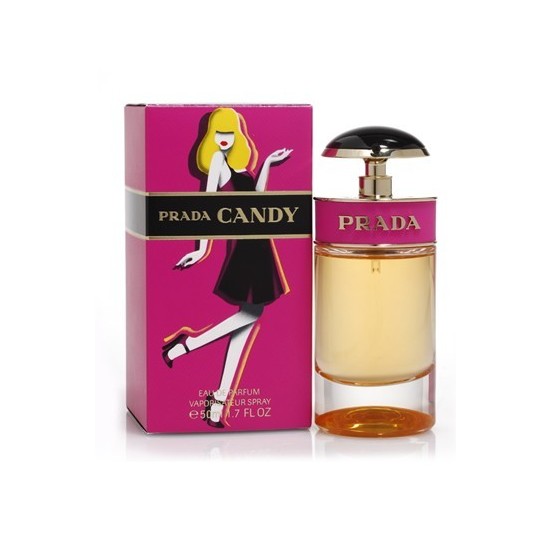 Rollover image to zoom
Reviews

Instantly Seductive
Firstly the bottle... it is incredibly stunning. It bears the refined Prada logo in gold lettering. The pump is perched on a golden neck like a shiny black half moon. (I love beautiful perfume bottles.) Now onto the scent. Candy has notes of musk, vanilla, caramel and benzoin. This scent is perfect for gloomy autumn and winter days. On me, the scent lasts most of the work day (if not the entire day). I have only owned it for a few weeks, but every time I have used it... someone has complimented me or asked me what I was wearing.

I will be adding this to my collection!
So I was with my BFF when i first smelled this perfume and I fell in love. At first I was like its kind of expensive not sure if I want it that bad; but since then I can't stop thinking about this perfume. So I will be adding this to my collection really soon!!

What a fun, flirty and sexy perfume. This mixture of scents all combined together make for a mature, bold and sensual smell that should attract the nose of any female. It's perfect to wear going out on a date or even with your girlfriends. There is no doubt that when wearing this compliments will be coming non stop. The smell lasts a long time and you don't have to spray the bottle 10 times in order to get the right amount of perfume on. A couple squirts and you'll be feeling and smelling great.

YUM!
Prada Candy is light, airy, and fluffy just like the texture cotton candy! It makes me feel warm and fuzzy inside. After awhile, there's a smooth transition from cotton candy to a mouth-watering creamy, rich vanilla ice cream lightly drizzled with molten caramel . As it melds with my skin at the end of dry down, I get a faint powdery sweet and musky my-skin-but-better scent which reminds me of smelling a newborn baby's head. Very little sillage and longevity is poor. Sadly it only lasted 3 hours for me.

I need to to get my hand on this perfume, the bottle is gorgeous! I always sample it when in stores, and te scent is yummy! That's the only way to describe it. Very sweet and flirty. I love it.

Favorite!
I'm a huge fan of anything with vanilla notes. Candy is not the typical "I like smelling like a 10 year old. (like cotton candy)" It's more than that--this scent is sexy! I always get compliments on it. Very good fall/winter fragrance and lasts for a long time. Must buy if you like to smell warm and sweet!
---