Organic Wear 100% Natural Origin Loose Powder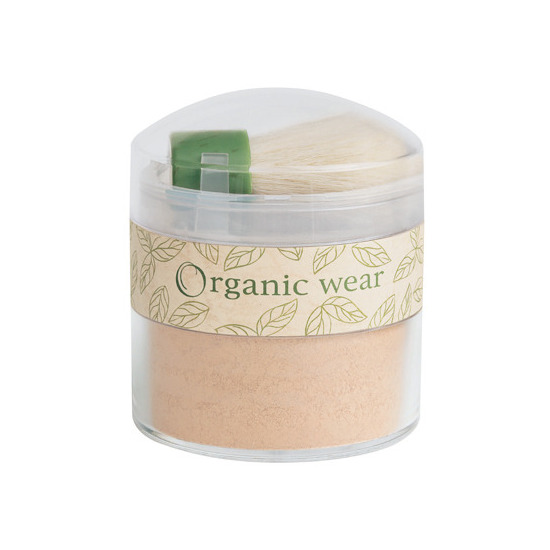 Rollover image to zoom
Reviews

Finally, no mess!
What I love most about this powder is the packaging. Never mind that it sets my makeup with a light, yet flawless finish and is just as good as any other loose powder I've ever tried. What does it for me is the fact that the packaging makes this stuff absolutely spill-proof! Plus, there's no need to shake the thing like crazy to actually get the powder to come out through the little holes in the top (don't you hate that?). It's easy to dispense the perfect amount of product every time. The negatives in my opinion me are that it takes up a lot of space, and is very, very pricey for a drugstore brand (although it does last a long time). The brush it comes with is perfectly fine, but you will want to wash it fairly often.

My go-to loose powder.
As we head into fall and winter, I'll probably place this product in the back of the makeup drawer, but this product got me through those humid New York summers.
I used the Creamy Natural shade which was perfect for my light(ish), neutral tone. I always wore this over my favorite daily facial lotion (H20 Marine Daily Hydrator http://btyl.sh/R1TgNl → ) because it can go on dry skin a little powdery.
I have occasional acne (a few breakouts around my period), and it didn't make it worse or better. It also somehow got rid of redness and impurities withough masking my freckles, which is stellar.
And, it's organic! Which trumps a lot for me.

Light as air.
This is my absolute go to powder. Let me just tell you guys, I have tried tons and tons of powders. My ridiculously fair complexion is almost too hard for every brand to match. For you ladies that prefer non-drugstore cosmetics I am almost always on your team, but this powder is better than any expensive brand I've tried. The light airy loose powder has a good coverage you can build with little to no caking. Also, it will honestly last you forever, mine lasts anywhere from six to ten months. Also it has a matte finish that lasts me all day long, seriously buy it.
---