Happy Booster Glow & Mood Boosting Blush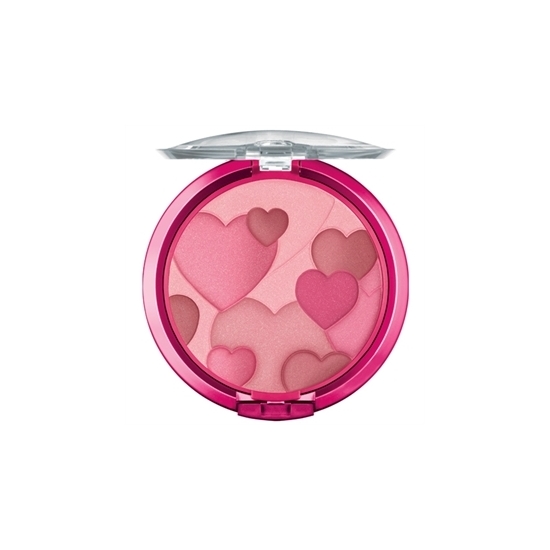 Rollover image to zoom
Reviews

A Must Have!
First off I am a PF addict so liking their products is nothing new for me but this blush was truly exceptional. The biggest plus about PF powders and blushes is how each contains more than one color so application is never solid or fake looking, the multiple colors add dimension. This blush has just the right amount of shimmer and I did not experience any fallout. A word of advise: The bright/magenta pink goes on very pigmented so make sure to swirl your brush around to pick up all the colors and tap off before applying.

Great Blush!
Physician's Formula blushers are top-notch and this one is no exception. The multi-toned blushing hearts are absolutely irresistible. The compact has a separate compartment which holds a mini blush brush but I recommend using a full size natural bristle blush brush for optimum results. Swirl your brush across the entire palette, in order to get the full effect. It does have a slight fragrance but nothing overpowering. It left my cheeks flushed with a natural glow and just the right amount of soft highlights. Another plus is that it does not cause breakouts! This one is a keeper!
http://freebeautysecrets.blogspot.com/

The Natural color is nice, especially for very pale skin
See my full review here: http://phyrra.net/2011/02/physicians-formula-happy-booster-glow-mood-boosting-blush-natural.html
The brush that comes with this blush is unusable, which is unfortunate because it's cute. I love the cute fuchsia packaging. I'm not sure that the scent boosts my mood, but the scent is reminiscent of candy and it fades quickly. The color is a peachy-pink-coral on me.

Great colour and adorable packaging
I bought this mostly because of how cute and pink it was, but it's actually quite a good blush. The different tones help it look a little more natural I think, rather than having one obvious colour on your face, it blends better.

Only blush I've ever liked.
I'm not a person who normally wears blush. But I saw this and thought it was so pretty I had to buy it. Very pleased with the way it looks. Wear it everyday now. I do feel like it does boost my mood a bit. I have the shade "pink." Which I think is the lightest one. Little bit goes a long way. Doesn't have the harsh too dark that a lot give. Love the cute hearts and compact with brush and mirror it comes in.

After seeing countless reviews claiming that this was one of the best blushes out there, I decided to stop by my Shoppers Drug Mart and purchase it (It was 14.95). I got "Natural," and I love it! It's a perfect healthy glow, and its not too bright. The blush is smooth and pigmented, but the brush is junk. I will have to call them out on the whole happy boosting technology because I dont think that that is true. However, I do enjoy the packaging!!

my Holy Grail
This blush.... I can't love it any more than I already do. It's a perfect color for me, a slightly deeper pastelish pink. The smell is nice though I don't think that this alone could boost my mood. It blends nicely and gives my skin a light glow without being like a disco ball. I would re purchase this in a heartbeat.

Still smells great
I almost have had this blush for a year. I got it as a Valentine's Day present and I am very pleased with it. The scent is still there, but it's not a super strong smell, just a light sweet floral smell. The pigmentation is very nice and gives me a natural glow like I want. I LOVE the packaging. The hearts are absolutely adorable and comes with a cute brush, even though I never use it. I always reach for the blush!!

No Longer Available D.
Nov 01, 2011
LOVE THESE!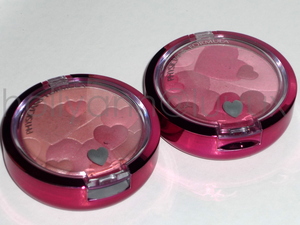 These blushes are amazing! I love everything about them!! From the packaging to the blush itself. Although, I did have a problem with one of the packaging. The button to open the blush popped out and wouldn't go back in place. So, I gave up trying to put it back. But it still snaps shut though. I guess it's okay. These blushes are suppose to boost your mood when using them. I on the other hand, didn't feel that was true. I did however, feel happy just looking at it! Look at them? They are just so cute with the hearts on the blush! I use the Rose when I want a nice pop of color on my cheeks and I use the Natural to give myself a nice natural glow to my cheeks. These blushes are pigmented and very buildable. They also have a powder and bronzers available in this line as well!
CONS - A bit pricey for drugstore. - Bulky packaging. (I don't mind it though) - The floral scent can bother those who are sensitive to smells. - The brush is scratchy. - I find the pan to be small, which means not much product.
Overall, GREAT PRODUCT! Definitely would repurchase! I recommend you check these out next time!
---