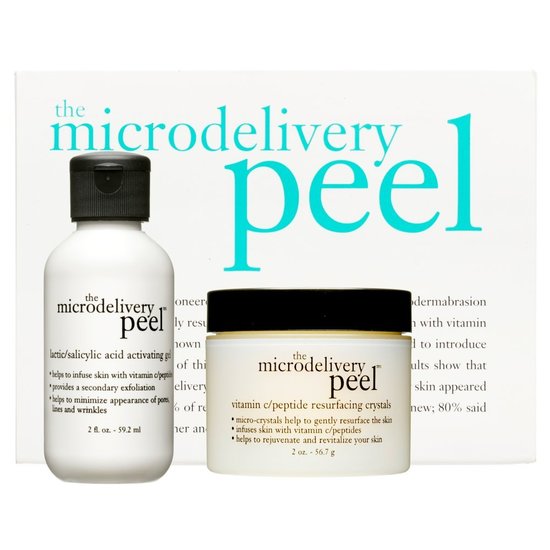 Rollover image to zoom
Reviews

Baby soft skin!
I love this peel!! It is by far my favorite at home microderm system. It has some wonderful ingredients that help decrease fine line, wrinkles, hyperpigmentation and pore size. Every time I use it my skin is super soft and hydrated immediately and for a few days after. Check out my full review at http://www.letsfaceitgorgeous.net/?p=598. I think all skin types would love this product and it especially good for anyone that wants soft and bright skin.

Fabulous
I was a bit put off by the price when I first saw this but I am so glad I took the plunge and purchased it. It is so easy to apply. The crystals go on first and you gently massage them in. Then the activator gel goes on and warms up your skin while dissolving the crystals. When you rinse off, your face feels smooth as glass. Your skin is renewed and rejuvenated and looks absolutely amazing. Worth every penny , as a little bit goes a long way. This is one of my favorite Philosophy products and it is a permanent staple in my beauty aresnal!

One of The Must Haves For Us Skin Care Snobs
Without a doubt The Best at home micro-dem set! No other company's attempt at at home microderm set can even compare (trust me I HAVE tried them all!) The crystals are so fine and the scent is fantastic and when the serum is applied as the second set the foaming action is outa this world! I use twice a week as a must for removing the dullness and impurities leaving me looking rested, refreshed and well polished!

AMAZING
This is an amazing amazing amazing product. I'm not usually a facial type of gal but this is great! At first I thought it literally was a peel, hence the name- like something you put on your face and it dried and you peel it off, but it's not. It's 2 simple steps. The first is little grainy beads filled with vitamin C. These are great exfoliaters but you don't scrub them on, you massage. These are warm and you can feel them working. Theeen, Step 2 you put an activating gel on and it's really cool because you literally see the physical activation when you do this. The beads turn into foam and you feel a warming sensation and you rub this on and just get this really nice lather. Then you leave it on a little and wash it off. & You will be amazed at your face after. You can seee the results. Your face just looks new and fresh! It rejuvenates, resurfaces and replenishes. Great for anybody, I'd say!!
---