Cocoa Butter Formula Lotion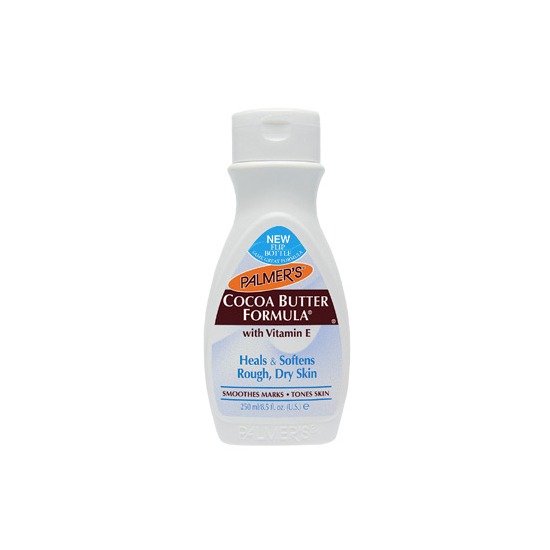 Rollover image to zoom
Reviews

Great for dry skin
Palmer's cocoa butter really helps my dry skin. My skin feels smooth after I use it. I don't know how it works for anyone else, but it does great for me.

Better then Body butter!
Love this stuff, I cant get over how rich it feels on dry areas of my skin. Though not the best cream to use in the summer since it gets to be a bit too hydrating.

Smells great!
This product is not only great at making your skin silky soft and but it smells great! Smells just like chocolate and the scent is really long lasting on the skin. I use this as an all over body moisturiser and it's even good on the rougher skin like on the feet. Excellent price for such a huge bottle!

I cant live without this stuff! its the only moisturizer i use and for my kids also ! NoThiNg BEATS THIS!! I LOVE THIS and dont know what i'd do without it... USE it for a few days all over and you will have very soft skin!! and i use it on my face and it fades old acne scars like no other while leaving skin moist and soft and smells so good!

I'd say it was amazing, but that would be an understatement
This is my holy grail of all moisturisers. Not just this version: i like the solid version, the hand/foot/elbow/knee cream, the firming butter, the all over body moisturiser, the body oil... basically i like every single product palmers cocoa butter formula has come out with! I'm in love with the smell, the creamy consistency, the toning aspect of this product and it just really blew me away - and for such a cheap price! Truth be told, i fought with my 18 year old brother over this product, as he kept stealing it from my room to use it -.- it's that great!

Best Foot lotion best smelling cocoa butter.
I love cocoa butter but it's hard to find one that is going to do the jobs and give off the scent of chocolate. I love putting this on feet after a shower, it's not greasy or makes my feet sweat when I put socks on. Love Love Love palmers

My All-Time Favorite Drugstore Lotion
This product is my all-time favorite drugstore lotion. Not only is it extremely affordable, it works wonders on dry skin and smells delicious like chocolate. I highly recommend this to anybody who loves the smell of chocolate and is looking for a very hydrating and inexpensive lotion.

I LOVE this lotion. I bought it during the summer for after sun care and for the harsher winter. I love the smell of the lotion and made it a point to stock up on it whenever I saw it at Walmart. Very inexpensive and does a great job of moisturizing my skin. I love to use it at night on my feet and hands before I put on my moisture gloves/socks. I pair this the shea butter and cocoa butter baby oil gel by Johnson and Johnson and this makes my hands and feet SO soft in the morning. I recommend the lotion for year round.
---