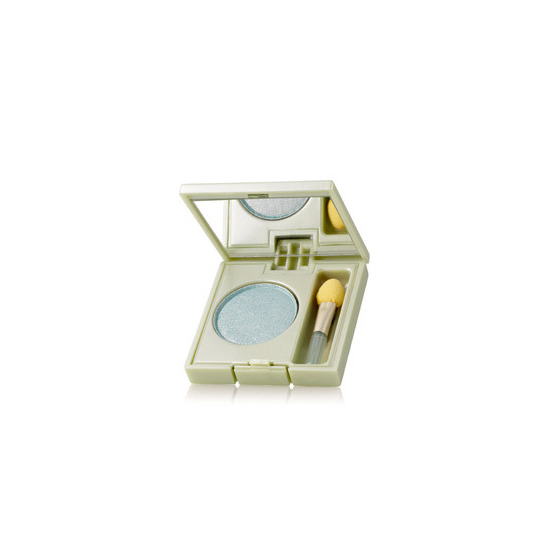 Rollover image to zoom
Reviews

Ultra creamy & pigmented shadows
I only have 2 of these shadows so my knowledge base is somewhat limited. These 2 colors are both exceptionally smooth and creamy while being very pigmented. I always use an eyeshadow primer so I don't notice these fading or creasing at all.
While the packging is a moot point for me because I depot my shadows and stick them in my ZPalette, Origins went in an odd direction with these. Instead of a clear window so you can see the color through the lid, they did a solid lid with a mirror inside. I don't know anyone who would use such a tiny mirror to apply their eye makeup. They include a sponge-tip applicator that, while great at getting a solid, dense application of color, isn't much good at anything else. The pan is the same size as a standard MAC eyeshadow.
I have attached a photo of my ZPalette- Glistening Granite is #18, Blue Moon is #25.
Glistening Granite is a deep shimmery gray color, great for helping to blend out smokey eyes or giving a little depth to more natural looks.
Blue Moon reminds me very much of a baby blue version of MAC - Trax (#23 in my ZPalette photo) in that it has that same kind of gold shimmer shot through it. Its a very unique color and I have found nothing like it.
The price point is comparable to MAC, and I sometimes see these at my local Cosmetics Company Outlet. If these 2 shadows are a good representation of the rest of the line then I would certainly recommend them to anyone!
What's in my ZPalette? http://thedragonsvanity.blogspot.com/2013/07/whats-in-my-zpalette.html

Stipulations
I like these when I just want to purchase a specific color. However, the formula can be a little chalky, which effects the pigmentation. Even though the colors are light, they last throughout the day. Since they resist crinkling, they're great for creases. My favorite is 'Copper Penny', a shimmery copper-brown, which I pair with the 'Cocoa' Automagically Eyeliner. I wear these when I want a polished, natural, low-key look. I recommend always using a primer with these eyeshadows, and using the included applicator...my eyeshadow brushes don't pick up enough color from the pan, but the included applicator works just fine.
---