Renewing Moroccan Argan Oil Shampoo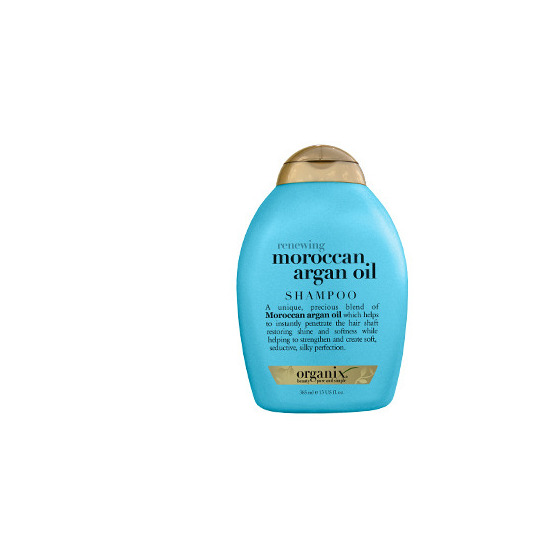 Rollover image to zoom
Reviews

Awesome!
I love this. But I stopped using because my hair got really dry and oily. But overall I love it. It works and it smells great. :) I would recommend this to anyone!

I loveeee this product so much! The shampoo and the conditioner are both amazing. After applying these products to my hair, my hair smells absolutely amazing ALL day! I also noticed a different in the quality of my ends after using this product after a month or so. It really is a great product if your looking for better shine and stronger ends. Highly recommended!

Mary Anne M.
Aug 03, 2013
Either Not Enough Argan Oil, or Just Overall Bad Product Line...
I tried the shampoo, conditioner, and Penetrating Oil treatment from this line all at the same time and found that these did not meet my expectations of a product that supposedly contains argan oil (which by the way isn't even very high on the list...). The products from this line smell amazing and are sulfate-free... which sounds great for someone whose hair is dry like mine and could use a shampoo that doesn't contain sulfates and has moisturizing argan oil in it, right?
Fragrance aside, the next thing I noticed about the shampoo is that it didn't really lather. I expected that somewhat, since this did not have sulfates in it, and generally shampoos and soaps that lather greatly have a tendency to be drying. But after using the conditioner from this line and letting my hair air-dry without the oil treatment, I found my hair felt even drier than it did with a cheaper shampoo and conditioner from Dove.
The next time I shampooed and conditioned my hair, I tried the Renewing Moroccan Argan Oil Penetrating Oil Treatment from the same line to see if this would add moisture, shine, and volume to my towel-dried hair again using about a quarter-sized amount of product. Still dry. Next time I washed my hair again, reapplied more oil. Still not moisturized enough. Eventually I applied a handful of the damn oil to my hair (which at the time I tested these products, was a few inches longer than shoulder length), and it barely felt moisturized at all; the texture still felt limp and dry!
I wanted to love this line but after a bad experience I thought of either trying their Moroccan Argan Oil with Shea line or Anti-Breakage Kertain Oil line, but for now, I'm staying away from Organix products for a little while to let my hair recover, and it has after using Dove Nourishing Oil Care products for about half the price. What a shame that the only good thing I could say about the Renewing Moroccan Argan Oil line is that it smells really good.
---