Olive Oil Replenishing Pak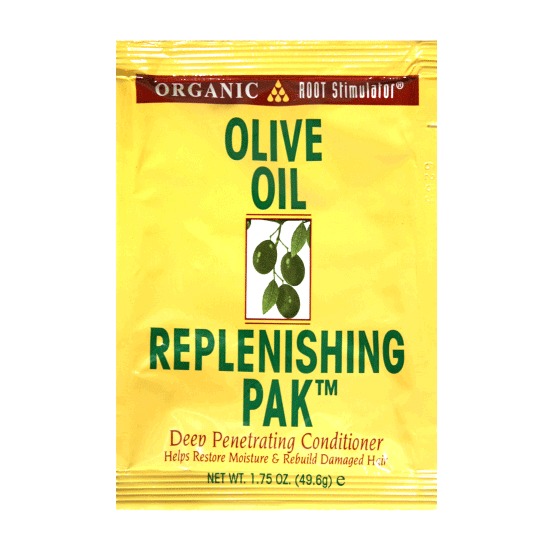 Rollover image to zoom
Reviews

This conditioner is amazing. It has a great smell and works really well into your hair to detangle and nourish. I really feel the difference from before putting it into my hair and after. I love this conditioner!

Dislike it.
I am currently experimenting with many different type of deep hair conditioners for my heat damaged hair. I had read great reviews about this product and so I decided to give it a try. I loved that it was organic and how inexpensive it was! I would use it a couple times a month as directed, and that first I thought it was okay. Until, I noticed the yucky residue it leaves behind not matter how little I used and left it in. It just didn't work for me.

LOVE IT!
I dye my hair about every month or so and I've been dying it for about 5 years. I have horrible split ends( i neglect getting trims) I've been looking for a good hair mask that would help my ends. so i decided to try this one, i saw a lot of mixed reviews but it was so cheap i thought why not. I put a little little bit on my ends and worked my way up. left it for about an hour- no heat. and rinsed it off, my hair was extremely soft. I actually loved the smell. I used this about 4 days ago and my ends still look amazing. I've already bought a back up pack even though I think mine is going to last me awhile :)

Awesome!
So I brought this product recently, and I love it. It makes my hair super soft, and shiny. Shavon A (http://www.beautylish.com/ReignLilee), helped me to understand I don't have to put heat on the mask for it to work, Thank you Shavon! I probably will be buying this from now on....

AAAMAZING!
This is truely an amazing product. It's creamy and smells great. It works wonders with relaxed or natural hair. You can leave it on, under a shower cap for thirty minutes to an hour and after a rinse your hair will be silky, smooth, shiny, and smell wonderful. The only con is that it doesn't come in gigantic 64 ounce bottles, lol. If they packaged this is huge bottles, I would definitely stock up. And if they made a leave-in version of the product too!
---