Olive Oil Nourishing Sheen Spray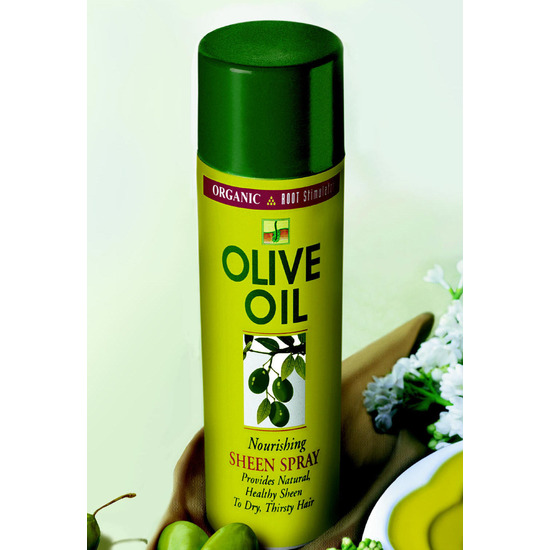 Rollover image to zoom
Reviews

Great.!
This product is perfect for a final hairstyle..I recommend you never use this at night because it tends to get grease all over pillows..use this product if you are going somewhere and like you hair looking healthy and shiny,i get soo many compliments about the smell and look.!

Perfect Shine
This product has been used on my hair since I was 12 years old. The spray smells amazing. It leaves the perfect amount of shine without it being heavy or greasy looking. I also use it on my scalp the night before i wash it because i suffer from dry scalp in the winter due to the cold weather. Best of all its totally affordable!

This sheen spay is amazing. Most sheen spray leave a greasy feel to the hair. This one goes on as greasy but eventually it gets absorbed by the hair and it nourishes it. It makes the hair feel silky and smelling great. The smell is no where near to olive oil. It smells clean. But the big thing is that it nourishes your hair and makes it look healthy, and shiny!

Great product for the hair
Great shine! I use it after i get my natural styled for added shine. I also use it when i have extensions, it brings the hair "back to life" (well not really lol) The only down side is that i find that when i use it, it seems to make my skin even more oily than what it is already!

KrizzTina M.
Dec 16, 2011
I used this forever when my hair was relaxed. Its a very great moisturizing oil, but it dries up too quickly for me. If it came in a bottle, as an actual oil, that would be great.
---