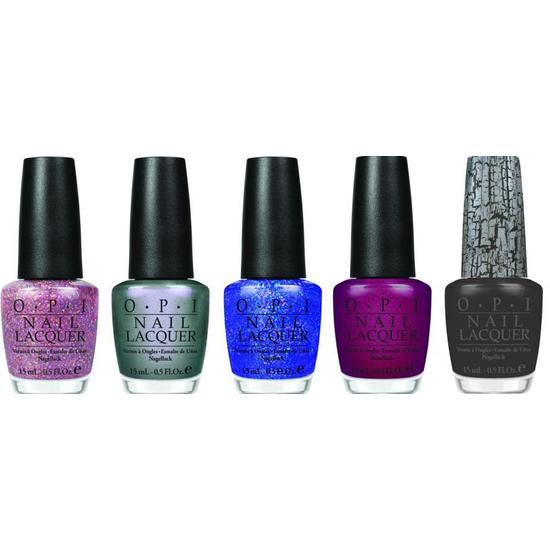 Rollover image to zoom
Reviews

Best OPI Collection Ever!
The variation in this collection is amazing! I've never even SEEN these colors before the Katy Perry and OPI collaboration. Katy is one of my favorite artists. Last Friday Night is my obsession between the five. I'm not a fan of shatters so I don't use it as much. The colors are very durable, using OPI's Drip-Dry method ( because i'm on the go most of the time ) it's worth it's cost, I recommend this collection, 5 STARS, of course!
BEST COLORS EVER!!
I came across these one day when I was at the hair salon and I fell in love immediatly. The blue glitter one is my favorite. It's better as a glitter top coat, versus a base color. I had to buy doubles of each of these when I saw them so I didn't run out. Don't care for OPI as a brand, but the colors are great!!!!

Teenage dream
What? I must have gotten a different polish because teenage dream looks nothing like that (in the bottle) it is not nearly as vibrant, like other people had said. Even as a topcoat you can't see the blue! All it is, is clear sparkles. I think it is too thick, I don't like this at all! :(

KrizzTina M.
Dec 16, 2011
The One That Got Away
I like the color i guess...but i think they could have come up with more vibrant fun colors for Katy Perry. The one that got away may have been the better color ideas lol

Christina N.
Nov 14, 2011
Teenage dream
I thought this nail polish was made for me. The bottle totally decieves you. This makes a good top cop coat. This stuff is so think and you have to put 5 coats on to start to see the blue. I would not buy this again. After I put 5 pounds of this stuff on my nails, it starting peeling off. Lame. I was especially pissed ater I just spent 10 plus dollars on this I saw a dupe bu sinful colors at cvs for 2 bucks. Felt so ripped off.

OPI can do better
I only have like one of them which is 'last friday night' (blue sparkly) and i really can't believe how many trips to cosmoprof, and beauty lab i made for this. -___- i wanted the amazing blue that it looks like in the bottle. when you put it on you can hardly tell. It's good for gradient, but alone i'm sure i'd need like 5 coats. They're adorable but eh. could be better I know OPI can do better

eh... not that great
I don't like teenage dream or last friday night, especially last friday night. They make it look like it's going to be an awesome glittery blue, but you can hardly tell that it is supposed to be blue when you put it on! I like the black shatter, but it dries out, and gets these annoying little lumps in the bottle, none of which are a result of not shutting the bottle tightly. I love the duochrome on Not Like The Movies, and I also Like The One That Got Away
---