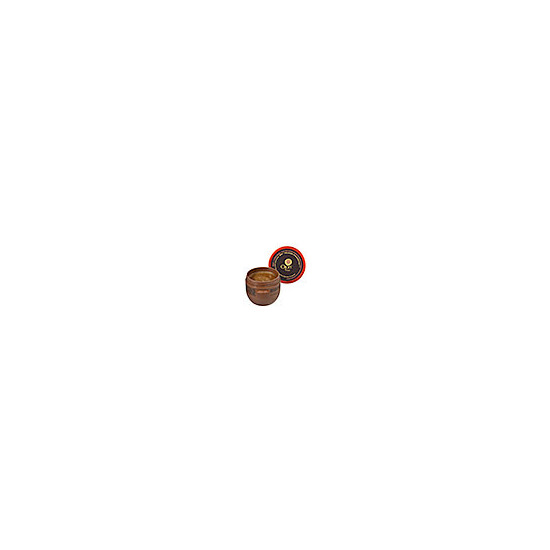 Rollover image to zoom
Reviews

<3
Loveee this treatment! My mom bought it for me when I had been dying, and bleaching my hair A LOT when I was younger, and it worked miracles! My friends would all come over and we'd Ojon our hair xD The smell is, strong, it just kind of reminds me of nature. I suppose that a good thing! My hair is so long, and my ends are quite bad right now, but when I can't get to a haircut, doing an Ojon treatment makes it all feel amazing. I love how it's a solid, and you use your body heat to make it an oil. I don't know why, but I've always though that was so damn cool. My hair feels so amazing after I've done a treatment. Super soft, shiny, and silky smooth! I definitely need to re-purchase this!

*****
I've tried this a few times now and it's definitely great! I use it on dry hair and let it sit for about twenty minutes. That gives me enough time to do all of my regular showering activities minus the hair bits. I don't mind the smell that people were complaining about, but I use it as a pre-shampoo treatment. My hair is definitely super soft after use and it's helped with the hair falling out.

Old Formula
I used Ojan for a few years now. I really love how my hair reacted to the restorative treatment. I felt that it literally rebuilt my hair. I didn't mind the smell, as I used it as a pre shampoo treatment. Though a bit pricey, this product lasted a year. I went to repurchase and I noticed Ojan reformulated their products. I was reluctant to re-purchase because I really love the old formula. I also used the leave in condioner spray, which t reformulated also.

The best thing that ever happened to my hair!
I have used this product for a few years now and I love the fact that is can be used as a conditioner , pomade or an oil. I like to use it as a leave-in conditioner , it protects my hair when I blowdry it and gives my hair a healthy feel and shine.

LOVE this stuff!
i have been using the ojon treatment since 2007. it's a staple product of mine. i usually use it 2-3x times a month. I color treat my dry, curly hair and it is usually very unmanageable. This stuff helps make it really soft & shiny and also helps to control frizz. i also will put it in my hair before going out in the sun so the sun's heat helps to penetrate it. i really like the scent- it's coffee/chocolateish.

I love this stuff!!!
Sunday morning is my Routine Maintenance day. I use the Ojon Restorative Treatment with a plastic cap (yes, I know lovely image) then I go through the facial routine and condition my cuticles, cover my hands and my feet in Un-petroleum Jelly and wear the cotton socks/gloves while I read and relax.
Then I take a shower and voila!! Shiny Hair, Soft Hands, Glowing Skin and Soft Feet.

Best conditioner ever for my dry, frizzy hair!
I've used every leave-in conditioner out there, and lots of treatments, in a vain effort to keep my thick, dry, frizzy polynesian hair healthy. None of them worked and most of them ended up drying my hair out even more. Finally, I found this product, and I have used it for about three years now -- not only is my hair healthy and shiny without frizz, I've been able to grow it much longer because the ends stay so moisturized and don't need to be trimmed as much. I use this as a leave-in conditioner. After getting out of the shower, I scoop out a pea-sized lump and rub it between my hands to liquify it, then apply to my hair from about the temples down (not the root area, which does not tend to be dry). Sometimes I'll use it when my hair is dry, if it seems to need it. This is my holy grail hair product. The small container lasts a long time, as you don't need much of this product even for long hair; it's a bargain.

love
I love this...its great for my hair texture...although the shampoo isn't for me...it made my hair brittle...I LOVE THIS PRODUCT. I use it daily at times to keep it conditioned...but just a minimum for daily use...it has an acquired smell but I'm use to it :']]]] it's amazing.

It does the job
This product is probably one of the best hair product I have bought in my life. My hair definitely improved after I used this. My hair was very damamged so the first days I used it I actually left it overnight. I chnaged my routine afterwards to just the time recommended in the package and it still gave me an amazing result. Although it was great, I couldn't purchased again because I got pregnant and the smell was making sick. I will definitely give it another try soon.

<3
This is a great treatment. I'm in love with the smell, the texture and the fact that I bought this batch five years ago and haven't come close to finishing it yet! It's not something I use regularly because it does take time and effort to wash it out but it's worth it. For fine-haired gals like me, maybe applying it to the scalp isn't such a good idea, because you can end up with limp hair until your next shampoo- damaged ends thrive on this, though!
---