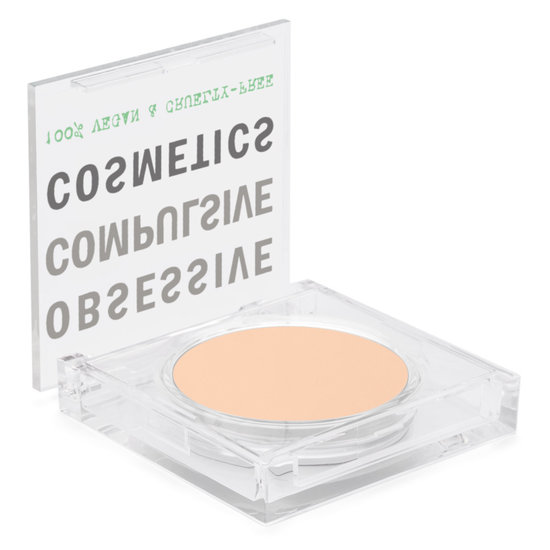 Rollover image to zoom
Reviews

Very Creamy and Pigmented
I'm really happy with this concealer, it's everything I wanted Laura MErcier secret camouflage to be, but the SC was too dry and unforgiving. Y2 is a pretty spot on match for Nars Stromboli skin tone, and actually has yellow olive undertones, so if you have olive undertones don't worry about this being to warm. I thought I would have to mix, but it's perfect straight out of the pot. I can blend it out so sheer the edges easily, but it doesn't emphasize texture when I try to conceal acne scars. Definitely a win!

absolute love
i think this product is so amazing its the only concealer ive used for a year and i still have quite abit left such a creamy formula great coverage and best of all no white cast under my eyes wheb using flash photography i use 3 shades i use r1 as a correcter y1 for concealing redness on my face and y0 to brighten. the only thing i didnt like is the old packaging but one ive ran out it i will certainly re purchase i found my holy grail concealer

Appears darker than it is.
I was going to return this product, but completely forgot about it in my car. So I decided since it was well after the thirty days to just give it a try. As it turns out it was the perfect color, it just appeared to be much darker then it was.
Last through my work shift and is very blendable. Only real down fall to this product is that is does crease, but it's nothing I haven't experience with any other concealer.
Overall, would recommend.

My Fave Concealer
Concealers...correctors...I've tried them all. But OCC Skin is my all time favorite. I have extremely dry skin and this rich concealer does the job and it stays put all day. I've used it with and without setting powder. It leaves my skin looking nourished and hydrated. It blends like a dream and I can even go without foundation thanks to this product. I use just the tiniest amount and it provides all the coverage I need on dark circles and sunspots. This is the ultimate concealer.

Very light!
I have used the BOI~ING concealer by Benefit in the 01 shade for a few years consistently, but I wanted to switch to something vegan and cruelty free. I am very pale with red undertones. The OCM concealer in R0 will work for me if I blend it well but it is SUPER light. So if people aren't consistently calling you a ghost, I would order one shade lighter. Love the consistency and everything else about it!

Jacqueline H.
Feb 20, 2015
This Concealer = Awesome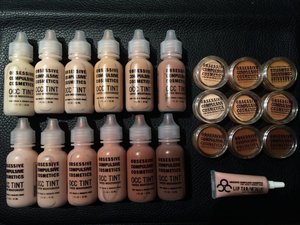 I think the OCC Concealers don't get enough love..... I've been using them for quite some time, and I adore them. They are very pigmented and I love the texture of them. Some concealers are too thick, and no matter what you do skin prep wise, they bleed into other products and sink into lines; some concealers are too thin, giving you a shorter window of time to blend it properly before it sets. The OCC concealers are right on the money; easy to apply and blend, they nourish and hydrate the delicate under eye skin without being heavy; they are the perfect for the lady or gent that wants a concealer with no 'futz' factor.
The shade range is excellent: 12 shades that are either red or yellow based, and can be mixed:
YO: The fairest depth in the Yellow series. Y1: Light yellow Y2: Medium yellow Y3: Medium-Deep yellow Y4: Deep yellow Y5: Deepest yellow
RO: Fairest Red R1 Light Red R2 Medium Red R3 Medium Deep Red R4 Deep Red R5 Deepest Red
I love to use this concealer paired with OCC's Tinted Moisturizer for a natural fresh skin finish. Kevin James Bennett is the E.F. Hutton of the cosmetic industry; When he gives the thumbs up on a product, you best listen. :)

Wanted to love this so much!
I love OCC, and the shade range of these concealers had me drooling. I'm extremely, EXTREMELY fair, and when I saw a shade match, I knew I wanted it. I waited and waited until I finished my last concealer, and purchased it. That was about where the excitement ended unfortunately. I was so excited to use this because I've heard amazing things about it, and I have very dark circles under my eyes, so I thought this would be a miracle worker. Nope. The texture is very thick and dry, which is good in a concealer, but trying to use and blend it on the delicate under eye area was very rough. Once I got it how I wanted it to look, I'd pass by a mirror in an hour or two and notice all the product had collected in the fine lines and pores in my undereye area. And since it's such a stiff product, it wasn't just a 'blot and blend and good to go' fix. I've tried applying this with a sponge, a damp sponge, a brush, my fingers, everything. I cannot make it work for what I need it for. On a plus side, it does work great for a facial concealer, but I don't suffer from acne a lot, so I really don't get my money's worth from buying this product.

Holy Grail Concealer
I ordered this online and got really lucky because I wasn't sure what color I would need, but when it arrived it was a perfect match. It's comparable to Benefit's Boiing concealer (which was my favorite for a long time), the differences are that the OCC concealer is $2 more, you get 8 grams of product instead of 3, it's easier to work with, and the shade range is 110% better. I can't say enough about the OCC concealer. It blends like a dream, it's SO easy to work with, very creamy but not too heavy, perfect for the undereye area or blemishes and discoloration. The ONLY thing I don't like about it, which is why I gave it 4.5 stars, is the $20 price tag.

Alli Rose G.
Apr 10, 2013
Dark Circle Eraser!!
I need this in a shade lighter, Y0. This is the only concealer I've found that covers my blue/purple vein dark circles. It's a miracle in a pot. It's a very creamy, but dry non greasy texture. It creeps in my under eye lines a tiny bit, but nothing that can't be blotted away. This is better pigmented than a full coverage foundation. Once I get the correct color, this along with the Skin Tint with be my holy grail products. This concealer is truly amazing. I also think their color range is great. However, I wish they'd go one stage lighter because I'm in the shade Y0 and I'm no where near Irish translucent white skin.
---