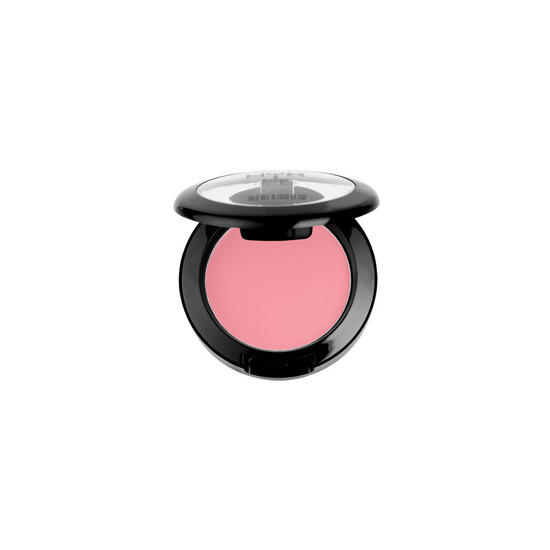 Rollover image to zoom
Reviews

So pink, and yet so natural
This blush is in my top two. I have dry to normal skin and this blush looks so natural it's just unbelievable... It's cheap, got a fair amount of product and it's so easy to apply.. One important thing you must remeber is that you should only use a tiny amount of color and build it if you want it to, otherwise you'll end up looking like a porcelain doll :-) In terms of texture on the cheecks, it has this ''part of your skin'' look to it. Will definitely repurchase.

This was the first cream blush I've used, and I'm a little disappointed. It looks really good when you first put it on, but it doesn't stay on long at all. And I'm not the type to layer it with another blush. I think that defeats the purpose of using a cream instead of a powder. I have normal/dry skin.

So pretty
This is my first cream blush and it really had me wondering... why did I ever use powder blush? This goes on smoothly, stays on throughout the day, and looks so natural when blended out underneath foundation. I really can't speak highly enough about this product. I'm going to buy one of the brown shades soon to use for contouring.

Mary Anne M.
Sep 05, 2012
Sticky Formula, Color Misrepresentation on NYX's Part
I adore NYX's Powder Blushes and Mosaic Blushes, and thought I'd give their Rouge Cream Blushes a whirl. I swapped for one in Boho Chic, which I had hoped was a dusty rose shade as represented in swatches on the NYX web site, but it was in fact a soft, rosey pink shade instead. NYX is terrible at properly representing accurate color swatches for their products!
Color mispresentation aside, the formula and pigmentation was a bit disappointing. I was comparing this to Topshop's Blush at the same time. The Topshop blush is a cream-to-powder formula, which I enjoyed because of my combo-oily skin; the cream-to-powder formula felt clean and weightless once set.
NYX's Rouge Cream Blush, on the other hand was a cream blush that stayed creamy. It melted in the pan if stored in even slightly hotter than room temperature, and was a sticky mess both in the compact and once applied on the face. I always had to set this blush with powder after applying, because it stayed tacky for a while. The pigmentation was also lacking, and was difficult to build up the intensity of it since it seemed to stay a little wet after applying.
If you do feel compelled to try this blush out, there is one thing I could recommend it for and that is as a base for powder blushes. Because it's so tacky, I have used this cream blush as a base underneath Maybelline's Mineral Power Powder Blush. It helps set the cream blush, giving the stickiness of the cream blush something to hold onto, while intensifying the pigmentation and staying power of the powder blush.

My Go To Cheek Color For The Summer!
All through out the summer I found myself reaching for this NYX Cream Blush in Glow as my go to cheek color! Its super creamy, easy to blend and nicely pigmented! I think it would look really great on fair to tan skin tones to give you a really fresh, slightly pinky, well..."glow".

I bought Boho Chic in hopes to find a really good every day blush that I could also use as a nude pink lip color. I had previously bought the shade Hot Pink and was so impressed with the pigmentation, so I thought Boho Chic would be up to par.
When I got home, I swatched it and it was very sheer color, but it provides a very pretty natural flush to the cheeks. There is a little shimmer to the color, but on the skin it's not noticeable at all. On the lips, it's very sheer as well but still very pretty.
The color is pretty identical to MAC's Creme Cup lipstick (when swatched next to each other, Creme Cup is slightly a little more browny), so if you want that color but don't want to spend the $15 on the lipstick, I definitely recommend Boho Chic. It's 1/3 of the price and can also be used on the cheeks.

This blush is really awesome because you can actually use it as a cream blush and as a lip color! In my opinion, the texture is very similar to a lipgloss rather than a cream blush, but I kind of like that! It's very moisturizing, very pigmented, and easy to blend.
I totally recommend this product

My old blushes just sit in the back of my closet now, as I pull this one out every day. I dab two fingers in and blend it across my cheeks for the perfect rosy glow. I am very fair with freckles, and if you like your freckles, this blush is amazing. It makes them pop somehow, in a very sweet way, and you look so fresh and natural. At the end of the day, it's still all there. It also looks lovely on lips, although it doesn't last there. I will say that if you purchase online, you MUST look at reviewers' swatches, because the colors are way off on here and on Ulta. But once you find the right shade for you, you will not regret it.
---