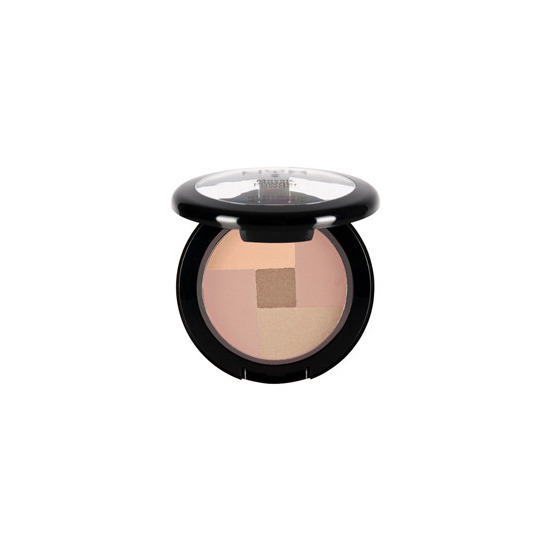 Rollover image to zoom
Reviews

Mary Anne M.
Jul 08, 2012
Blush and Contour
I enjoy creating some dimension to my round face by contouring, and having a few different gradations of blush is helpful with that so I wanted to give this a try.
I was a little afraid that this would be too orange, but a blush brush fortunately doesn't pick up too much color! So despite being so bright, the Love palette is surprisingly wearable and great for spring/summer. I use the two lightest shades for a sheer wash of blush color, and then use the remaining darker shades as needed to contour, just a little! I like to apply this in shade by shade for the best contour control, and because if you apply it all at once by swirling the whole brush in the compact, you'll just end up blending it all together... might as well get a single-color blush!
The price for these can't be more than $9, which isn't too bad since you're getting 5 shades. These compacts come in a variety of shades including brights, classics, and neutrals, so there's one for everybody.

5 Hues to Perfection!
I tend to never lean towards Mosaic powders because they sometimes are a hit & miss! NYX did quite an amazing job pairing these Mosaic powders together, hands down. They give you enough of each spectrum of the color range your looking for so you can keep it light, darken it up.. or even brighten! Each NYX Mosaic Powders come with 5 hues in a pan, so its safe to say once you swirl the combination it will be perfect, right? I purchased mine at my local Ulta for around $6, here's what i thought:
-Round black clam case very similar to MAC blush -Not travel safe & will shatter easily due to multiple different layers pressed together -Great Pigmentation & color pay off (they pack a punch!) -Buildable & easy to go sheer or darker/brighter -Powdery and all of the product build up with occur in blush tin (must tap off brush before applying or else it will be clown time! haha ) -Matte & shimmery hues are mixed here for a perfect combination -Affordable & Located online and Ulta (for me atleast)
My fair skin normally shows everything to the max, but the color love i picked up is my perfect coral color! It looks amazing paired with a bronzer as well! I find these powders to be more effective than elf, and for a few more dollars there a steal compared to other companies. NYX did it again, i recommend it!

I bougth this a couple of years ago, and i am not the biggest fan of it. I feel it is too powdery. When i ordered the blush i did not think the color was so brigth, so i was a bit surprised when i got the blush because it was so brigth in the color and was more oveer to the orange color.

LOVE IT! ♥
I absolutely LOVE this product! I was at the beauty store with my mom and she picked it up because she wanted a new blush and I wasn't paying attention until we arrived home and she tried it on and the product was way too light for her (she's two complexions darker than me) so she handed over to me and since the packaging didn't specify that it was a blush, I thought that it was a bronzer so I've been using it for about a month now all over my face. I love it better as a bronzer than as a blush because it gives my skin a warm healthy glow. I haven't gotten a chance to run to the store and purchase the other types but I plan on doing so very soon! Two thumbs up! :-) ♥

LOVED IT!
im very picky about my blush! because of my skin tone. its usually a hit or miss with me, i got this from Ulta. it was on sale so i was like why not. but when i used it i really really love it. the sparkle it in gave me a very healthy glow. the blush stayed on for 6/7 hours without primer. i personally really really loved it! so so worth it! you can also use some of the colors separately with a small brush.. best part i honestly couldn't tell the difference between this and something you would buy from a department store.

This is a great product.. I use it as a blush.. I put it on the apples of my cheeks a little on my chin and a little at my forehead.. I just love the glow of this amazing and cheap costing product.. I like to tell people you don't have to spend a fortune to have a great look.. Low end products are just as good as high end and you can afford them.

Multipurpose product!
I love this product! It's good for many things. I love using it as a blush on my cheeks. I can also use it as a bronzer to contour. It works well as an all over face powder to give my face a natural glow. I've used it at least 3 times a week for 5 months and I barely made a dent in it. It's worth the money and you wont be dissapointed.

Strawberry M.
Jul 25, 2011
Best thing ever
I have extreme dark circles. It's not only the color of my skin but the shadows created by this deep set, concave area under my eyes that concealer can not cover up. However, a dab of this highlighter under my eyes reflects light up and brightens up my whole eye area.
---