 Rollover image to zoom
Reviews

Love Them All
I love my Nyx Jumbo Eye pencils! I own a good amount of colors in this collection and have use for all. Used either as a base or alone they work wonders, very bright and pigmented, also have great lasting power! I use as an eyeliner sometimes, other times as a base under my shadows and I have no issues with creasing or melting like some of the "imposter" jumbo pencils. Some of my faves are Milk, Rust, Dark Brown, Black Bean. I especially love Rust with my blue eyes cause it makes them pop and is a lovely (dark maroon/red), also Milk (pure white) cause it is a great base for shadows that aren't very pigmented on their own, with this as a base it just makes the shadow brighter and truer to what it is meant to look like. I would defiantly go out and grab a few (or all) for your collection because you won't be disappointed!

LOVE IT
I got this as a multi use highlight and eyeshadow. It is easily blendable. I know many people love the color Milk, but I got Cottage Cheese for two reasons: 1: my ULTA doesn't have the shade Milk and 2: I prefer shimmer if I am highlighting my face/eyes. I have glasses, so this helps me brighten up my eye area as dark shadows are cast on my eyes. I love it for a soft, everyday look. It does crease, which annoys me, but it is small enough so that I can keep it in there for touch-ups. I know some people have an issue with sharpening as it is entirely plastic, but I was able to sharpen it with a strong large sharpener. Overall, if you are looking for something good to use for highlighting or a good eyeshadow, I would always recommend it.

They're okay
Not sure what all the hype was about. These dry out fast and if it use it as an eyeshadow base like it says you can, it gets all into your creases and looks terrible. The cap on this thing is horrible, it is made of cheap plastic and cracked the first time I closed it, and kept getting worse until it broke 5 days after getting it so I had to keep it in a zip lock bag to keep it from drying out more than it already had. It's to thick to use as an eyeliner and it's hard to sharpen. I don't recommend it.

I would marry this product
Ok! We're to start with this it's a jumbo pencil my color of choice is milk I use this as an eye liner if I want my eyes to appear bigger and with one swiping motion it's perfect it glides on smooth and is nicely pigmented! A lot of white liners dot show up in your water line and I mean come on who's going to use primer literly on there waterline? No one. So if u want one that works this is it and I have super watery eyes and it stays also you can use it as a base alone or after primer to make your shadows seriusly POP. I will never ever not have one of these in my collection again. I honestly don't think this could fail anyone. But that's just me

Awesome pigmentation at affordable price, but creases on me.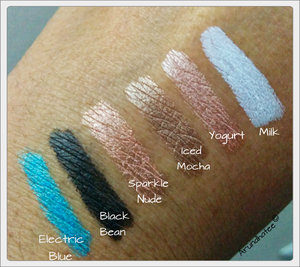 This review is particularly on their Jumbo Eye Pencil Collection "Center Stage" (Colors included Electric Blue, Sparkle Nude, Iced Mocha, Yogurt, their cult favourite Milk and Black Bean.) The pencils are crazy crazy pigmented, very creamy and can be used as eyeliner and eye shadows. Great base for other shadows. I always apply a thin layer yet I can't wear it for more than 5 minutes without noticing some kind of CREASING. I have tried it with Mac paint pot, Urban Decay Primer Potion and ELF eye primer, set with eyeshadow but there is always some amount of creasing almost immediately.
Pros: Super affordable. More so because it's in a kit! Good range of color; includes basics with a bright shade. NYX has an amazing color range for these pencils.
Cons: Not automatic, so sharpening is necessary. Creases on me even after preventative measures.

I love this product so much! I love using it in my waterline under an eyeshadow for a pop of color or as a base for eyeshadow looks. Definitely lives up to the hype. I've got a bundle of the jumbo pencils!

Rachelle-Denise M.
May 25, 2014
A Wish Come True
I had been wanting this product for so long. I knew I wanted it in "Milk" to help create the bright-eyed, fresh face the color creates! I have gotten it just in time for the flirty, fresh looks this season. It goes on so smoothly and unlike so many eyeliners I have worked with, this does not irritate my waterline at all. It's really easy to work with! In love with it, so happy to have it part of "the family".

Great for smudging but beware the CREASE.
I bought this because I liked how it went on and how easily it could be smudged. I've created many nice smokey eyes with this acting as a staple in all of them. My only dislike is how easily it creases! Even when I use Urban Decay's Primer Potion this stuff won't stay put!

Curiosidades E.
Dec 21, 2013
Originally looking for the Milk pencil
In Canada it's hard to find NYX pencils...they had this one so I bought two. It's a nice product...goes on smooth with a thick feel but would be happier if I could have found the original one I wanted. The cottage cheese is not white enough or matte enough to give that nice primer for eye colours. The pencil though is more subtle for brightening the lower lid. This product has a sheen to it...would prefer it matte. All in all it's a quality pencil. Recommend if you are looking for the Milk pencil to seek it out.
---