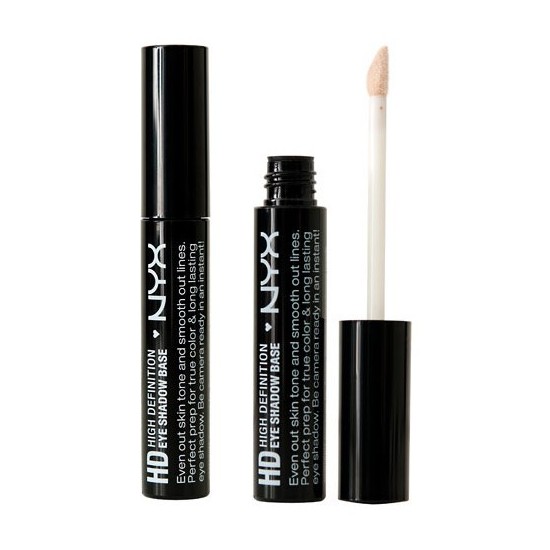 Rollover image to zoom
Reviews

Amazing Quality!
I've never used any expensive eye shadow primer like the one from Urban Decay or Paint Pot, but why would I when I have this? I got this for maybe $3 at Ulta online, maybe a little more than 3? I typically have slightly oily eyelids, so my eye shadow would always crease in the middle of the day, so I would have to reapply it. But not with this! Not only does this keep it perfect all day, even in the central Florida humid weather, but it even makes the colors POP! I did a simple test at home on a day I knew I wasn't going to go anyways, and I put NYX HD Eye Shadow Base and eye shadow on one side, and just eye shadow on the other, and I noticed a difference right away! He side with the primer looked more bright and shimmery, while the other side did not. I went through the whole day and even took a nap for a while, (I know it's a no-no to sleep with make-up on, but I was just very sleepy!) and when I woke up, the side with primer was still fine while the other was not. This primer is amazing! It even makes my eye liner and mascara last a lot longer! It uses a wand applicator, put I usually just do a dot or 2 on my eyes and then rub it in with my fingers, and it's more of a very like tanish color than a white. A must have!

Better than Urban Decay
This hasn't creased on me and I use it every time I put on eyeshadow (which is frequently) I don't put on eye makeup unless I'm using this product. However, I found that if I put a lot of primer on my eye, I noticed it take a while for the primer to dry/set so I can start applying shadow etc. So, what I did was, I put just a little and I found that a little goes a long way with this too. A little can cover my entire lid and it takes less time to dry/set. Very satisfied with this product.

Better than UDPP for me!
I have oily lids and everything has creased for me whether it be the Urban Decay Primer Potion or the normal NYX eyeshadow base. But this is amazing, it comes with a doe-foot applicator, which pulls out just enough for me. It's very similar to the Urban Decay Primer Potion, it comes in this "universal" shade that blends into transparent basically and the consistency a little thicker than the primer potion. I use this product everyday and I just love it. I'm definitely going to repurchase. One thing to not is that there can be some product buildup around the cap area which can get messy if not careful.

This is a must-have!
If you like high-end primers, but don't like their high prices, this primer is a great alternative! It feels just like Urban Decay's Primer Potion and works just as well. My eyeshadows have never stayed on as long as they have with this primer. It's only about $5-7 (depending on where you get it from) and at that price, you can't go wrong! It's absolutely amazing and it's now the only primer I use.
http://thedailyswatch.blogspot.com

This product is awesome. Not only does it make my eye shadow "pop" but it also makes it last all day. Usually my eyeshadow tends to clump and rub out by the end of the day. This primer makes the color last all day. The only downside is that it takes a while to dry but I use it before it dries anyway. I bought it at the beauty supply store for maybe $6 or $7. Very inexpensive!!!! I would definitely recommend this product!

Ugh not anything like the NYX base in the jars
I use the NYX base in the jars and I love that, and it lasted through many many many applications but I am beginning to get to the point I am running a little low, so I bought a tube of this because I thought the benefit of having an applicator (the little jars don't) was worth paying a little bit more its like $1 and change difference in price. I hated it. COMPLETELY DIFFERENT FORMULA- The feeling is much more fluid than the jars and it has a very greasy feel it is sticky and hard to apply shadow over it, and it gets all in my eye shadow brushes. I will definitely go back to the product in the jars.
---