Beach Babe Texturizing Sea Salt Spray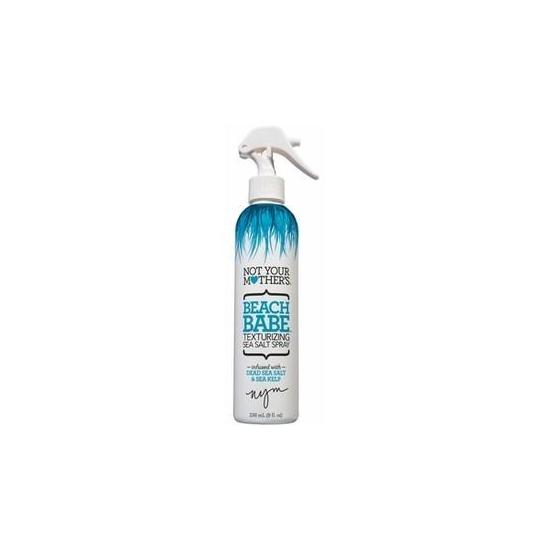 Rollover image to zoom
Reviews

Team
smells like coconuts or a day at the beach
I. Love. Salt. Sprays!!! Believe me, every time I see a new one at the store, I HAVE to pick it up and look at it then hem and haw whether I want another one or not. Most of the time I have pretty good self discipline, but I do love looking at them. NYM is an affordable hair care line. Although this spray is the only product from them I've tried to date, I like it a lot. It smells great (like coconuts) and comes in a super easy spray bottle which makes application easy. You get a lot of product for your buck and it leaves my hair with some slight waves. I usually apply this in the morning after my Sexy Hair Volumizing Powder, spritz this all over, then tie my hair in a bun while I get ready for the day. Voila! Sexy, not crunchy waves and my hair smells uhhhhmazinnnggg.

Disappointment
I used this product on my damp hair and scrunched it in and styled my hair to air-dry as normal but it made my hair feel nasty and look so greasy that it didn't look like I had even washed it. I thought it was my mistake and tried it again the next day and it did the same thing again.

I've been using not your mother's beach babe sea salt spray for awhile now. it works ok. I mean it gets the job done. my hair gets so dry and matted after using it. I have naturally thick curly hair. I feel that this product doesn't give my hair much volume at all. I have to scrunch the shit out of my hair and use a lot of the spray just to notice the beach waves. I'll keep using this until I run out, but I think I'll be trying other sea salt products for beachy waves from now on.

good product if....
This is a good product if you do not have naturally curly or super wavy hair. If you have naturally straight or little wavy or in between, it works and gives great waves! I found for my naturally curly hair the waves it created looked really weird mixed in with my curls. If you have hair like mine I do not suggest getting any type of spray for "beach waves". Just put your hair in a bun overnight comb out in the morning and get the same results! (with maybe a little bit of mouse) ;)

Tangled, frizzy mess
I bought the travel sized bottle to see for myself what the fuss was about. My first impression: the scent is this nice coconut fragrance. The actual product, however, didn't give me beachy waves. Whether dry or damp, all that happened was that my curls got tangled into a frizz nest and it felt crispy stiff. I wouldn't recommend this product to people with dark, curly hair.

GREAT PRODUCT!
I got this spray because I've heard good reviews on it. For the price, it was worth it. It works great and I find when I use it when my hair is damp it emphasizes my natural waves when it becomes dry. So if you need a cheap beach spray, this is the one to purchase!

It's okay...
I find this product okay I'm not a huge fan my hair doesn't do beach waves I guess but it's good when i curl my hair I think it helps hold the curl for alittle bit longer the it would without it but overall I haven't been able to get "beach waves" with this product..

Hmm
I have naturally straight hair, and all this product did was give a matte, frizzy look to my hair but no waves. I've even tried curling my hair first and then apply the product, but this product uncurls my hair and I end up with the EXACT same results. I only use this product when I want to give my hair texture for like a messy bun, but I probably won't buy it again.
---