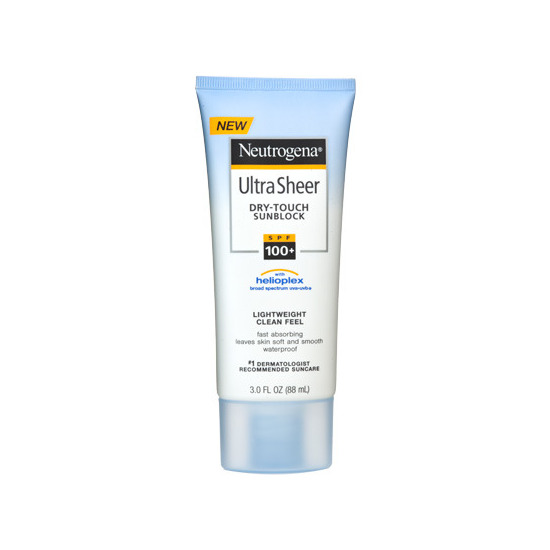 Rollover image to zoom
Reviews

Face Art Beauty H.
Nov 18, 2010
Fountain of Youth in a bottle.
With this light weight SPF, we can wear it knowing that it will last longer because of the SPF, and feel like we are barely wearing anything.
Tip: always reapply when getting out of the water. Just because you have a higher SPF, doesn't mean you don't need to reapply.
Always wear Sunblock even though you are not going to the beach. Sun damage is caused by cumalitive exposer.

Breaking me out?
I started using this sunscreen, and I absolutely loved the smell. I usually hate the smell of SPF, but this one actually smelled lovely. When I slathered it on, it turned my face blue. I looked like a ghost, which is what SPF does so I shouldn't be complaining. I figured I could deal with the extra blending.
The problem that I had with this SPF was that it starting breaking me out. Badly. I ended up with huge problem areas, and I didn't know what to do. I started using a different SPF for sensitive skin, but this product did leave me with a few scars.

Great finish !
I'd have to say that this is the best sunscreen I've ever used . I only use it on my face and it feels great . I'm most impressed by the finish it leaves . It does just as it says on the bottle . It leaves my face feeling non-sticky or greasy . It also leaves a very soft feel on my face as well which is a plus as well . I put this on everyday , especially if I'm going out (shopping , pool , etc .) Oh and its WATERPROOF ! So it doesn't come off when I sweat !! Its a really good product and I def recommend it ! (:
Cydnee M . xo

Mary Anne M.
Jul 05, 2012
HG Sunscreen for My Combo-Oily Skin
I used to never wear sunscreen on my face because I always had base makeup with SPF in it. But this was an issue when I would go to the beach without makeup, especially because I have oily skin and did not enjoy slathering equally oily sunscreen on my face. I needed a sunscreen that I could comfortably wear on my face that wouldn't feel oily. I was recommended this sunscreen by a classmate who used to work as a beauty consultant for a prestige cosmetic brand.
This was the first sunscreen I used that had a matte finish and didn't feel greasy on my already oily face. I'm not sure about its lasting power, since it disappears into my skin and I can't tell later on. Sometimes I get a feeling that I may have sweated it off. But I don't mind reapplying it after a few hours because it feels so comfortable. It also works as a decent makeup primer for base makeup that doesn't have SPF.
I have already gone through my second tube of this, and I have used Target's/Up & Up's generic of this product too and it works just as well, though there may be more oil/cream separation over time than in Neutrogena's. The Neutrogena one is definitely my go-to for facial sunscreen because it doesn't feel heavy at all, and it's priced fairly compared to other facial sunscreens like those from Clinique. I owe my classmate for her advice!
Overall, good c:
Throughout the summertime, I went running everyday, wearing nothing but layers and layers of this sunscreen. I was a bit concerned, because I'm ridiculously acne-prone, and the combination of sweat, open pores, and a product on my face worried me. For three whole months of just wearing this, I didn't break out one bit. This is the only sunscreen I can handle, because it really is lightweight. You can feel it on your skin, but it's not like a deadweight, that you're constantly aware of.

This is one of my favorite sunblock! What I love about it is that it doesnt leave the skin oily! It comes off white and when you apply it blends into your skin and it leaves your skin feeling extremely smooth and soft. What I don't like is that it's on the pricey side. But, then again you are protecting yourself from getting a burn! Would definitely recommend!
---