Pink Grapefruit Oil Free Acne Cleanser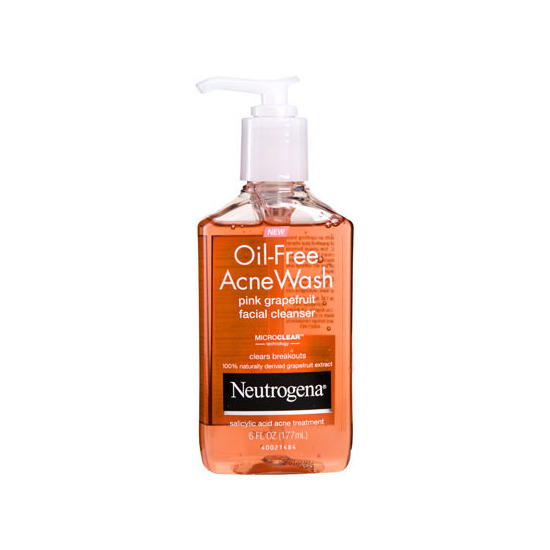 Rollover image to zoom
Reviews

Love It!
I have been using this product for about more than year or so and I absolutely adore it! The product has helped clear my skin and my face is looking healthier than ever! I reccomend this product to all of those who have dry skin or have quite a bit of blackheads and whiteheads.

Use it everyday
I like this product I use it everyday and it makes my skin feel smooth and fresh I don't like it as much as my higher end cleanser but this is affordable for me i bought it for 8$ at target
It helped with my acne so i dont really get pimples anymore but i still have black heads:/ it controlled the amount of oil that is produced on my face and my face looks more clear
But if you have normal to dry skin this is not a good cleanser for u it is more drying since it has an acne treatment in it And It does make the skin feel more tight but u just have to make sure u moisturize after every wash and then your face feels soft and clear

I don't really like this product. It's nice as a simple cleanser but for what it claims it will do and what it actually does it's not that great. The good side is that it makes your skin feel very clean and it's very refreshing as well. The bad side is that it claims to "fight acne" and it seemed to do the exact opposite.It didn't get rid of acne or blackheads and I've noticed that it actually caused acne to appear again.I'm not saying this will happen to you but it did to me. This product didn't help at all! P.S. Know I use Lush Grease Lightning and it helps a lot!

The worst cleanser EVER !
I absolutely hate this product. After three days, not only did it dry my skin but it made my face breakout even more & made my skin stiff ! It burned & caused me severe pain. Never again will I use this product. On a scale from 1-10, this product is a -53.

Clear skin
After about one month in use, i noticed my skin less oily ( tzone ) Definitely cleared my skin too, no more white heads, dissapeared! Does not dry my skin, lots of other products do. Love it will continue to use.

avoid!
I bought this product to try and clear up my breakouts,however i found it of no use whatsoever. it did nothing to clear up my face but rather dried it out further and what seemed to be more frequent breakouts after using this cleanser. I do have dry skin so i apply moisturizer after every wash but it still did not seem to leave me with a clean and fresh feeling face. The only good thing about this product would have to be its smell!

Great Cleanser!
About a year and a half ago, i decided to try out the grapefruit exfoliating scrub, which made my skin MUCH worse and it made it feel like a i was scrubbing at my face with a brick. Last week i ran into this one, the regular soap. Ive been using it twice a day and it makes my skin really soft and it works a bit. It takes some time for it to actually work on acne, but other than that, its great! Just knowing that it smelt like grapefruits made me attracted to it, now i love everything about it!!
---