Oil-Free Eye Makeup Remover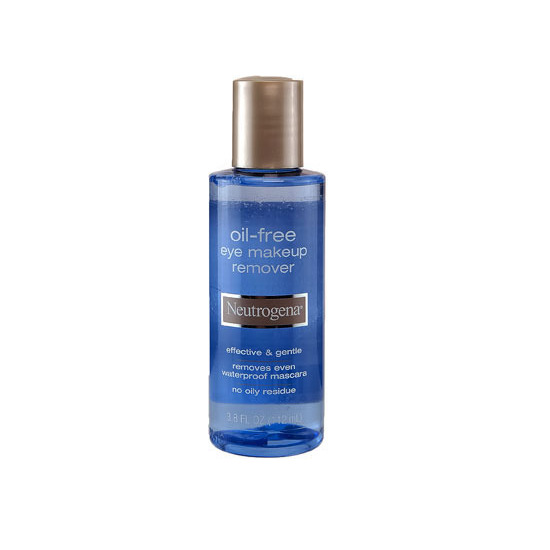 Rollover image to zoom
Reviews

One of the Best
I've gone thru several bottles of these throughout the years. I use the product with cotton pads. I restock about every month. I love this!
Pros: Gentle on the eyes Thoroughly removes eyeliner, eyeshadow, & mascara Leaves no residue Long-lasting (as in you don't need to constantly restock)
Cons: Of course it'll feel oily (that's the makeup-removing part!); just wash your face/use a towelette after and the oilyness should come off right away

gets my makeup off easily
this takes my makeup off very easily, and a little goes a long way. it's oil free, which is great, because I hate if my eyes feel greasy after taking my makeup off. the whole point is for my eyes to be clean! i've used the target store brand that's the exact same stuff, and that works just as well.

Where'd My Eyeliner Go?
I've found the most effective way of using this product is getting a cotton pad getting some product on the pad so it's damp and then placing it on my eye for a little bit allowing it to soak in and then with one firm swipe moving from the inner to the out of my eyeball area wiping it off.
Doing that I generally get all my eye-shadow and eye-liner off im one go, it still takes me a bit to get my mascara off but with a few gentle little rubs I manage to get it right off.
I always have it handy dandy when I'm trying to pretend I'm fantastic at make up and go for a nice winged liner. Safe to say, Neutrogena's Oil-Free Eye Makeup Remover is sitting right next to me with a cotton bud for any mistakes.

An outstanding makeup remover.
First off, we can find this in any drugstore, it comes it two different sizes 5.5 and 3.8 fl. oz., I personally always get the big size... It is extremely affordable, compared to some other makeup remover out there, that pretty much do the same thing. What fascinates me about this remover, is the way makeup comes right off of my eyelids or even foundation. A plus is how gentle is on the skin around the eyes, I have I have used this on the rims of my eyesand it is very safe and the best part is it doesn't sting my eyes... so is perfect for sensitive eyes, I don't wear contacts and I'm not sure if you could use this on the rims, or how it feels on people that use them. The water proof removing test, it did great any water proof eyeliner will come off, I don't have water proof mascare, cuz I just don't like to wear that much mascara or other kind of waterproof stuff, but I'd say it will work well. Just remember to hold the cotton ball on over your eyelid for a while and you don't even have to rub off the makeup. Now I gave this a 4.5 for just one reason, the paclaging claims or says "No Oily Residue," but it does. If you hate that on a makeup remover, then I'd say stay away from this one, because it feels oily, But other than that this is amazin. Just make sure you shake it well.

Mary Anne M.
Jul 05, 2012
The Only Makeup Remover I'd Repurchase
First off, I have combo-oily skin and occasionally break out in acne. I've used makeup-removing towelettes as well as Maybelline's Waterproof Makeup Remover, but if I were to continue buying a commercial makeup remover this is the one I would recommend for those who have oily skin and want a good waterproof makeup remover that doesn't contain oil. I've also used the Equate version (Wal-mart generic) and it does the same thing. Contrary to the claim, however, both versions do look like they contain oil.
Give the bottle a good shake, hold a cotton ball to the opening of the bottle, press against your eyes for 10-15 seconds so it dissolves your most stubborn waterproof makeup, and wipe gently. It does leave an oily-like residue after removing the makeup (despite being oil-free), but this is hardly as bad as the Maybelline waterproof makeup remover, which is heavily oily! So go about your usual cleansing routine afterward to get rid of the oily feeling and you're good!
For those who don't see oil as a problem another healthier, a more natural and inexpensive alternative is to mix 4 parts water or aloe water and 1 part olive oil, and repeat the paragraph above.
As far as packaging goes, the hole in the bottle is just big enough for you to fit a cotton ball onto it so generally it's not very messy, but it can be a pain cleaning the bottle if you spill, since the remover can also cause the plastic label to peel off the bottle.

Works well and is cheap!
I really like this makeup remover. It takes everything off my skin, works really well and is fairly cheap. Plus, you get a good amount of product in the bottle, so it lasts FOREVER. The only issue I have is that it makes my skin feel oily after I use it, which other removers I've used haven't done. But, it's worth it.

Can't live without it!
If I don't have this, I don't wear makeup. Simple as that. This stuff is cheap and works wonders! It even takes off waterproof mascara and eyeliner like a charm. I prefer to use it with baby wipes and a little goes a long way. One bottle will last me a super long time even if I use makeup everyday! If you're looking for a cheap makeup remover, this is the perfect bang for your buck :) Out of all the makeup removers I've tried, this is the best.

cheap and it works
this product gets the job done. it works well and it very affordable. only thing about this solution is you have to be careful not to get into the eye because it stings like nothing else. otherwise it works just as well as any other eye make up remover. consider this as a cheap alternative to those expensive make up removers.
---