Oil-Free Acne Stress Control Power-Clear Scrub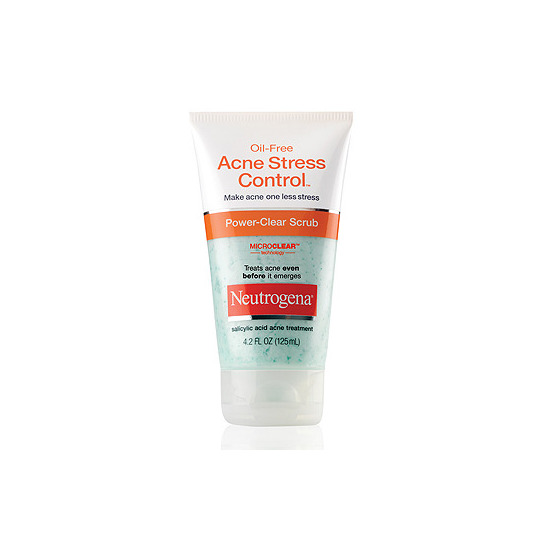 Rollover image to zoom
Reviews

So this product has been a part of my morning and night face wash routine and it has done wonders. My skin is prone to breaking out when I'm under stress. But this face wash dries off my breakouts and prevents them from turning into volcanic bumps. My skin always feels smooth and fresh right after using this. Also if you decide to try out this product make to put on a light moisturizer after because it can dry out your face.

DEACTIVATED A.
Jul 20, 2013
The best smell
Smells great, worked wonders, made me look healthier. My acne really did calm down by a surprising. I even got less blackheads. I've been using St.Ives Blemish & Blackhead control lately but I think I'll switch back to this one.

Miracle worker!
This product is my fave face products for acne, blemishes, everything! This has a cool feeling to it when it comes in contact with your skin, and the beads help exfoliate gently. this feels more like a cream than anything, but after you wash your face your skin feels so refreshed! I have had my share of humiliating puberty pimples, and luckily im over that phase! Unfortunately, my acne comes back once in a while, spotting on my tzone, noze, chin, and rarely my cheeks. I use this product twice a day everyday, in a few days its dried out and disappeared!

Great for sensitive skin
This product was great on my very sensitive skin. It's great for a daily wash, and keeps your pores feeling reduced and clean. I loved the way it smelled too. It doesn't dry out my face at all, and it doesn't scratch your skin when you use it. Will continue to use it for years to come!

Definitely helps!
I'm not sure if it's my diet change, this face wash, or my new toner. But without the combination of the three I doubt my skin would be what it is right now. This is great for sensitive skin. It has a lovely, refreshing smell, & little beats that don't scratch your face! The little beats are actually soft and massage. It's very gentle and effective.

The best of the best
I've tried so many spot fighting face washes as one day without a spot wash = spot overtake! personally i don't have acne but if i don't take care of my face for a few days, i do get quite a few spots. I guess if i didn't take care of my skin for around 3 or 4 weeks, i'd have full blown acne, but i've never let it get to that point. I'm very picky on my spot fighting face wash and i've tried many different brands and i've found that my skin in particular has adhered to Neutrogena and rejects any other spot wash. Therefore i'm in love with this product, however it is 'to each his own'.
Also, i love the consistency as it is creamy but not too thick so it doesn't finish quickly. It also exfoliates and i am an exfoliating junkie so i love exfoliating everyday. however it's bad to exfoliate daily, but this product has tiny microbeads that still give me that fresh, clean feeling without harming my skin. So it provides the perfect amount of daily exfoliation. Also the more i rub it into my skin, the whiter it gets, so it indicates to me HOW much i'm cleaning my face I've purchased this so many times and i'll definitely be re-purchasing this product. The brand Neutrogena in general is great for any skin type and especially for spot fighting :)
I know that Neutrogena also has make-up, which is definitely worth a purchase

i really like this product, after being in highschool and being so stressed all the time i tried this product out mainly because of the "stress control" part of this...and i really did like it, it left my skin feeling so smooth and never tried out my skin...i loved this product, in college i use it when i just need a really good wash on my face
---