Time Release Acne Cleanser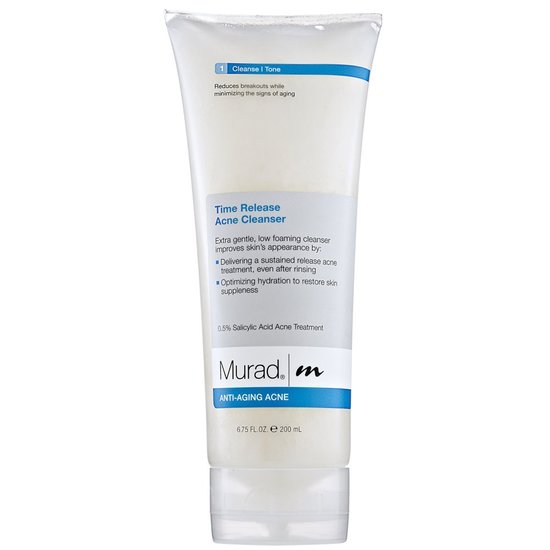 Rollover image to zoom
Reviews

I like this product because it's gentle on skin, and doesn't smell awful or strongly. It does make my skin feel super clean and smooth afterwards as well! But it doesn't really help with my oily skin control, hormonal acne, or blackheads. It's not really worth buying for me, since I can get other face cleansers that make my face feel clean for a cheaper price. Doesn't do what it's advertised to do, so it's a no-re-buy for me.

Gentle yet effective
Before purchasing this product I was using Clinique's acne cleanser and I felt like I needed something more gentle for my face so I have done plenty of research and came to a conclusion that I want to try Murad's skin care line. I am happy with the product I purchased which is the Murad Time Release Cleanser. It helps fight acne while storing hydration which is a plus because most acne cleansers dry up the face. One thing I don't like about it is says it foams up a little but when I apply it, it does not foam a bit. I use this cleanser with my Clarasonic Mia. I am almost done with the bottle, I am thinking about trying the Clarifying Cleanser next.

squeaky clean skin
I love how my skin looks after a week of using this product. I am so happy that I did. I got a sample from a site called the beauty place, it lasted only a week, but I immediately went back for more, mybreakouts are less often, and come only around you know who!, this also helps my oily chin and nose!

Stephanie T.
Feb 04, 2012
Refreshing.
I got a sample of this stuff when I ordered online from Sephora and the sample lasted me a good month. This cleanser kept my skin clear and prevented breakouts. I don't have bad skin by any means, a pimple or two here and there but this helped prevent them. It smells minty and tingles a slight bit and foams a slight bit. I liked to use it with my Clarisonic, I felt it gave the best results. I did really like this cleanser and am thinking of buying the full size!

I need more of this stuff!
This is seriously the best face wash EVER. It's slightly tingly, so I know it's working. It feels super refreshing, and is totally stimulating. Invigorating? lol It exfoliates well, even though you don't realize it. It leaves my face super soft and even. I took off half a star because after a little while it starts to smell funny. But it still works as well as before. I'm out, so I need some more! But this is the best brand ever, in my opinion. :D
---