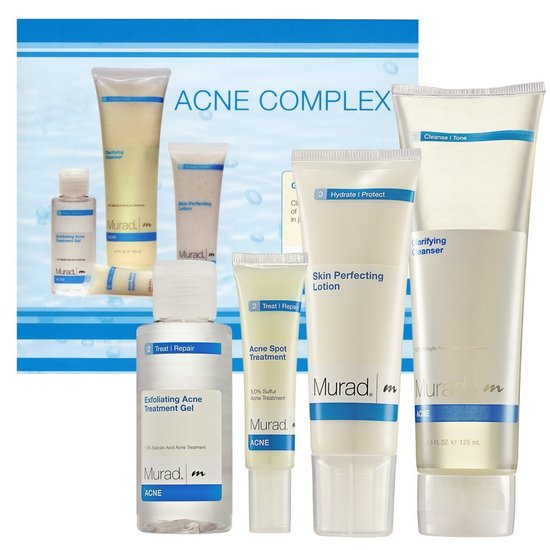 Rollover image to zoom
Reviews

Why so harsh?
I've struggled with acne for a very long time. I had tried everything that you could get over-the-counter. Before making an a appointment with a dermatologist, I decided to try this kit after seeing numerous late night commercials for it. I begged my parents to order this online and they did. (This was before I knew about Sephora!)
First off, let me tell you about the cleanser. The cleanser is a thicker gel consistency that foams really well. It has a very weird medicated smell, but I've noticed that's what happens with a lot of acne washes and I was use to it. It didn't take off makeup well so that was a step I needed to do before using this cleanser. After patting my face dry, I noticed it left my skin tight. Not knowing too much about my skin then, I thought it was normal. I hadn't really experienced that kind of tightness before with a face wash so I thought it meant it was actually working. I then went on to step two of the acne kit.
Step two, is to treat and repair. It is suppose to help acne and repair it, so to say. It smelt horrific. I couldn't even breathe when I applied it. No other acne product has smelt that bad. Maybe I'm being dramatic, but wow! The smell is intense. After I let it soak in, I noticed it left my skin even more tight and dry. My skin looked raw and red. I, again, not knowing about my skin back then, thought it was working. The consistency was sticky and quite heavy. It left my skin feeling much more clean, however.
Step three is a hydrating moisturizer. It's oil-free and is suppose to be for all skin types. I didn't like the other products from this kit but I did like this moisturizer. It left my skin really hydrated and calmed down all the redness and irritation the cleanser and treatment gel had caused. It didn't have much of a smell, unlike the rest of the products. After using it for a while I did notice it started irritating my skin.
The final step that is optional is a spot treatment. It actually helped some of my smaller pimples that I had and didn't burn or irritate my skin. It was much more gentle than other acne spot treatments I had tried prior to this. It came in a pretty small tube, but a little goes a long way so that wasn't an issue. It may have helped smaller pimples but didn't do anything to the cystic acne I had.
Another product I had gotten in the kit was a sulfur mask. This was the only product in the entire system that I loved. It was gentle and did indeed help small and big pimples. I mainly used it as an overnight spot treatment since the smell was a little overwhelming, although all sulfur products smell pretty strong because it's sulfur. I would compare this to the Proactiv sulfur mask and the AcneFree sulfur mask. This one worked a little better than both, however. I don't have a single complaint about it.
Overall, this kit isn't the best if you have dry or sensitive skin. I had combination skin when I started using this acne kit and ended up with sensitive and very dry skin. After finally getting my skin back to it's normal state besides the acne, I didn't touch Murad again. Will it work for oily skin? Maybe. Is it worth the $60? It honestly depends. For me, it wasn't worth it because it irritated my skin to the point of being raw. I used Murad for about 5 months and no improvement. Unlike Proactiv though, this didn't make my skin worse when I stopped using it. The only reason I'm giving this 2 stars is because of the sulfur mask. It really did help my pimples, but my acne is just too persistent to be controlled with just a sulfur mask.
Pros: Decent sized products Easy to use Easy to get a hold of Sulfur mask is really good Spot treatment is decent
Cons: Not for dry/sensitive skin Can leave the skin raw/irritated Strong medicated smell Expensive

Be Careful
I love a great Acne kit. I know in order to get maximum results you should use the products together. I started using the Murad Acne Complex Kit and within a week my skin was extremely dry and burned. I was only using the kit at night. Yes my skin was clearer, but it was not worth the pain.
---