Long Lasting Eyebrow Sealer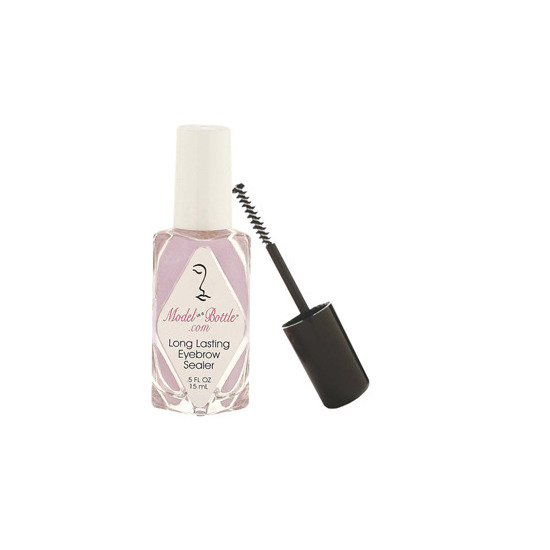 Rollover image to zoom
Reviews

Seals the deal
I'm all about looking good from head to toe especially when I'm doing a clients face or giving consultations, that's why my brows must stay put at all times. Model in a Bottle was the second brow sealer I'd ever tried and I must say it's not half bad. My brows last at least 8 hrs and that's during the warmer months, when sweating is your worst enemy. In the .5fl oz bottle you get a synthetic brush or a spoolie and it works wonders for women who fill or draw on their brows. It dry time is rapid and it's not sticky or flaky so you don't have to worry about brows that appear to have dandruff. The finish is a bit shiny though so setting with a little transluscent powder is highly suggested. Also, a little goes a long way so you don't have to worry about using too much.
I purchase 2 of the .5fl oz bottles on Hautelook for only $14 which is a steal.
Note: I apply with a cotton swap or finger tip so as not to disrupt the fill in color.
Can't live without this stuff!!
I bought this product two years ago, and just bought a new bottle a few weeks ago at the Makeup Show in LA. I absolutely LOVE this product. My eyebrow hairs are long and they tend to just fall even if I use wax. I was so happy when I finally tried this eyebrow sealer. My eyebrows stay perfect all day at work, or if I'm out on the weekend. If you have unruly brows this is the product for you, and it is a staple to have in your makeup kit!!!

A MUST-HAVE FOR ANYONE WHO FILLS IN HER BROWS!
This product is a LIFESAVER!!! I have VERY sparse eyebrows, thanks to my Asian heritage, and have to use an eyebrow pencil to fill in my brows every day. (As a beauty consultant, I know that your eyebrows make your whole face so I'm a perfectionist when it comes to them.) Unfortunately, I also have very oily skin, which makes my makeup slide and I've always had to touch up my eyebrows every couple of hours. (If I didn't, my eyebrows would be non-existent by the end of the day.) I've been doing this since I was 13 and I'm almost 26 now- so it's been over a decade of constantly filling my brows in throughout the day. Before finding this product, I was always scared that when my boyfriend touched my face, he'd wipe an eyebrow off by accident, which would be REALLY awkward. I also always avoided dipping my head in the water at the pool or beach because I knew that if I did, my eyebrows would be gone when I resurfaced. (Yes, it was that bad.) I was seriously considering having permanent makeup tattooed on my brows so I wouldn't have to worry about having an eyebrow wiped off all the time. When I saw this product, I did some quick googling to read its reviews and it has rave reviews everywhere. I bought a pack of 2 bottles from overstock.com for $19.95 and I am SO HAPPY that I purchased this eyebrow sealer - it is a HOLY GRAIL product for me - this definitely seals my eyebrow color in place. It comes with 2 brushes: a small one that looks like a nail polish brush and a spoolie brush, which is the one I use. I definitely recommend this product to anyone and everyone who colors in their eyebrows and doesn't want to worry about having their brows fade, smear, or smudge anymore. A+++++++++!!!!
---