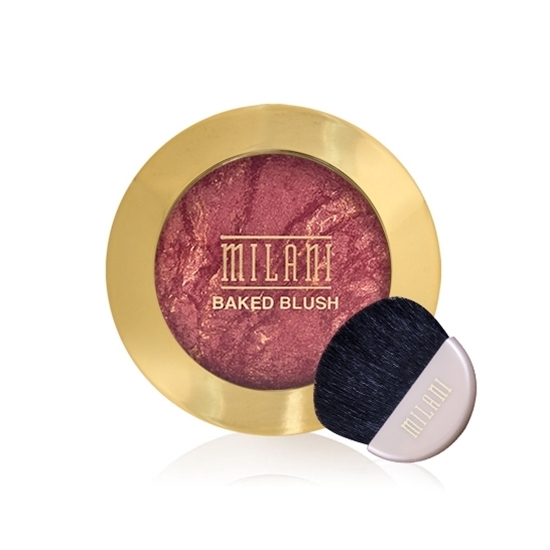 Rollover image to zoom
Reviews

There's a reason why Luminoso is a cult favourite.
Luminoso is the most gorgeous blush I own. And that's not something I take lightly. It manages to make my skin look flawless, highlight my cheekbones, and gently blush my cheeks. The formula meshes beautifully with the skin, and while it is very pigmented, it's easy to blend out if you've applied too much. I'm beginning to put together a freelance kit, and this will definitely be in there; it's easily in my top three all time favourite blushes.

LOVE!!!!
Milani has become one of my FAVE drugstore brands (sorry WnW) and along with the Color Statement lippies, I want almost all of these. They are soooo pigmented, with a lovely shade range that also includes shimmers and mattes. *Luminoso: Beautiful coral/peach shade that also doubles as a highlighter. I love to add a peach highlighting powder over it (like Lorac's Perfectly Lit Oil Free Luminizing Powder in Spotlight) to add even more peach shimmer. This would compliment any coral look you're doing, or even when you get a tan! It also looks great paired with NYX's Cinnamon powder blush to add some luminosity to an otherwise matte blush. *Delizioso Pink: Just got this one. Its a gorgeous dolly/baby pink. I got it specifically to do a certain makeup look where I used this and Bella Rosa on the eyes and cheeks. This one is also super pigmented so use a really fluffy brush and a light hand! I don't typically rock pinks like these but I like funky or out there colors to have in my collection when I do specific looks. *Bella Rosa: SOOO pigmented! Need a light hand and super fluffy blush or you will look like you just got back from the gym. This one is fierce! A deep berry/hot fuchsia that packs a serious punch! This and D.P. are both a silky matte, so don't worry about the shimmer factor. I've heard there are NARS dupes within this blush line which makes me even more happy! I have a Nars blush but the creaminess and pigmentation doesn't compete, although its got lovely qualities in its own right. Love these blushes and I wouldn't mind seeing more matte ones in the baked blush line. Best drugstore blushes, hands down!

Need more! Reveiw for Luminoso.
I am really getting more and more into Milani's products. I've heard about these for awhile but wasn't super interested, but now they have my attention! Why did I wait so long to try these? Luminoso gets raved about all the time, so I figured I'd start there..so beautiful- a peachy gold in the pan, but applies pinkish with a subtle shimmer. Luminoso is a great highlighting blush. I love pairing it with NYX's Cinnamon and with a peachy highlighter to blend it all in. Gives me the most beautiful peachy glow! I've seen some of the other non shimmery shades, swatched and IRL, and the PIGMENTATION is out of this world. I've even seen online that there are some definite NARS dupes in the baked blush line. I would love to grab more of these because the texture is silky, the pigmentation rivals high end, and this brand has the best price point at the drugstore! <3

HakaGlamz M.
Jul 24, 2013
Very pigmented!
These are excellent for the price, very pigmented! I brought coralina and the pay off is very pretty and shimmery. I'll be purchasing more! I would recommend using a light hand when applying their more vibrant colours. Love! Love!
---