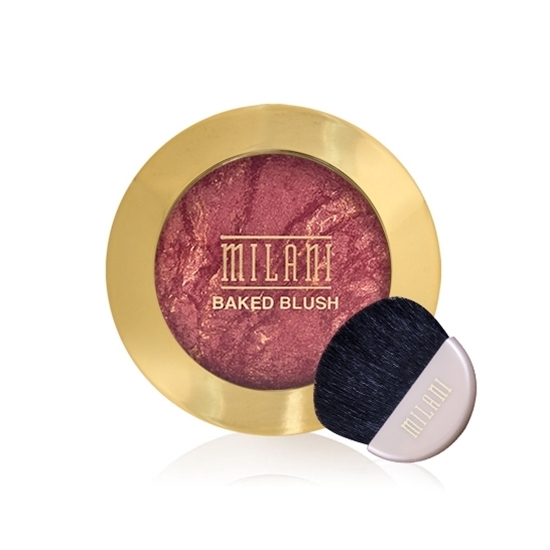 Rollover image to zoom
Reviews

I wont stop til I own them all.
Usually when I really like a product, I purchase every color because I convince myself I need to have them all in my collection. I am in love with Milani products and how they work so well with women of dark complexion, probably one of my favorite drugstore brand. I have the mauvey pink one, and when I saw it, I knew I had to have it. My favorite blush thus far. They are so pigmented so be sure not to apply it with a heavy hand because you can easily achieve the clown look with these.

Lots of color!
Let's get this straight, I have always been a MAC girl. For years I have used exclusively MAC, but recently, MAC was just killing my budget (don't you hate those things) and honestly, I was a little tired of the same thing every day. I own and develop my own skin care line, and as I learned more about skincare and cosmetics, I realized that there really isn't a huge difference between MAC and the typical drugstore brand. That is, if you know what you're looking for.
When I saw Milani's baked blushes, I knew these would be great. They deposit more color than MAC Mineralize Blushes, come in more colors, and you can definitely choose between shimmery and matte. They also blend well into the skin. I own Luminoso, which is a peachier version of MAC Mineralize Blush in Dainty, and it actually shows up better in photos and doesn't fade. I also have Rosa D'Oro, which is more like Stereo Rose from MAC Mineralize, and that's perfect for a more mature, polished look. You just have to apply with a light hand and blend out. I absolutely love my little Milani collection!

Luminoso = Nars Orgasm!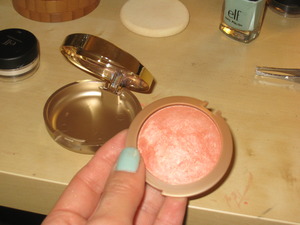 The blushes are SO pigmented and gorgeous. I read on a lot of blogs that the color Luminoso is a dupe of Nars Orgasm, and of course is MUCH cheaper. I'm in love with that color specifically - it has gold shimmery swirls running through it and is warm and makes you look healthy. I can't wait to pick up other colors of this blush. Just FYI - don't try to de-pot it... there's no pot, it's just a brick of blush!

Stephanie T.
Jul 01, 2011
i just picked up dolce pink and luminoso last week and i cant tell you how much i love these blushes! luminoso is my favorite of the two because of the peachyness of the blush. great for everyday and summer! i love dolce pink as well but i find that it can be kinda shimmery. like chunky glitter shimmery. but if i buff it in enough i find that the shimmers arent as noticeable. these blushes are very smooth and pigmented and great for the price!

I really like this blush! I have Corallina, which is kind of a peachy, orange shade but not overbearing on the cheeks. I feel the color gives off a nice healthy glow to the face and it has a bit of shimmer but again, nothing overbearing. I believe this product is under ten dollars and for as much blush as it is, I feel it's a good price! I would definetly buy this again in another color to try out!

Love the blush but not the packaging!
I hate to start right away with a negative, but when I received the blush, the clear plastic part of the case had completely broken off (I had to tape it back to the lid). Also, all the bubble wrap around it was flat. Either someone didn't package it correctly, or it had one hell of a ride in the mail! Regardless of how it was mailed, I generally find the plastic and the packaging of this blush to be very cheap quality. Like…the level of gold-painted dollar store plastic toys. Everytime I open this blush (which isn't very easy), I fear I'm going to break it somehow. =/
But on to the actual blush…I was pleasently surprised by the formula considering I hadn't had a very good first impression with the packaging. I was expecting it to feel very dry, but its actually super soft and extremely pigmented. The actual blush is definitely great quality! The color I got was "terra sole", which is a dark pinkish shade. I think this shade is only available on their website, and not in stores. The application is completely matte so there is no shimmer or glitter in this blush, which is actually welcomed since my other two blushes have shimmer. Since it is so pigmented (and I'm not really a fan of very pigmented cheeks), I had to apply this very lightly, barely dusting it on the pan. Doing it this way worked beautifully and gave a nice flush to my cheeks! Overall, I really like the quality of the actual blush but I cannot stand the packaging. If they were to put this in more study packaging, I would probably enjoy using this blush more and might even buy other colors.

shimmer overload!
ok! im really not feeling all this shimmer in my blush. i can tolerate a little but but this just killed my happiness. still a gre;at color.unfortunately, the color doesn't make up for the ample amount of shimmer.. ;( i'm still going to use it, just gotta continue my hunt. SEPHORA! HERE I COME

There's a reason why Luminoso is a cult favourite.
Luminoso is the most gorgeous blush I own. And that's not something I take lightly. It manages to make my skin look flawless, highlight my cheekbones, and gently blush my cheeks. The formula meshes beautifully with the skin, and while it is very pigmented, it's easy to blend out if you've applied too much. I'm beginning to put together a freelance kit, and this will definitely be in there; it's easily in my top three all time favourite blushes.
---