Volum' Express Mega Plush Mascara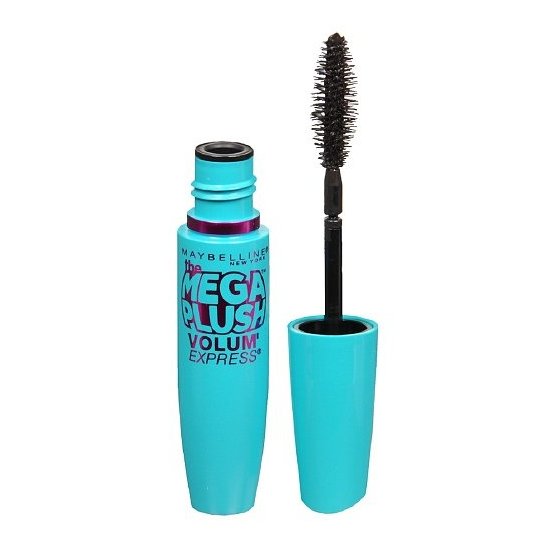 Rollover image to zoom
Reviews

Fluttery, long, soft, natural lashes
Maybelline's Mega Plush is the newest member of the Volume Express family. This mascara wasn't even officially released when I discovered it at Target. I'd seen a photo of it on tumblr earlier that same day, but because I hadn't heard any buzz about a new Maybelline mascara, I assumed it was a foreign version not available to me, like Colossal Cat Eyes. Mega Plush is now officially available wherever Maybelline products are sold (at least in the USA, I'll get back to you on Aussie availability). Maybelline makes a bunch of claims about Mega Plush. First off is the claim of a "revolutionary gel-mousse formula containing 40% less hard waxes for massive volume with a supple touch", meaning this mascara is lightweight and meant to keep your lashes soft and flexible, or "never brittle or flaky" in Maybelline's words. Mega Plush is available in waterproof and regular washable formulas, in 5 shades, I have the shade Blackest Black. I purchased my .3 fl oz (9ml) tube for $6.64. This product is ophthalmologist tested and safe for use with contact lenses. Unfortunately Maybelline products are tested on animals, so be conscious of that when purchasing their products. This mascara was made in the USA. Can I just go ahead and tell you that I love Mega Plush's packaging? Actually, just the color. The tube is the same round, plastic shape all Volume Express mascaras come in, nothing special, though semi iconic on the drugstore level. But let's focus on the color. It's the prettiest ever shade of aqua. I love it for that alone. The fuchsia logo looks great against the aqua tube, and is stylized in the same cute, playful, bubble letter way most of Maybelline's new product's logos are. The logo seems to be bulging in the middle in both the tube and the packaging, which is cute, and suits the name of the product well. The brush, which Maybelline makes a big deal about, is called the "Flexor" brush. Sounds kinda..villainous, well as villainous as a mascara brush can sound..so not very. Well anyway, the "Flexor" brush features a joint 2/3 of the way down the wand, which is meant to make application easier, but in my opinion it's useless, so I won't go on any further about it. It's also not new, I'm pretty sure Falsies and One by One had the same joint. The brush is kinda football shaped, with the fullest, longest bristles in the middle, they taper and get more sparse on tip and end. The traditional bristles are quite long and defined, and kinda go every which way. Because of the variety of length and direction in the bristles, I found the "Flexor" kinda perplexing and concerning at first, but I've grown to love it and the results it gives. For application, Maybelline suggests a sweeping motion, but I personally employ both sweeping and wiggling actions to apply Mega Plush. I brush and sweep the first coat through my lashes, which delivers natural but noticeable length, while separating my lashes significantly. Mega Plush also gives me a nice amount of lift that I didn't expect, I actually think that's the best part of the mascara, coupled with the separation.The second coat, which I apply mostly via wiggling, adds fullness without disrupting the fluttery definition from the first coat. A third coat isn't necessary in my opinion, as I absolutely love the results I get from the first two. However I'm not sure if Mega Plush actually makes my lashes Mega Plush, you know what I mean? I think I'd need more volume for them to be mega plush by my standards. In fact I think this mascara is a little bit disappointing in the volume department, especially since it promises "massive volume", but I think most Volume Express mascaras do that. So the claims about your lashes never being flaky or brittle? Totes legit! My lashes feel soft, light, like I don't even have mascara on. They're even quite soft to the touch. Mega Plush truly doesn't flake off either, and best of all, it never gives me itchy lashes. So, Mary, tell us more about the ~revolutionary gel mousse formula~ Maybelline seems so excited for? Well honestly it doesn't look any different from a normal mascara, except it seems a little glossier on the brush. The real difference is how the formula feels. It's incredibly light. So light it feels like the tube is empty (I didn't get jipped on product, it's all in there). It's a thin texture, but not so much that it's watery, and it's neither too wet nor dry. It actually does feel like a gel, which is so different from any other mascara I've used. I can agree that it's revolutionary, at least a little bit. Mega Plush's wear is just a tad better than average. It absolutely doesn't flake at all, nor does it smudge. The best part of this mascara is because of how light it is, it holds the light and curl it gives all day long, I think that's what makes it special. Removal is a cinch, rinsing off with just a bit of cleanser or makeup remover. That's something I like about Maybelline's washable formula. It stays put all day, but rinses off with almost zero effort. I tend to shy away from Maybelline's waterproof formula, as I find them too thick and nearly impossible to remove. I kinda love Maybelline's new Volume Express Mega Plush mascara. I want to wear it every day. There isn't a single thing I dislike about this mascara. The tube is a great color with a cute logo. The brush is a little over hyped by Maybelline, but between it and the super lightweight, super unique formula, I get fantastic, fluttery, lifted lashes that I just adore. Please excuse my gushing, but I flove this mascara. Best of all the $6-7 price point is spot on, especially since Maybelline drops coupons left and right, and is nearly always on sale somewhere. I definitely would repurchase Mega Plush, and I can't recommend it enough. As soon as you're done reading (and commenting) on my review, you should probably go straight out and buy it. Now. Go. I hope you find this mascara as exciting as I do.

Clean, Wet, Plush
Now mascara is a very personal item as well as foundation. How a mascara works for one person will differ from another individual. For me, the claims that is gel-mousse, non flaky, and give volume was what I was looking at. I have short stubby lashes even curling them with an eyelash curler after a couple hours it goes right back straight down. Having said this, Mega plush did make my lashes my volumized and gave a glossy finish alone. So according to the claim it does what it says. However holding a curl, the wet formula (which takes longer to dry prevents flakiness however makes curls loose) Thus an advice, a good pair is Mega plush first layer then Falsies 2nd layer (any dry formula mascara will work)

Okay
The mascara itself, I actually like pretty well. I have thick eyelashes and 90+% of mascaras clump my eyelashes and make them stick together and it's not pretty. I've not noticed this product doing that the times I've used it. I think the tube is cute, too. The only problem I have is I think the brush/wand is very flimsy. I know they designed it that way intentionally for flexibility, but it's too unstable and I think it makes a mess on my skin because it's just too all over the place. I think the wand stem needs to be stiffer and sturdier. I love my CG LashBlast Fusion and have been faithful to it since it came out, but I'd purchase this again as well if it had a better wand. But all in all, not a bad product!

My Holy Grail Mascara
I was skeptical about this because I purchased the falsies mascara and it was made my lashes a little clumpy, (yes, I wiggled the wand through my lashes too) I just didn't like the brush. Also, it flaked even though I had eyelash primer on. Despite that, I tried this mascara and I LOVE IT! No clumps or flakes.

Love Mega Plush... Maybelline out did themselves
I picked it up at Walmart for around $5.94... decides to try it because it had a different ingredient---gel-mousse formula, no hard wax... mainly because the mascara I was wearing just left me flaky at the end of the day. I"m attaching a photo, mind you I'm 44 yrs old...and no wrinkles, will post my secret soon!

Not exactly 'Mega Plush'
I like this product, but only because it lengthens my lashes. It doesn't add dramatic volume! I bought this, and I don't understand the fanatics for it. I mean it's a mascara, not One Direction, (LOL). I like this product, generally, but it doesn't give me any 'WOW' factors!

so~so
I got about 4 different mascaras in the past few weeks since my recent favorite was running out I wanted to try a few newbies. I picked this one up at Target for a resonable price. The reviews I had seen were nothing but good things said. My opinion is that it's not the greatest. I like full volume as well as length, and for me this mascara just didn't cut it, I do like the features of the mascara such as the bendy brush and the brush shape and size itself. I do use it with another mascara and I like it in that aspect but alone I have to build and build it up. I wouldn't recommend purchasing this product if you like big full lashes.

Definitely my favorite cheap mascara out there. I have pretty long lashes to begin with, so I like mascaras that add volume and thickness, but it's hard to find ones that don't clump. This one works great. I also don't take my makeup off as much as I should so I often have residual mascara on my lashes. This mascara I can reapply the following day and it won't clump. But after 2 applications, I need to use make up remover and start over or it will clump. But I think it was a great buy and I'm very happy with it
---