The Colossal Volum' Express Waterproof Mascara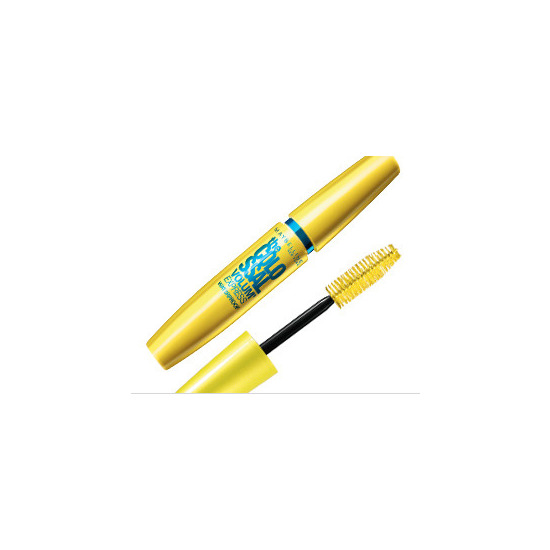 Rollover image to zoom
Reviews

it definitely thickens up lashes, but it simply will not hold a curl. that's a dealbreaker for me. also, it does clump. not badly, but it clumps. it is kind of fun seeing just how thick you can get your lashes though. I'm going to try other maybelline mascaras later to see how they compare.

Katherine L.
Jun 15, 2014
Holy Grail + All Time Favorite!
Let's start here: I have the shortest, thinnest, almost nonexistent eyelashes. I have trouble finding mascara that hold the curl, volumizes and all the good stuff. I prefer non-watery formulas since those do not weigh my lashes down. I've tried 9 mascaras in the past year and only 2 did any good!
I bought this mascara for $4.99 after reading a lot of reviews and deciding that it was worth a try. They said that it gave them dramatic looking lashes, but the bottle itself clogged up or became gross. I knew that there was a risk but decided to take it.
When I first tried it, I didn't expect much. I already own the Smoky Eyes version of this mascara and, let me tell you, IT IS NO GOOD. I thought this one would be the same, but guess what, it wasn't even close. My first reaction after swiping it once was "Oh. My. God." My eyelashes looked way darker, thicker and almost twice as long! I don't know about you, but I fell in love with it right away.
I have found out that 3 coats is my favorite and usually I curl my lashes again after it has dried completely.
If you have thin lashes, this is the mascara for you! I love it so much :)

Best mascara this girl has ever experienced
I have straight, medium length, blonde eyelashes, but I adore the dramatic, glamorous mascara look. This mascara is the best mascara I've ever used and gives the drama I want. I have tried expensive high-end brands and the lowest drug store brands and along the entire journey this has been the most impressive mascara. It separates, holds a curl extremely well, stays put, lengthens, doesn't clump easily and is an amazing price. While removing this is difficult, it is worth it. I applaud you maybelline :)

This mascara has flaws just like (almost) every mascara does. I love maybelline mascaras and I own a few but this is not my go to mascara. The bad thing is that it doesn't give a lot of volume. But it does separate a lot. It gives some length,too. It's also very waterproof. I wore this to the pool and the beach and it didn't smudge at all. I was very impressed so I pretty much wear it every day now (during the summer). I like the waterproof part,I just wish it was a little better with volume. However,it didn't clump even a little bit. Overall it's a good mascara that I would recommend for someone who's looking for a waterproof mascara that doesn't smudge,gives length,separates and doesn't clump. Keep in mind that it doesn't give a lot of volume!

I really love this mascra! My favourtie thing about it is the fact that its waterproof, if it rains or anything it doesn't smudge at all! Also it isn't a nightmare to take off before you go to bed like some waterproof mascras! I think for what it is this product is really worth the money!

Over rated.
I read alot of reviews from women raving on about this mascara and I don't feel that it lived up to the hype. ( I bought this and the cat eyes one) I put this mascara on one eye and the maybelline illegal length fiber extensions on the other, I honestly could not tell the difference between the two. Except for the fact that I had to apply this one atleast 5 more times. It does give long lashes but they look somewhat spidery, which I don't like. I followed the instructions on the back, then tried every tecnique under the sun but still got the same result. So overall I was pretty disappointed with this purchase. The only upside is that the waterproof aspect is really strong!

Resistance surprise for me
It´s great mascara. It´s really waterproof and you need good makeup remover to take it of - but it worth it! I have very long eye lashes with it and it also doesn´t stick them together. I have this mascara really long time now - I think about one year and of course it´s almost run out :D but the brush is same like when I first use it! Either it isn´t very clumpy at all - it really surprised me! I definitely recommend it to you ladies :)

I would give it six stars out of five.
This mascara is the first one I ever tried and I still use it to this day! I have "Asian lashes" so my lashes are unfortunately short, stumpy, and they fall flat. But this mascara does wonders for them! The waterproof formula holds my curl so much better than the regular (and I find that the regular has a strong odor to it). This mascara gives me volume and length. The application is very simple; I just curl my lashes and put two coats of this on. The formula I would say is on the drier side and it has a huuuuge brush, that's actually easy to work with. I've even had several people ask me if I'm wearing falsies!
Pros: volume, length, buildable, no clumps
Cons: leaves a light black ring at the bottom of my eyes even if I wear eye primer
---