The Colossal Volum' Express Waterproof Mascara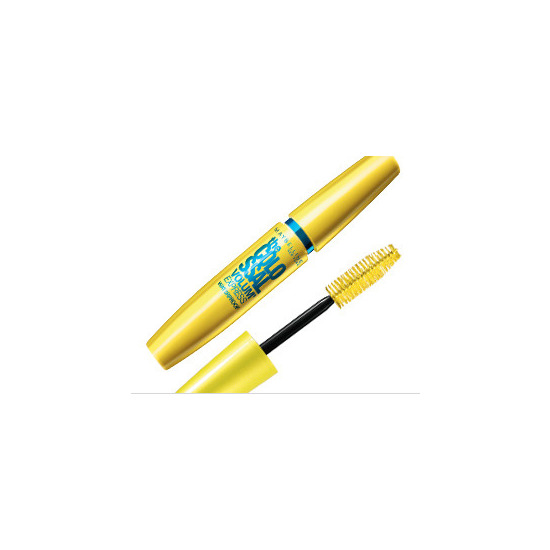 Rollover image to zoom
Reviews

My aunt bought me this mascara when she went to singapore...I really like it at first because it gave me those really long looking lashes. But then at some point it like to clog up together and become a little tacky feeling. Also what the consistancy of the mascara is so thick and waterproof sometime it took me a hard time to erase it. But overall this is i think best for summer because of the waterproof feauture :)

Katherine L.
Jun 15, 2014
Holy Grail + All Time Favorite!
Let's start here: I have the shortest, thinnest, almost nonexistent eyelashes. I have trouble finding mascara that hold the curl, volumizes and all the good stuff. I prefer non-watery formulas since those do not weigh my lashes down. I've tried 9 mascaras in the past year and only 2 did any good!
I bought this mascara for $4.99 after reading a lot of reviews and deciding that it was worth a try. They said that it gave them dramatic looking lashes, but the bottle itself clogged up or became gross. I knew that there was a risk but decided to take it.
When I first tried it, I didn't expect much. I already own the Smoky Eyes version of this mascara and, let me tell you, IT IS NO GOOD. I thought this one would be the same, but guess what, it wasn't even close. My first reaction after swiping it once was "Oh. My. God." My eyelashes looked way darker, thicker and almost twice as long! I don't know about you, but I fell in love with it right away.
I have found out that 3 coats is my favorite and usually I curl my lashes again after it has dried completely.
If you have thin lashes, this is the mascara for you! I love it so much :)

Best mascara this girl has ever experienced
I have straight, medium length, blonde eyelashes, but I adore the dramatic, glamorous mascara look. This mascara is the best mascara I've ever used and gives the drama I want. I have tried expensive high-end brands and the lowest drug store brands and along the entire journey this has been the most impressive mascara. It separates, holds a curl extremely well, stays put, lengthens, doesn't clump easily and is an amazing price. While removing this is difficult, it is worth it. I applaud you maybelline :)

I really love this mascra! My favourtie thing about it is the fact that its waterproof, if it rains or anything it doesn't smudge at all! Also it isn't a nightmare to take off before you go to bed like some waterproof mascras! I think for what it is this product is really worth the money!

I would give it six stars out of five.
This mascara is the first one I ever tried and I still use it to this day! I have "Asian lashes" so my lashes are unfortunately short, stumpy, and they fall flat. But this mascara does wonders for them! The waterproof formula holds my curl so much better than the regular (and I find that the regular has a strong odor to it). This mascara gives me volume and length. The application is very simple; I just curl my lashes and put two coats of this on. The formula I would say is on the drier side and it has a huuuuge brush, that's actually easy to work with. I've even had several people ask me if I'm wearing falsies!
Pros: volume, length, buildable, no clumps
Cons: leaves a light black ring at the bottom of my eyes even if I wear eye primer

Great Scott
Great Scott, I never, ever knew my lashes could look like this without fake eyelashes. Wow. I just simply curl my eye lashes with a curler, put two coats of this baby on and then I look like I have the most amazing, biggest, longest eye lashes ever! How did I live without this mascara before? I am amazed! A neat trick I learned to really curl your eye lashes with an eye lash curler is to heat it up slightly with a blow dryer and then using the slightly warm eye lash curler to curl your lashes! It really does work and holds a curl well without mascara but The Colossal mascara helps out A LOT. I have almost non-existent lashes and this has done wonders for me. It's a very thin and seemingly watery consistency and it takes a little bit to dry but it's totally worth it. It really does lift my lashes and give them unreasonable volume so I am so very pleased with my products. I'll never use another mascara. I'm in love.

One of the better drugstore mascara I have tried
I really like this mascara because it gives me the length/definition I need in my lashes and it holds a curl really nice and it lasts all day. This mascara is definitely buildable for thickness in my opinion and there is seriously no clumping whatsoever with this mascara which I love! I find Maybelline mascaras to be one of the better brands if you're looking for a drugstore one!

I <3 it.
One of my all time favorite durgstore mascaras. I have very stubborn lashes, only waterproof formulas work for me. I like to apply one coat of Maybelline Pulse Perfection to seperate my lashes, and for some length then apply 1-2 coat this Maybelline Colossal Volum' Mascara on top for volume. My lashes stay in place all day, the best part is It doenst weigh down my lashes!
---