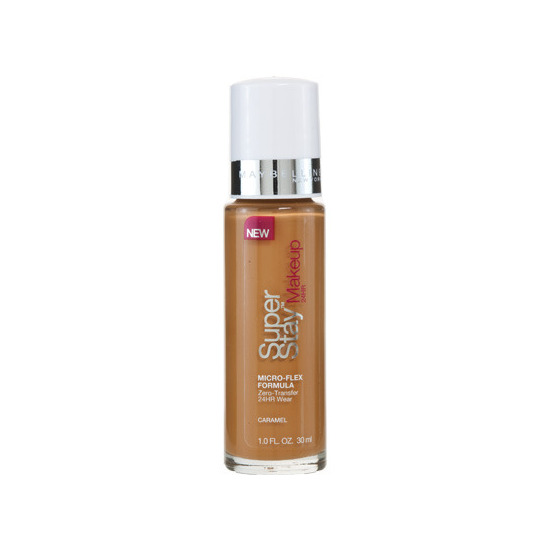 Rollover image to zoom
Reviews

LONG LASTING!
PROS: * Long lasting! * No touch ups needed. * Matte finish. * Inexpensive and easily accessible at many drugstores! * Oil-free will not cause break outs. * Incredibly coverage! Hides my acne scars very well!
CONS: * I don't have a shade that really matches my skin tone. I wish they had a larger array of colors for those with yellow undertones. * This foundation dries quickly so you have to work fast when applying the foundation.
FINAL THOUGHTS: I ended up not using this product though I like it. I just can't find a shade that matches my skin and finding the right shade is very important.
Any of you gals a MAC NC30, if so what shade do you use?

I've had this foundation for some time already so I don't know exactly the price of this product. If I had to guess maybe it's around $8-10 in Wal-Mart. This foundation is great for those outings when you're going to be outside sweating bullets. I recently went to an amusement park and I just wanted to put on a little makeup but I was afraid that anything I put on my face will cake up and make splotches. However, I took a big risk on my Super Stay Foundation in True Beige and it worked! After I cleaned/moisturized my face I applied this foundation with my hands and added powder to my T-zone. I applied the makeup at 8 AM and I got home around 7 PM. While I was in the amusement I was sweating and I got wet from the rides. The few things I really like about this foundation are: 1) It's affordable. Who doesn't like a cheap foundation?! 2) The coverage is great! Medium to heavy coverage. 3) The name doesn't lie, it's a super stay foundation. 4) When I get a little sweaty, I use a tissue to dab off the oil on my face and the foundation doesn't transfer in the tissue. It stays on your face! 5) It doesn't cake up on your face (keep in mind that you have to apply it lightly) and 6) After a few hours, I don't feel like there's a heavy gunk on my face. The consistency of the foundation is thick so yeah you'll feel a little bit of it after a few hours but hey you still get coverage and you look great! :)

In Love
After searching looking at all the Drug store foundations I heard great reviews on last week and not being able to find a good colour match I finally found this one & after 1 use I was in love. Might even like it more then my Nars. Has great coverage but not cakey, works well on my dry skin and lasts all day:) http://beautifulworldoflennynb.blogspot.ca/2012/05/foundation-routine-maybelline-super.html

I love it
I used to try a new foundation every time I ran out because I was never able to find anything I was completely happy with (I'm a little picky) but I definitely fell in love with this product and have repurchased it, and am planning to buy it again. It stays put all day, blends out to looking very natural, and has really great coverage. It doesn't sink into pores or make me break out, although I do need a bit of powder over the top for shine. Great buy!

I really love this foundation. This foundation lasts all through out the day for me. I love the coverage- it's medium to full coverage- and it covers up all my acne scarring. I've been searching for a foundation that will really cover up my scarring, and this does the trick. BUT, the shade I got, the lightest one they have, was too dark for my skin. I am very light skinned, and this makes me look tan/orange. I really wish that this foundation matched my skin tone, because I really love it.
Exceptional Foundation!
I really like this foundation for my oily skin. Although it doesn't last as long as it claims, I find I have to touch up fewer times a day. The coverage is medium to full, and I usually apply two layers. It dries super fast and stays in place which I love. Overall great product for drugstore foundation.

Mary Anne M.
Aug 05, 2013
Confirmed 10HR+ Staying Power, Medium-Full Coverage, Matte Finish, Feels Like Bare Skin, and Wears Like It's Waterproof
I have been rotating this foundation in 50 Nude (a strongly yellow, light-medium shade) with several other foundations for months. I have not worn this foundation for a full 24 hours and don't think I ever will, but I can certainly say that it holds up for an incredibly long time, with a staying power that I'm sure could breach the 10-hour mark (which is the longest I've worn it for).
I have combination oily skin, and this foundation is oil-free and leaves my skin with a nice, matte finish and non-transferable, medium- to full-coverage for almost a full 8-hour work shift, though some oil starts to seep through after that. Its oil-control properties are one of the best I've seen in any foundation, and it is probably the most durable foundation I've ever used, as even a Clinique beautician had trouble removing it before performing a color match with one of their own foundations. Surprisingly, for the coverage and staying power this foundation has, it feels incredibly lightweight; I napped in it for 4 hours and woke up forgetting I still had it on. It has a non-sticky finish so it felt like bare skin, so it's very comfortable to wear.
Recently I read from various blogs that this foundation was waterproof, although Maybelline does not seem to claim that it is. I was intrigued and wanted to try it out ever since getting back to cardio swimming, so just for kicks (and with a raised eyebrow from a male friend wondering why my face was done up), I wore this foundation to the pool. 2 hours later, even after wiping my face several times while in the pool (again forgetting that I had it on), I came out of the pool with it still on and fully intact. I used a makeup-removing wipe before taking a shower, and sure enough that wipe was covered in that foundation even after hitting the water so much. Maybelline may not have marketed this as a waterproof foundation, but it wears like one!
At around $9 for 1oz of product I think this is a great foundation whether I'm wearing it to work or to the pool, or even if I'm wearing it for a special occasion. The product wears comfortably, has great coverage with a natural finish, lasts through sweat and soak, and stays on long after the work day's over. This may just be the best foundation from Maybelline (and I've tried their Dream Matte Mousse, Dream Nude Airfoam, Fit Me, and Mineral Power Powder foundations), and is definitely one of the best I've ever tried.

LOVED THIS FOUNDATION WHEN I USED IT!
I used this foundation before I ran out and decided to try something different. But I loved the nice coverage it gave my acne prone skin. This foundation worked great for my oily skin and lasted all day. This did not make my face feel like it had a ton of foundation on which was a major perk for me! The foundation blended well and looked very natural! Loved it! I will go back to this when I need new foundation.

Loving this foundation :)
Bought this hoping it did what it says on the tin and last all day and it does :). Its full coverage blends easy and lasts me all day which is good :). Also I think you don't need a lot to get full coverage but that's just my opinion so it lasts me a while. I think ill use this foundation for a long time until I found a better one.
---