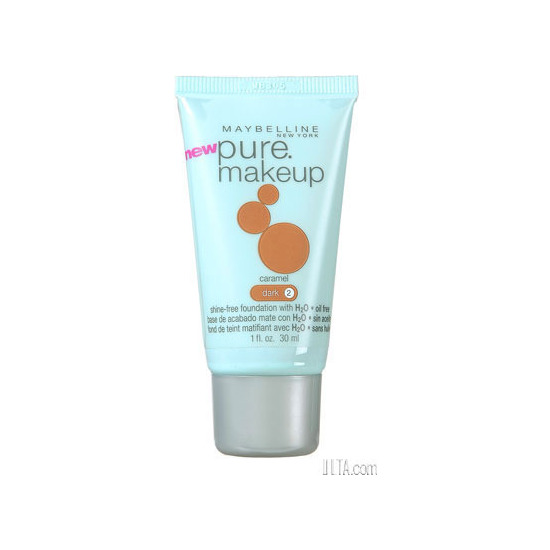 Rollover image to zoom
Reviews

didn't break me out
I used this on and off as a quick application when I'm on the go or I leave it somewhere where I can just grab it (sometimes purse/car) and it works great but depends on what coverage your trying to get and how many blemishes you have that day. I always look for ingredients because I'm skeptical of everything now since I did some research on what's really in our products but I found this the other day and threw it out because I've had it for 2 yrs and foundation only last a yr before the chemicals either go rancid or they seperate and you can still use it but I strongly suggest you go by the expiration date and if you can't find the expiration date then there's a serial # on the item where you can look it up online to find out if it already expired or what not...gluck =)
I honestly dont know why I stopped using this. The name says it all. Its pure and goes on perfectly. As long as you get the right color, it blends in flawlessly. If you need alot of coverage, I wouldnt suggest this. I think its perfect for the summer and for people that dont need a lot of coverage.

Loved for every day
I loved this foundation but I cannot find it in store :( I was happy with it for an every day foundation. I wouldn't use it for night as I found it didn't give as much coverage as I would have liked for going out.

This was the first foundation I ever owned and even though I was inexperienced I remember liking it a lot. The formula was a bit thick so I used to mix it up with a bit of thermal water to make it more blendable. It had medium coverage, but it was buildable, I used it in the summer and I had no problem with clogged pores at all. Unfortunately I can't find it in my country anymore...

Good Summer Foundation
One of the first foundations I used way back in high school but I've recently come back to it. I use Medium 2 in Pure Beige. Since it's 50% water, the coverage is light and makes for a nice alternative to Tinted Moisturizers over the summer. Since there isn't any SPF in this foundation, it would be ideal for parties, clubbin', and weddings because white casting won't be there. I agree with Whitney H. I haven't seen this foundation in any drugstores or Ulta lately so I don't think this is sold anymore. I was actually able to find this foundation one random day at a Big Lots.
---