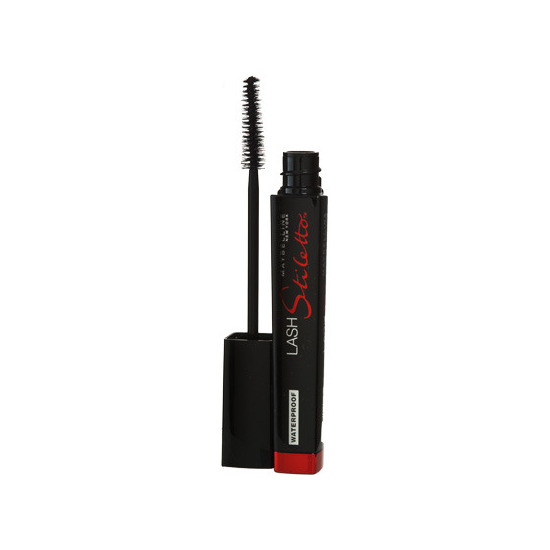 Rollover image to zoom
Reviews

Love it!!
So I was looking for a great mascara because by the end of the day all of my other mascaras were all over the place with speckles and smudges everywhere and these were all waterproof. Also wanted length because I have very very short lashes so I decided to try the maybeline lash stiletto in water proof. I LOVE IT! It gave me the length I wanted it doesn't leave speckles and doesn't smudge and it also has an amazing brush!!! I am going back to buy this for the 4th time 5 stars ladies I really recommend this!

Great length!
Makes my medium eyelashes look long. Not the MOST dramatic length though, personally. Gives decent volume. A little difficult to apply because it can be very clumpy, especially within the first week of using it. I had to wipe some of the product off in a tissue. After you use it for about a week it's not so difficult to apply. I'm not really sure why. My sensitive eyes get watery throughout the day, and this clumps my eyelashes as soon as it happens. The brush kind of pokes me sometimes when I apply it. Overall, I think it's an okay mascara.

Stephanie G.
Jan 20, 2014
Holy Grail!
I have tried them all, high end and drugstore. I always go back to this. The only problem is I can only find it at Ulta now. Hoping the aren't discontinuing it. Nothing holds my curl and gives me length like this mascara. I am all about the length because I have short straight lashes. It is just amazing.

my holy grail drugstore mascara
I've tried this in both colors and I love both! This is the only mascara that I can keep going back to and buying because IT NEVER FAILS ME. It always lifts, curls, holds the curl, and plumps my lashes. My lashes look longer and fuller. I also like that I can build it up. I love the brush a lot too because of the way it's tapered at the front to get the lashes at the front base of my eyes. I also love the spiky head of it because it gets all lashes that I mightve crimped all retarded.

Great for length!
I used this mascara awhile back and it was the first one to give me such dramatic length with just one coat. On top of that it did not make my lashes clump together and kept them looking natural. There is no lies either when they say it's water proof either! I high;y recommend this if you are looking for some long beautiful lashes!

LO-OO-O-O-O-VE
This mascara does the impossible for my lashes! I have really short thin typical Asian lashes and this mascara actually makes my lashes visible and amazing looking! One coat gives me great length and volume but still looks natural and more coats of it makes it a lot more dramatic and long. I just go ahead with one or two coats because the more coats you put on, the harder it is to remove.
Love it!
I love this mascara but not for what most people would normally think. Usually people just put on a mascara and go. Not me I love to mix and match, this is the perfect one to mix and match. If you are looking for a thickening formula this is not the product for you. I find that this is best for if you have mascara on and you just want a quick lengthening its so awesome!! Also its really great for a quick coat before falsies because it doesn't thicken them too much, and after makeup your lashes get lost in all the powders, eyeshadows and such. So its nice to see them before falsies.
---