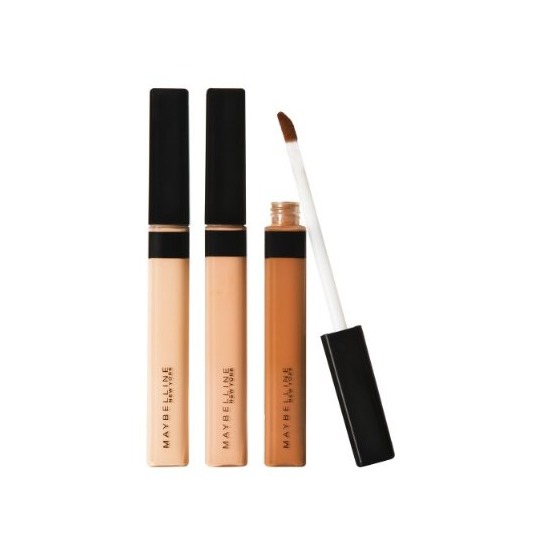 Rollover image to zoom
Reviews

Favourite Concealer
The Maybelline Fit Me Liquid Concealer is by far the best drugstore concealer I've ever used. Not only can I find it in a shade that matches my very pale skin, it's cheap, blends well, has a very natural finish, doesn't cake and let's your skin breathe. The coverage is very high, though I think it could be a little higher. I've been using this concealer every day for about 2 years and have still not found a product I prefer. Covers most under eye darkness and scarring, and works wonders for hyper pigmentation.

Great Coverage
I used this concealer for my undereyes and it had great coverage. I was able to cover my dark, veiny, undereyes with this concealer and with no help from a color corrector. I put this on in the morning at around 6am and it'll last me until I take it off at 8pm. It look really natural and its not cakey looking at all. It pairs well with my Maybelline Fit Me foundation. I dont like that it creases though. When it creases it makes it really obvious Im wearing makeup and its really gross looking. Even if I set it with powder and use primer it still creases. If it didnt crease so bad I would use thos for the rest of my life, but instead, I rather use other concealers. If you're able to get this to not crease on you, then its perfect.

too cake-e/dried my skin :(
I bought this for this for my horrible dark circles. I'm not sure if it was my skin type or what but it just looked very cake-e and it dried my skin.. from far it away it looked fine but up close it was not very pretty.

Best drug-store concealer i've tried!
This is the best concealer I've tried so far, and by far the most worth you get for your money! It spreads well, blends well and conceals blemishes perfectly. It is also extremely hard for me to find a perfect colour match for my skin, but Maybelline have fitted it.
Love it a lot!
---