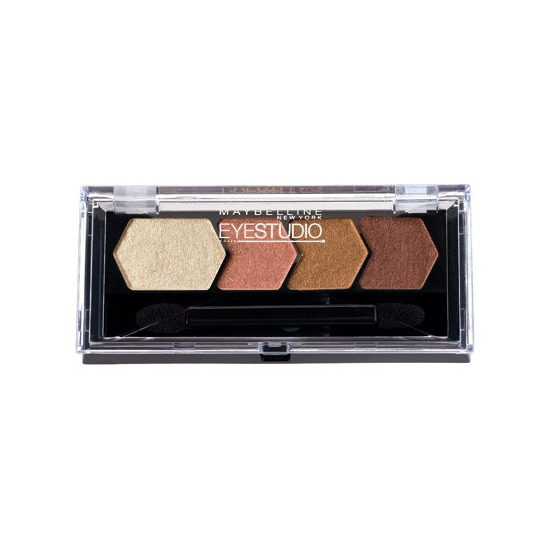 Rollover image to zoom
Reviews

What can I do without my gold?
I absolutely love this. I have blue eyes with yellow circle around pupil and this eye shadow really let's it pop. I love gold eyeshadow and when I saw this in my local drugstore I had to get it. I actually really like this product. I would recommend this to anyone.

I cant even begin to tell you
I LOVE THIS STUFF especially in copper chic. I always get wonderful comments on my eye make up because its neutral yet the copper tones just make it ahh. Its a perfect combo of the colors I just really really love this lil palette i went back and bought another cause i went through min so fast. I love that the fall out is very minimal which is wonderful I detest too much fall out oh and they are very very blendable.

Love!
I personally love these palettes! The pigmentation is amazing, and the price isn't bad either. I had heard mixed reviews about them, so I was a little skeptical about purchasing.. I was pleasantly surprised to find that this is an amazing product, and will definitely re-purchase :)

Love it!
This is a great product! Affordable, and worth however much you will spend on it. I believe I got mine from Rite Aid when they were having their "Buy One Get One 50% off" sale on all Maybelline eye products. I saw this eyeshadow ad in a magazine and fell in love with the colors on model Jessica White and being that we have similar complexions (minus the airbrushing & lighting they do on models lol) I got the shadow in Irresistably Ivy. The colors are amazing, very shimmery, stays in place but depending on the oliness of your eyelids (mine tend to get oily), this product does crease. The only downside is I'm not the best at blending so it didn't look as great as it does in the ad. I use the different colors alone at times too.

Love it!
I love this product so much. I have Sapphire Siren and Purple Icon. It's so pigmented and soft. Easy to apply and the colors blend very well. One of the best drugstore products I've ever seen. It is a great product to work with and I want to get all of the colors available!
---