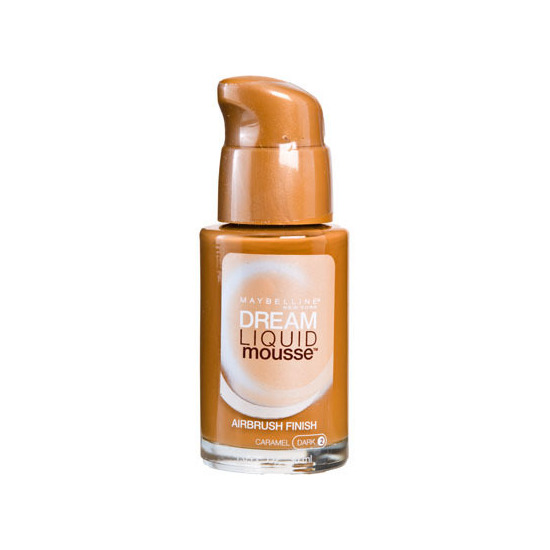 Rollover image to zoom
Reviews

I am in love with this foundation!!!! It goes on so nice and it is not heavy at all. You can barely tell that I have it on. I have also noticed that it doesn't rub off on things. It is very light and really gives you that airbrushed look without the machine. I will definitely be purchasing this in all the shades for my MUA kit that I am currently building. My face is extremely sensitivee to everything so the fact that it didn't break me out was a plus as well. When I use it, I apply it with a sponge and I set it with a light powder. My face has such a nice glow to it and I just absolutely love it!!!!

Meh.
The "airbrush" finish advertised is really more like "matte and kinda cakey." I think the formula is great for people who have basically good skin already and don't need to fuss with lots of primer, concealer, powder, etc...
I ended up looking totally overdone every time I tried to incoorperate this product into my makeup routine. I won't be buying this one again.

Now, I know some of the reviewers said that this is not good on oily skin. I have this foundation and I have combination/oily skin, but it does not make me any oilier than I am. The best way to apply it is in patting motions and this can be done either with a stippling brush or a sponge. Just take a dab and pat it on. Then take a setting powder and with a sponge, pat then roll over the foundation. You will get the desired coverage that you want that way. It is a great overall foundation!

My skintone in the middle of Honey Beige & Caramel, so I just mix the two. Besides that, I love this foundation. Since it's a mousse, the key is to apply it lightly, then layer if needed. A lot of people I know have problems with Maybelline's Mousse foundations because they aren't applying it properly. The coverage is good. I recommend using a primer if your planning to wear it for most of the day.

This foundation is a dream! covers really well and feels so light i forgot i was wearing any. This is my first maybelline foundation in 10yrs as i found their products made my skin very oily and would quickly slide off my face. But, now i'm a convert and this product really does work and my face doesn't go oily like it did and the product stays. This item also works very well with their age renew primer.

My Favourite!
I love this foundation because it makes your face look like it is airbrushed! wow! It lasts all day and keeps skin moisturized! It is a great foundation for everyday and it definetely works wonders for me! It does not clog my pores and it keeps my skin soft and moisturized all day!

The Pros: First I really like that it has a pump. Once you have a foundation with a pump it seems really foolish to go back to one with out! Also, even though this product is targeted to normal skin types it does well against oily skin. As far as match-up I am really impressed. I purchased the natural beige shade in medium 2.5 and it felt like it was a perfect match to my skin tone. Once blended it didn't really looked like I had make-up on. It looked very natural and though it didn't fix every single one of my blemishes I was super impressed with the coverage, it does have an air-brush like finish to it. Most of all I liked that it lasted through out my 10 hour day. The price is pretty decent too.
The Cons: In all honestly I can't think of ONE thing that I personally disliked about this product. It is perhaps one of my favorite all time drug store foundations now.

LOVE THIS PRODUCT !
A girl use to MAC foundation has a hard time looking for a less expensive option. I found it ! I love this product, it runs on my skin so smoothly ! And it stays on my skin for a long time ! I'm halfway done with the bottle, & I do plan on buying more of it soon ! =)

Koko Chanel R.
Mar 04, 2011
This is amazing
This was probably my first product from Maybelline and first liquid foundation. The only down fall I had with this was.. it was hard to find my shade *thumbs down* but when I found it.. its so beautiful and feels light. It gives you that airbrush finish but also looks natural.

Elizabeth R.
Jul 25, 2013
This is probably my favorite foundation. I typically don't use foundation because I think it looks too unnatural but this gives the perfect amount of coverage. The texture is creamy and feels great on the skin, its blends nicely too. It also photographs great without any white cast. I actually prefer this over my $45 Makeup Forever foundation. I highly recommend this to anyone looking for an everyday foundation.
---