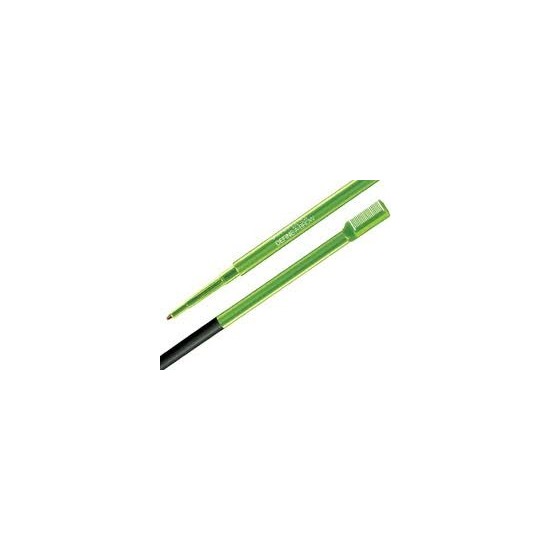 Rollover image to zoom
Reviews

All Time Favourite!
I have this in the dark blonde shade, and although I've used it only twice, this has sped up the ladder to the top. The applicator is very thin and precise, so perfect for simulating hairs. I also love that it's retractable, so you don't have to sharpen every two seconds. The little green comb thingy is difficult to use, being that it's sharp. Five stars!

The only brow pencil I'll ever use
I've been using this pencil for years. At first I used the medium brown, then the light brown shades and I felt they were to dark for my light-medium brown hair. I now use the dark blonde shade for my auburn (dyed) hair, and I think it's perfect. The only set back to this is how little product it has. I usually buy a few of these a year, but I feel they could put more product in this pencil. I also don't use the little comb. Personally I like to use a spooly (or spoolie?) to groom my brows, not a mini comb. I've tried a few other brow pencils, but none have come close to this product.

Omg i love it..My eyebrows were getting too light from Clearasil face wash pads like turning blonde so weird i needed to darken them so i used this eyebrow pencil it looked great and it stay on no smudge or wearing out..Also if u get a messed up wax job on them or u plucked a spot by mistake takes care of the job no one notices..I get complements on my eyebrows all the time some ppl think i got them tattooed..i don't i will ever switch.

They discontinued the dark brown color....I feel offended there is only colors for blonde girls now lol I used to like it but i am back to my MAC eyebrow pencil in spiked. Nice try Maybelline....

PERFECTION.
I have dark brown hair and I use this in the dark blonde shade and I love it. Yes, if this was a human man, I would marry it. (jokes.) This is great for the girl who loves a natural brow look. The texture of the product is nice, it's not waxy and is easy to control with the fine tip. I would agree that it could come with more product but, I want to say that I use mine everyday and it at least lasted a month--for $6, that's a winner. Anyway, I love it.

Use it everyday!
I don't know why so many people are bashing it. Maybe I have a lighter hand but it never has broken on me. It glides on very smooth even with thin like hair strokes. For the longest I was using brow liners that just made me look obnoxious lol but ever since watching julieg713 on youtube do her brows, I ran to the store and got one! She did mention that many people combining two different shades of dark brown and light brown get a similar shade as mac's brow pencil. I do my eyebrows every day and so far I've had it for about 3 months. I love it!!

I was hesitant to write a review since everyone pretty much feels the same way I do. Oh, well. I'll just give it a go...
I've struggled with my eyebrows for the longest time. My brows are messy since I'm growing them out. This is the ONLY drugstore product I've encountered that has given me such nice, precise eyebrows. I even had a friend compliment me.
Unfortunately, the product does not last very long and breaks quite often, especially since it's so dry. The twist part that releases the product constantly breaks on me, so it is a frustrating ordeal having to use it.
I continue to buy this only because I love how it looks on me. If any of you can recommend a product with a thin applicator that allows for precise and natural eyebrows, please point me in the right direction. Thank you :)
---