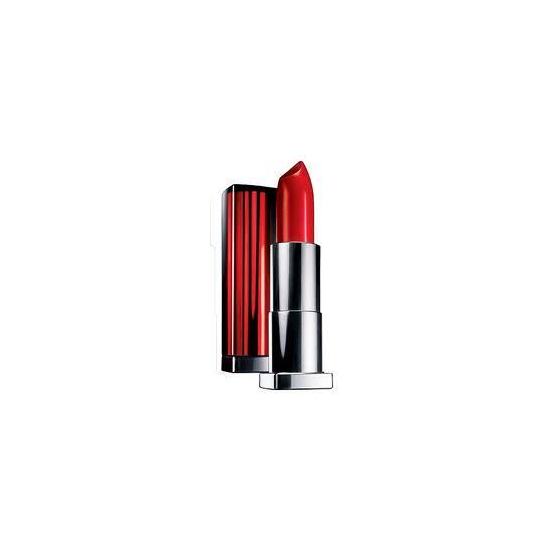 Rollover image to zoom
Reviews

Odd smell- picky people beware!
Not a huge fan on these lipsticks, simply because of the odd stench. It has the exact smell of Barbie doll hair (if you remember, you know what I'm talking about. that odd plastic-y smell?) and I cannot stand it. I'm not sure if it was just a bad batch or what, but if you are picky about the smell of your products, I recommend to not get it.

The Color Sensational lipsticks are amazing. They have so many colors from different product lines like matte, pearls, vivids, and shine. I have about one or two from each. There is a color for everyone and it's affordable so you can definitely experiment. So so pigmented. These lippies are also quite long lasting. You may need to reapply after eating and maybe to moisturize with chapstick once if you're wearing it all day but that's about it!

I love this lipstick so much!! The color is gorgeous and it goes on really well. It lasts almost all day and it is pretty water proof. Would recommend this product to anyone!

Color galore!!!
Maybelline lipsticks are truly pigmented, moisturizing and long lasting. I have a few of these, along with almost the complete vivids collection. I'm truly happy with these lipsticks and they're my favorite. There is such a wide range of colors to choose from. I absolutely love them.
Absolutely adore this lipstick!
I came across this shade on a blog recommending good nude lip colors for WOC so I decided to pick it up as a little bad day cheer me up. OMG...so freaking glad I did. This is very moisturizing, lasts quite a while without the need to reapply and most importantly it's a great nude color for me. This is actually my hubby's fave lipstick of mine so if Maybelline discontinues this shade they are going to have to answer to me.

Eeeeek!
I bought this today from the new 'Vivids' shades in Fuchsia Flash and it's literally the pinkest pink lipstick ever. Pretty much neon pink. The texture is great, nice and moisturising and I also managed to eat a whole meal and still have lipstick on at the end of it. Definitely a winner!
---