Blackest Black Mascara - Straight Brush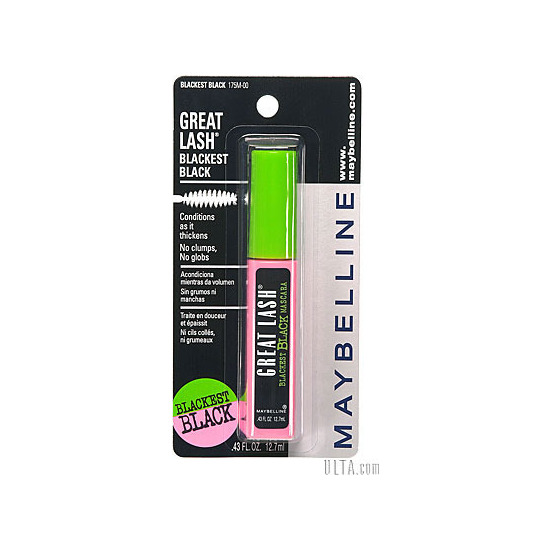 Rollover image to zoom
Reviews

OKAY, SERIOUSLY, this is THE best mascara EVER created. Lol. It really does lengthen lashes without clumping and without looking like you put a whole lot of mascara on. It lasts all day, yet comes off easily with warm water & a face towel. The Target or drugstore prices are great, but Walmart also has it for a little over $3 with free shipping! Stock up while you can.

I recently switched from the regular great lash formula to this, and I really like it. I do feel like my lashes look "blacker" and longer. I've found it works especially well with bold shadow colors.
As for my personal preference, I would much rather use this straight brush, than the curved brush option. But that's just my two cents

Not as good as I thought
Everyone was raving about this mascara but all I found was that it clumped and stuck my lashes together. I would not recommend it because it just smudges and it looks clumpy and cheap.
NOT FOR ME UNFORTUNATLY!
Loads of people that I know own this mascara and love it so I decided to test it out and see what the big rave was all about! Firstly the brush is really small and personally I like big thick brushes to help make lashes fuller and longer. In my opinion this product makes my lashes really crispy which I hate and it doesn't really make a difference to the thickness of my lashes. I really wanted to love this product as its super affordable however I can't seem to get along with it :( !

Big NO.
I decides to try this out because as everyones seen there was a big hype amd I was really let down and confused why everyone claimed to love this mascara. When i first applied it the product was SO wet and made a mess, and after atleast 1 hour it had already smudged, definatley don't recommend!!

Another mascara miss
This one was a complete miss for me. This was one of the first drugstore mascaras I've ever bought. This was raved about a lot, but I have to say that it does nothing for me. This is a dark formula and that's about all good things I can say about it. The wand as it says is straight, but it's rather small so you need have many strokes to fill the whole eye. You do get clumps if you try to apply 2-3 coats of this mascara. I would not recommend wearing this product alone because it does not hold a curl, give length or build volume. For me the only way that I could use this mascara was for the dark colour. I would layer this one with another mascara. This is an affordable product, but there are so many better drugstore mascaras out there that can give you the dark colour and everything else that you are looking for.
---