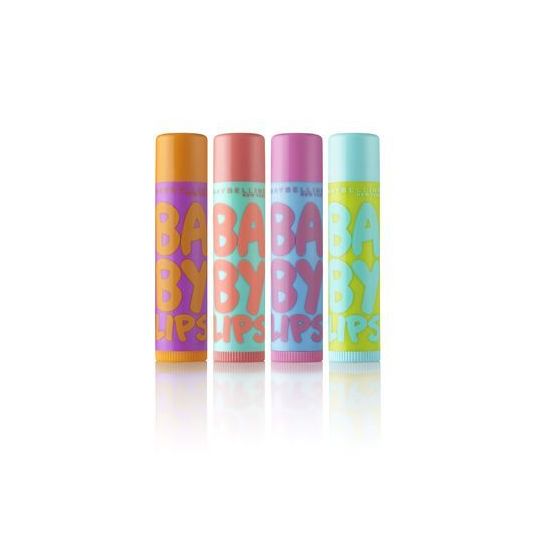 Rollover image to zoom
Reviews

Love Baby Lips!
There has been a rush for both these and the new Revlon Lip Butters. I love both but these are much more moisturizing, they are more like a tint than a lipstick and stay on your lips for a long time. Right now I have Pink Punch and the Cherry Me. The taste and scent are very pleasant. I plan on getting the other 3 colors, one is clear. These are not each at all. I do love the Lip Butters but they are more like a lipstick & can be drying. The price on Baby Lips is terrific as well, I highly recommend giving these a try!

These are really nice lip balms. I have one in Cherry Me and it's a smooth applying moisturizing lip balm with a wash of color. The tint is sheer and natural looking. Great option for those who want to add color to their lips without being as heavy as a lipstick or as thick as a gloss.
It seems like these are marketed as the Revlon Lip Butter's competition, but they're different in my opinion and it really boils down to what you are looking for and prefer. Lip butters are basically a hybrid between a lipstick and a lip balm. They are more opaque and the formula is thicker. Baby lips are tinted Lip Balms. The formula is sheerer and they feel like lip balms, where as the Revlon Lip butters feel more like a thinner lipstick formula . Baby lips are something that can be used by girls and women of all ages. I could see a 12 year old using this instead of her Burt's Bees. Lip butters are not really all age appropriate since they are more pigmented and are geared to people who want a moisturizing lipstick- like product and for those who don't like lipstick but want something that is more pigmented than a tinted lip balm.

Its good but...
Okay, so apparently this is supposed to be a REVOLUTIONARY product. And it is good!
Pros: 1. I have the Peach one and i love that is it tinted! Gives a nice nude shimmer. 2. Packaging is very cute! Sturdy and girly! Defiantly would show it off! 3. Has a little scent to it and taste. 4. My lips feel soft when it is applied! 5. Spf is always good! Cons: 1. Almost 4 dollars for 1, thats a little pricey. 2. Claims to last 8 hours but NO BALM CAN DO THAT! We eat, drink, wipe off our mouth when we eat, lick our lips, its just not possible for a balm to last that long. I wish it would but it seems impossible. 3. New born lips? I have not seen a huge improvement, but then again I do not use it religiously. 4. Nothing super special. I feel like you could find this anywhere. The Peach Kiss color is not super pigmented, the balm factor is good but nothing out of the ordinary.
I would repurchase it but maybe not over some other balms. Its okay.

Get this stuff. Have dry lips? Can't find anything that works? I carry this stuff to bed, in my pocket, even in my PJ's. I have super dry lips and they have made a complete 360 since using this. It's not expensive and is totally worth it. I was buying berts bees but after drying several 8 dollar chap sticks, I needed something that I could afford to put in the dryer and still get the same effects. This stuff does it. I make sure and tell anyone who listens...or just random people( even men) to stop buying crap and get a baby lips.....
P.s. My husband uses the clear :)

LOVE!!!!!!
Perfect for when you need to soften your lips before applying lipstick. There's a color for each shade of lipstick. The cherry one has a red tone, the orange one has a coral tone, the pink has a pink tone, the green and blue ones are clear ... perfect for just as a lip balm.

I bought the Pink Punch in Wal-Mart for around $2-3 a few months ago and it is the best lip balm I have ever used. Before I started using this lip balm my lips were really dry and often bleed because of the cracks. Normally, I use Chapstick medicated but I've noticed that it wasn't enough to heal my lips so.... When I saw the commercial for the Baby Lips Lip Balm I knew I had to try it out. After the first few days of trying the lip balm I noticed a huge difference in my lip condition! My lips were so soft and they didn't hurt when I try to smile. The great part about this lip balm is that not only it heals/moisturizes your lips, but it also gives your lips a color (*tinted lip balm*). I'm the type of girl who's not into lipstick or lip gloss, etc. So by using this lip balm I can: 1) protect my lips from the sun (it has SPF 20), 2) moisturize my lips without getting a whitish stuff on my lips like Chapstick and 3) have a pop of color on my lips that looks natural! This lip balm is a win-win purchase for me because it's so cheap and it does the job plus more! I will never buy another lip balm again!

Totally In Love With These!
I received these through BzzAgent for free to try out and review. I was so glad to have these sent to me since I planned on buying them anyway. The packaging is so eye catching and stylish. The colors are fun, and the writing on the cap looks cool. I like that the cap is clear so you can see the color of the balms when browsing in the store. They roll up and down with no problems, which with most lip balms they don't like to roll back down. I love that you can choose between translucent or tinted lip balms, I use the translucent ones under lipsticks to keep my lips nice and moisturzed but be able to add whatever color I want to my lips or just wear it alone to enhance my lips. I own 3 of the tinted ones Peach, Pink Punch and Grape Vine. Peach has a little bit of tint to it but not much, it gives you that perfect nude lip and it has a little bit of shimmer to it so it catches the light and looks like you are wearing some sort of gloss. Pink Punch is the most pigmented one of the 3 that I own. Pink Punch is pretty bright and vibrant, it almost looks to me like it has a blue undertone to it. This probably has to be my favorite one, it looks like you are wearing a lipstick and a gloss but your not and it's so moisturzing which most lipsticks lack. I went out and bought Grape Vine after using the other 2 for a day because I like purple shades on me. Grape Vine is more of a deeper wine color than the full on purple I was looking for, also this one like the Peach isn't as pigmented as I was expecting since the pink one was so pigmented. All in all I really love these lip balms and plan on getting the other ones I don't own and will be using them for years to come most likely. These are more moisturzing than just about any lip balm I've tried. They scents of these lip balms are so yummy tho they have a gross taste, which is good since licking your lips drys them out. The colors are beautiful and last about as long as you would expect a lipstick to. If you haven't tried these I really recommend you do so, I have terribly dry lips and no other lip balm has done what these have for my lips, plus the price isn't too bad either.

Lives up to its name.
Glides on very smooth. Looks great alone or under lipstick. After first day, my lips were super soft. Smells really good also. Bought the clear one in quenched and peach kiss which is great for a sheer everday nude lip...Highly recommended ;-)
---