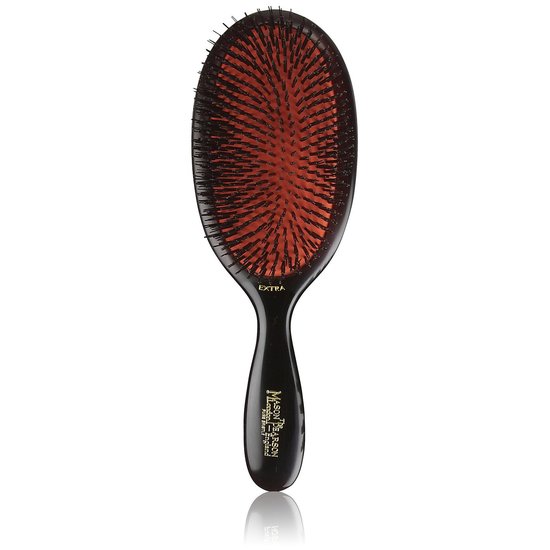 Rollover image to zoom
Reviews

Beautiful, soft and shiny hair
I got 2 versions of this brush. I have the large boar bristle extra stiff and the pocket nylon & boar bristle. Both of them are just as great. I do prefer the all boar bristle even though I have to brush my hair in layers. My hair has always been shiny but it is a whole new level of shinier when I brush it with this brush. I bring the pocket nylon&boar one wherever I go. That one detangles my hair a lot easier and grips my hair much more. I do notice the brushes can be a chore since it collects lint and stuff a lot more than other brushes, I am always cleaning them. The brushes aren't the most cheapest and for both of my brushes, I think it cost more than $200. Yes, it's a crazy amount to pay for hairbrushes therefore not everyone is willing to purchase them. Are they comparable to the cheaper boar bristle hair brush around? I don't know. The other I tried was from Conair and I gave that one the boot after a couple of tries. I just don't want to waste my time and money having to look around for the right one, it is just best for my sanity to go straight to the trusted brand.

Holy grail brush!
This is my favorite brush, we've had this brush in my family since before I was born and just got another one. It gets rid of every tangle and knot and lasts a life time. It's also very well made, not cheap what so ever (both regarding quality and price). I have the French Isinis brush which is a cheaper version, of the English Mason brush that costs 120+ while the Isinis costs around $40, but even the quality of this is just as amazing. I will never buy a different type of brush in my life. :D Everyone should have one if your looking for a high quality brush!

I never thought a brush could make me feel this way
Seriously, this brush is no joke ladies! I never thought that the brush I used would make a difference in how my hair came out. But I was proven wrong by this bad boy! This brush makes my hair SO SOFT and so silky! I definitely think it is worth splurging own because it will last you for a long time and the results you will get will be worth it.

Best thing I've ever got!!!
This brush changed me life. It's amazing and unreal . My hair has never looked so good. And most people that have them say they have them forever bc they are made to last . So that why I didn't feel so bad about spending 151.00 on a hair brush. Also I feel like I use let hair products in my hair after using this brush. So I save money there :)

the last brush you'll ever buy
I bought my MP brush 8 years ago - it's the only brush I'll use when I actually do use one to straighten out my curly hair. Why? Well, read on...
The combination of boar and nylon bristles give you the right amount of tension and grip to get through any thickness or texture of hair - without snagging or causing breakage. I'm convinced that it's the only brush to give you sleek hair without fuzz or frizz.
The price on the MP brush is a little spendy (mine was around $100), but unless you lose it, it really is the last brush you'll ever buy. It even comes with a separate brush to maintain the bristles, and a manual on how to care for it. Follow the directions, and you'll be brushing your hair in luxury for years!
---