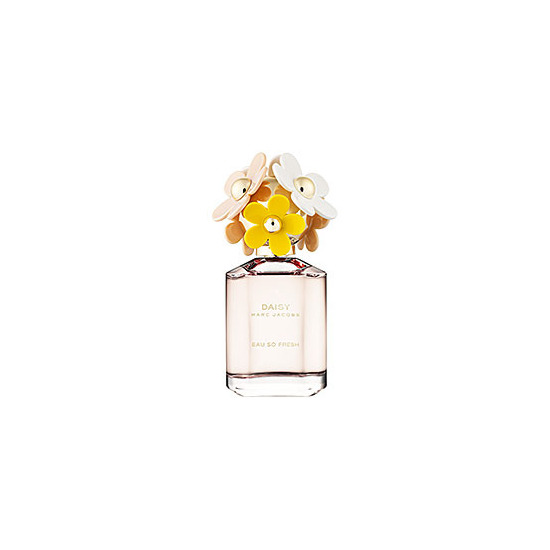 Rollover image to zoom
Reviews

So beautiful! I had been searching for my signature scent and I think this is it! I love the sweetness and subtleness of this perfume. I've had customers and coworkes I smell "delicous" quite a bit while wearing this perfume, and my mother seems to think I've "made it my own". Definatley in love with it!

Love it!
Of the Marc Jacobs scents, this one is my favorite. I get a slight Daisy scent, but this is lighter and sweeter. It's strange, on my skin, I actually get the smell of bananas as one of the first notes. It could just be me because everyone has their own sense of smell. Doesn't last all day on me, but it lingers for about 5 hours, which is perfect for me.

Sweet yet Sexy!
With spring just around the corner we are all looking for that sophsticated yet adorable scent. Marc Jacobs Daisy is perfume that can help make a women at any age smell young and refreshing. With it's sweet smelling arouma and it's adorable bottle it helps to capture the escence of spring and put it in a bottle. This is my favourite perfume and I swear by it. Whenever I just want to be myself I wear this perfume because its scent envokes all of my whimsical personality. This perfume is also worth the envestment because it can transfer into a great summer perfume for those romantic dates :)

This is not great, it's magnificent
Now If Marc Jacobs wasn't gay, I would do anything to get and marry him. Point black. I love the man, he is a genius. This perfume marks truly a timeless classic natural girl. It's expensive in London, but totally worth it. I bought it then my mom, sister, aunt, cousin and possibly all the female I know. Yes your probably thinking we smell alike, but no. I don't what it is but it's different. If ever you want a light fragrance that last, this is it. Place it on your wish list ladies

long lasting, floral, girly, and light. price is decent because of quality.
packaging is very cute! I use to think it was a little pricey for a perfume. but you pay for quality. the smell will last you all day with as little as two sprays. (that's how much i usually use) and i still smell great by the end of the day... its very light and girly and floral. i still use it during the winter time regardless of the fact that its a summer line. definitely an item I would re-stock up on!
---