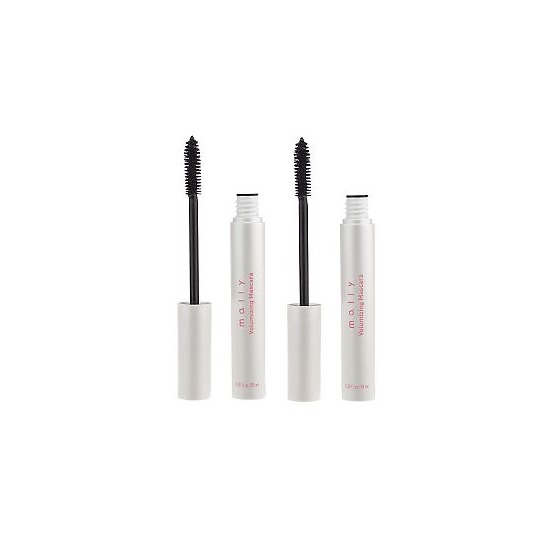 Rollover image to zoom
Reviews

Team
Cara Michelle H.
Dec 10, 2014
My FAVORITE Mascara
Mally Beauty Volumizing Mascara is one of the best I've ever used. I was introduced to this product about a couple years ago by my mom (who purchased this duo set and gave me one to try). Since then, we were completely hooked and never used any other mascara. I have asian lashes that are straight, sparse, and not very long. However, when I use this mascara, they instantly look fuller and longer. This mascara is able to evenly separate my lashes and extend their lengths. I usually put on two coats and feel that that is enough to get a full lash look. I also love using it for my lower lashes to create more of a dramatic effect. There is also no flaking, clumping, or smudging with this mascara. You can wear it all day and not have to worry about having product smeared all over your eyelids or eyes. Overall, amazing product and would recommend to anyone looking for a top notch mascara.

Amazing.
This mascara is the best, no flakes or smears. Absolute Perfection. I already have full and thick lashes, but this mascara made my lashes stand out so much more. At the end of the day, with other brands of mascara, I usually had flakes and it appeared like I had no makeup on. Now I'm the type of girl that if I'm going to take the time to put make-up on, then I want it to look like I still do even at the end of the day. This mascara helps me accomplish that everyday. Definitely one of my favorites

Gorgeous long lashes!
I have short straight Asian lashes. I have tried many many mascaras and nothing has given me the volume and length like Mally's Volumizing mascara. I have both the regular and waterproof formulas and I love them both. It's extremely long lasting. It's the only mascara that I now use. One of my favorites!

Pleasant Surprise
I purchased this mascara from QVC because it came with a little kit. At first I did not like it because the formula is much drier than I prefer. I usually favor the wet looking mascara. However, I had it for about a month and decided to give it another try. I ended up liking how it make my lashes look fuller and longer. Plus, I have watery eyes so waterproof (or bulletproof as Mally says) is a must. I will probably purchase it again in the future.
Team
No love for Asian Lashes
I Love playing up my eyes and framing them with full, fluttering lashes. I'd heard good things about Mally and was stoked to test out this mascara, but alas: my lashes fell down because of the thick formulation. Wonk Wonk. Miss.
---