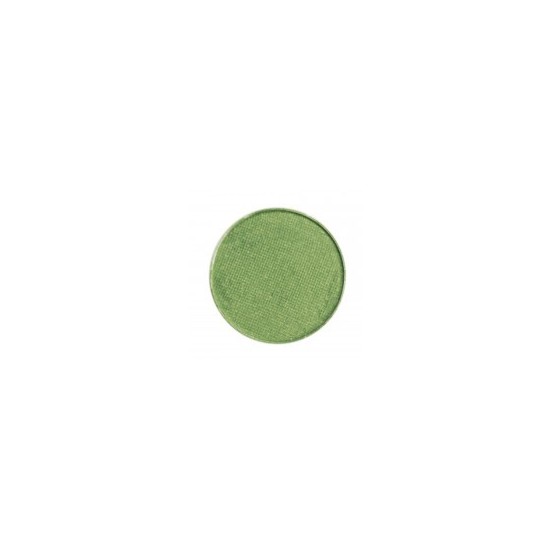 Rollover image to zoom
Reviews

Can't Beat It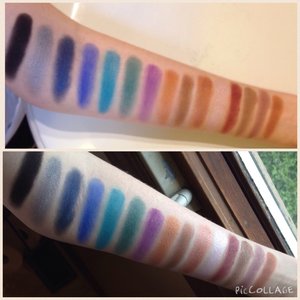 These eyeshadows are phenomenal! You can feel the quality with these shadows. They're very pigmented (especially the foiled eyeshadows, which are beyond words amazing), buttery, and come in a wide array of beautiful colors. The shadows are just as good as my MAC shadows, if not better, and they're cheaper too! I usually am more of a palette person instead of single shadows, but I make an exception for Makeup Geek. Attached is a pic of all my Makeup Geek and MAC shadows. Can you even tell a difference?

Gift from the Makeup Gods
Makeup Geek eyeshadows are a gift sent from the makeup gods. For reference, I grew up on drugstore eyeshadows (ELF, Maybelline, Covergirl.) If you could find it at Walmart or Target, I had it. Eventually I wanted to get something more high end. I went with Urban Decay because that's what everybody else was wearing. I wore Urban Decay shadows for about three years before making the switch to Makeup Geek. I originally wanted to purchase MAC shadows, but I just can't afford to spend $15 on an eyeshadow (I do need to go to college and buy a car!) especially when I typically use 4-5 eyeshadows in one look. I heard good things about Makeup Geek, and I found a link comparing swatches of their shadows next to Mac shadows. A lot of them were spot on dupes, or the Makeup Geek shadows just looked more appealing. I placed my order for six shadows in the pan ($5.99 each vs. $7.99 to get the plastic compact) and I also bought a Z-Palette to store them in. On to the actual shadows. I am blown away. Whenever I talk about MUG shadows, my line is "They blow Urban Decay out of the water." They do. They really do. The colors don't need a primer or more than one "rub" to get a good swatch. I have the shade "Glamourous" which is gold, and it shows up like a pure pigment. For reference, it's double the Wow Factor than Half Baked by Urban Decay. My particular favorite shade is "Cocoa Bear." It's a brick reddish brown meant to suit blue eyes, but I adore it on my brown peepers. It just adds this warmth and sultriness to a look that's absolutely breathtaking. The shadows blend like an absolute dream. It takes little to no product to actually get it to show up, and they don't have a "muddy" look that I felt like was inevitable with Urban Decay shadows. I will be a devoted Makeup Geek buyer as long as they stay in business.

LOVE!
I have been watching Marlena's videos since the beginning, she was my first you tube guru! I have almost every shade of her eyeshadows and I love them! My absolute faves are Latte (hitting pan!!), Corrupt, and Sensuous. There is not a single look I do without having at least one MUG shadow in it! Thanks Marlena for making such amazing products!!!!

Blackest black.....
I really love this eyeshadow. It's an intense, rich black. You cannot beat the $5.99 price and it's always a breeze to buy from MUG. You do need to tap the brush before applying this color as there can be a little fallout if you don't. You need to add a tiny bit of color at a time as this black is crazy pigmented. A little bit goes a loooong way with this shadow.

Great Quality & color payoff..but no magnet!
I love Marlena. She is probably one of the sweetest You Tube Gurus that did not allow a bunch of ads into her channel and turn her videos into weird movies and stayed true to who she was. I purchased about 10 shadows from her and 6 lipsticks. I love them all. The shadow pans are great and fit nicely into my MAC palette. The texture is soft and creamy. There is a little powder but nothing extreme like say ELF palette shadows. She really did a great job with the formulation. The only thing I wish they would do to improve the product is add a magnet to the pan. I can't say anything bad about the shadows themselves. If you don't want to fork out the funds for MAC, try MUG! They are only $5.99/pan and she runs sales every so often.
Same quality as high end brands minus the hefty price tag
I have been a long time viewer of Marlena's videos. I've seen her promote her own products and finally decided to give these eyeshadows a try. I purchased the starter kit so that I could get a nice variety of shadows. I have to say, I am really impressed with the texture and color payoff of these eyeshadow pans. They pop right into a Z-Palette (sold separately), and come in a nice variety of colors and finishes. Vanilla Bean has become a daily staple for me and Corrupt is one of the blackest black eyeshadows I've seen. Other favorites are Mocha and Cocoa Bear (mattes). At this price, they are totally worth trying. Trust me you won't be disappointed.

I purchased a couple neutral shadows to start out with and quickly regretted not purchasing more! The matte shadows have more pigmentation and color payoff than Mac's matte shadows, and what's more is that for only $5.99 each, you save a lot of money! I have these in my own makeup kit and have favored using some of these shadows instead of the high end ones.

SmashinBeauty c.
Apr 19, 2012
Worth every penny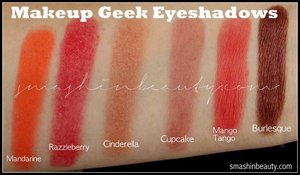 I got these products to create a few looks for Makeup Geek but I also decided to do a review. I got 12 shadows and in short I love them. I seriously want to buy more shades since they are very well pigmented. There is one color that I was not impressed with razzledazzle. Burlesque was my favorite eyeshadow but it had fall outs when picking up the product, (just to compare - nothing like wet n wild fall outs from the 8 eyeshadow palette). Over all these eyeshadows are amazing and I highly recommend them!
For more swatches & a details review: http://smashinbeauty.com/makeupgeek-eyeshadow-beauty-product-review/
---